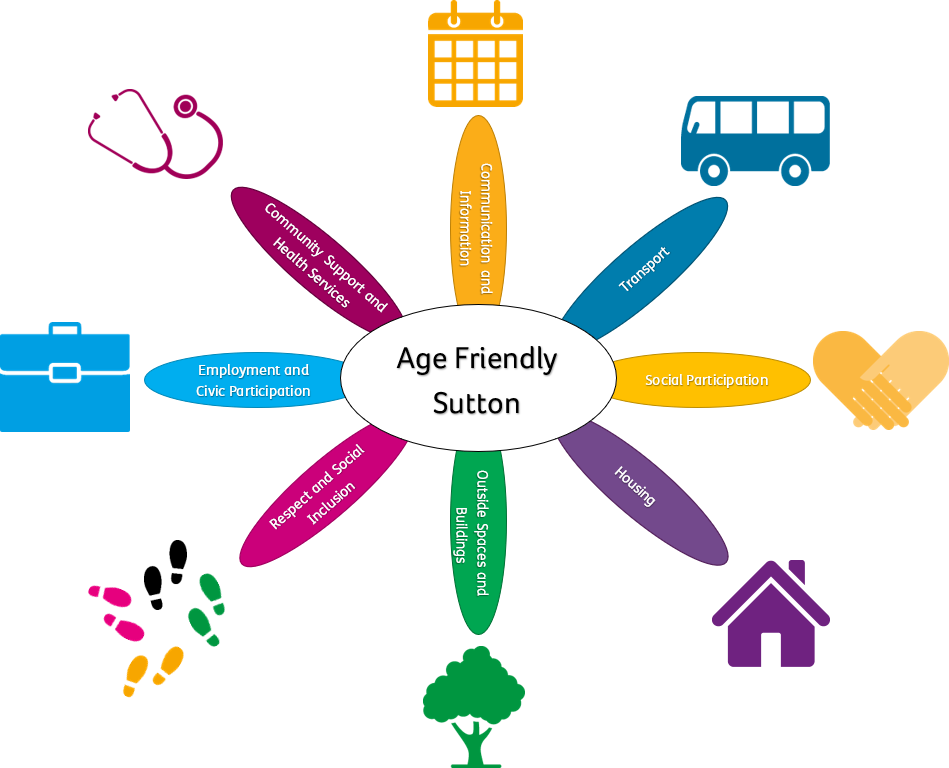 At Age UK Sutton, our Mission is to make Sutton a more Age Friendly Place, so that everyone can have a better late of life and feel valued in the community. We are proud to be the lead partner for older people for the Sutton Plan.

The World Health Organisation Age Friendly Communities Programme
In January 2020, with our support, the London Borough of Sutton made a commitment to the World Health Organisation to become an Age Friendly community. An Age Friendly community is one where services and structures are adapted to the needs of their ageing populations, and where older people are valued and have the opportunity to fully take part in local life.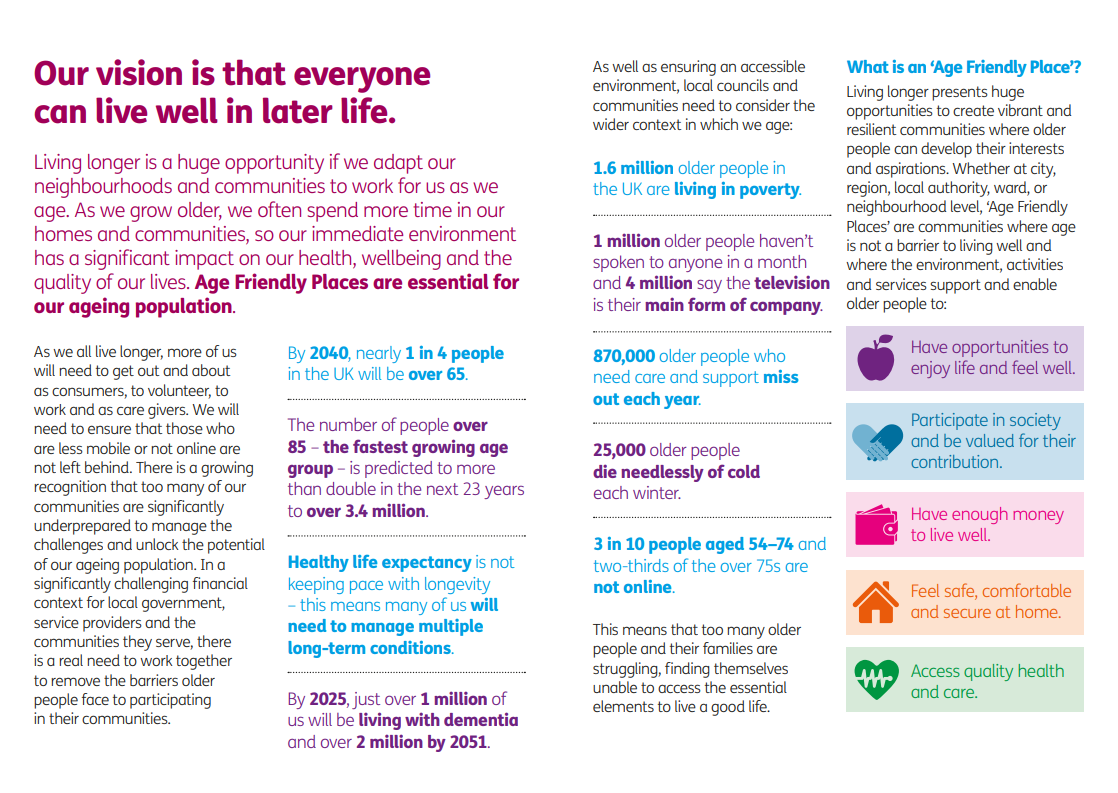 The global Age Friendly Communities programme highlights 8 main areas that affect older people's lives, based on international research. These are:
Outdoor spaces and Buildings

Transportation

Housing

Social Participation

Respect and Social Inclusion

Civic Participant and Employment

Community support and health services

Communication and Information
You can read more about the World Health Organisation Age Friendly domains, and the whole programme, here and here.

Working in partnership to build a more Age Friendly Sutton
As lead partner for older people, for the Sutton Plan, we are working with partners including Sutton Council, the NHS, other charities and local business, to understand what works well in Sutton, what could be improved, and what needs to change. We are committed to making real, lasting change, and to be led by older people's views, as well as experience and evidence from the partners involved.
In 2021, we will be working with our community and partners to deliver a long term plan to make Sutton more Age Friendly, and reporting back on progress, what we have learned, and future plans.
You can sign up to receive email updates about our Age Friendly programme by emailing agefriendly@ageuksutton.org.uk.
We are pleased to be the lead partner for older people of the Sutton Plan which will decide how Sutton can achieve the Age Friendly status, whilst considering the 8 domains.
To be able to create a plan, Sutton council and the local partners would like to hear from older people about their thoughts and suggestions on becoming an Age Friendly community. For more information about the Sutton Plan, please click here.
Age Friendly Telephone Interview
Prefer to talk one to one?
We have created a friendly conversation to talk about Age Friendly over the telephone. You will speak to a member of staff or volunteer for around 40 minutes discussing your experiences of living in Sutton as an older person.
To book a telephone call to discuss an Age Friendly Sutton, please click on an available slot below and then you will receive a call on that date and time. Please make sure you include your number in the booking slot, so we can contact you.
Sign up to our mailing list and join the ranks of Age Friendly Sutton Champions
As an Age Friendly Champion, you'll have exclusive first look access at our programme Blog, including research findings, earlybird information about events, and special opportunities to get involved. We will send you our Age Friendly Sutton newsletter monthly, and occasional other information - we promise we won't 'spam' you, or share your details with anyone else.
Sign up here, or by emailing Jemma at agefriendly@ageuksutton.org.uk
Spread the Word
If you would like to share information about the Age Friendly programme with your community group, friends, or wider network, please contact us by emailing Jemma at agefriendly@ageuksutton.org.uk. We can work with you to plan promotion of the programme and support more people to get involved.
Supporting everyone to take part
Reaching out across communities
We are working hard to promote the Age friendly programme in lots of different ways, including via community groups, fliers and posters, and through printed media.
If you or your group can help 'spread the word' please contact Jemma via agefriendly@ageuksutton.org.uk
Digital access
Due to Covid-19 restrictions, at the moment, all events are taking place online, mostly via Zoom videocall. As soon as we can, we will be running some live events as well, but at the moment, sadly this isn't possible.
We know that not everyone has internet access, a computer, or a webcam, so we are working hard to make sure people can take part in different ways.
How we can help:
We can loan you a digital device, like a laptop or tablet, and show you how to use it so you can take part. You don't need internet access as some devices operate on the mobile phone network

We can arrange a one to one telephone interview with you if you don't want to take part in a video call

We can offer some limited home visits (Covid restrictions allowing) to chat with you in person (please note that this option is not possible during 'Lockdown')
For more information about our tablet loan scheme, please email us at activities@ageuksutton.org.uk
Monitoring participation and diversity
We are committed to ensuring representation of our diverse communities, across the Borough of Sutton.
To ensure we achieve this, we are mapping participation in this programme, and monitoring the diversity of participants - this means we will ask you a few simple questions about yourself when you sign up to take part.
As events take place and we speak to more older people, we are mapping the areas of our Borough where people live, as well as other information they share about their circumstances and identity. We are using this data to ensure what we learn is representative of a diverse range of older people in our borough, and that everyone who wants to, has a voice.
We are also reaching out to local groups to help us to reach part of the Borough and different communities effectively - if you can help us, please contact Jemma at agefriendly@ageuksutton.org.uk
Age Friendly Events
Register to join one of our informal events to have your voice heard about what will make Sutton a more Age Friendly place.
Each event focuses on a different theme, like Healthy Living, Feeling Connected, or Travel and Transport, that will help us to discover how Age Friendly you think Sutton is, what works well, what's 'just ok' and what could be better. You will have the opportunity to share your ideas about changes that will help to make Sutton a better place for older people, and hear other people's points of view.
We are committed to ensuring these events are inclusive and represent Sutton's diverse communities, so are keen to hear from people aged 50+, from across the Borough, and from all backgrounds. Places are also limited, as we find that a group of up to 12 is the best size for a really good discussion. Please note that this means registering does not guarantee you a spot at an event, but we will do our best to provide all who get in touch a chance to take part.
Covid safe virtual events
At present, due to Covid restrictions, all events are 'virtual', using the Zoom videocall service.
Zoom is free to access, and we have created a guide on how to download zoom, which you can find here.
Not used Zoom before, or don't have internet access? We can loan you a tablet computer (no internet access required) so you can take part - see the Digital Access section above.
Thursday 20th May
1:00pm-2:30pm