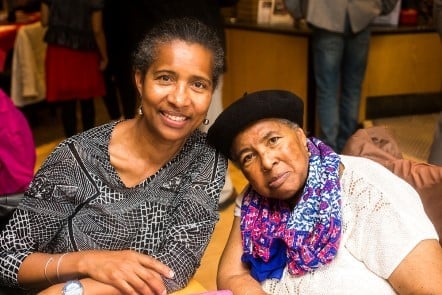 Volunteers play a vital role in Age UK Sutton's work
Volunteers have always supported us to deliver essential services in a variety of different ways. Would you like to lend a hand? Please see below for more details.
We will be adding details of our new volunteering roles in the coming weeks. Please complete the volunteering enquiry form if you would like us to inform you when new volunteering opportunities become available.
Why volunteer?
Volunteering is a great way to help make a difference to the lives of older people in Sutton. It is also a great way to learn new skills, develop existing ones, meet new people and support the work we do in the community.
Who can volunteer?
Most of our roles require volunteers to be a minimum of 18 years old, although some event and office based roles are suitable for volunteers who are over 16 We have an application process which involves an application form, interview, references and in many cases a DBS (criminal record check). For some roles, we need volunteers to have particular knowledge, skills or experience so the recruitment process also helps us to match volunteers with the most appropriate roles.
How much time do I need to give?
It depends on the volunteer role you are interested in. Some people give 30 minutes a week, other people do more. We do also sometimes need volunteers to support with occasional and one-off opportunities.
Enquiries about our volunteer roles
If you have questions about the above roles that have not been answered here, then please do send us an email, and we will be happy to help. You can also find more contact details on the Contact Us page of this website
What else you can do to support us
Could you help us to raise vital funds by taking part in a fundraising event? We have regular events such as sponsored walks, but you could also do your own fundraiser like a cake sale.

Could you talk to your colleagues or your employer about how you can support us? We have lots of ideas for how organisations can get involved, including sponsoring an event, making us Charity of the Year, or donating equipment.