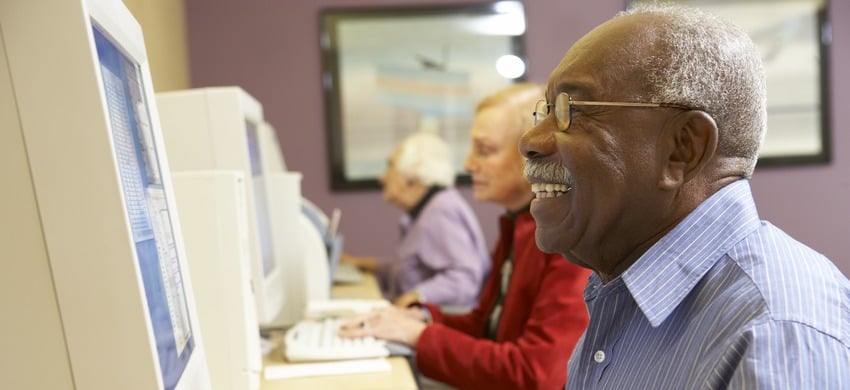 Age UK York is a great place to work. Could you bring your skills to our team? See our latest vacancies below.
Download our application form for paid work
Download the guidance notes for the paid work application form
Day Club Organiser

We are looking for a day club organiser at our Wednesday and Thursday day clubs. You will be responsible for organising and running activities for up to 25 older adults and working in a small team consisting of another organiser, support workers and volunteers. You will book outings, keep records and liaise with carers and professionals. The clients are provided with a simple hot lunch which will be bought and prepared by you and your team. 9am – 3pm. £8.50 ph.
Closing date: Monday 6th August. Interviews will take place on Wednesday 8th August.
Benefits
£8.50 ph
Paid holidays
Full training provided
Person specification
• Understanding of the needs of older people
• Excellent organisational skills and a 'can do' attitude
• Good communication skills
• A full driving licence and car is desirable
• Basic level of IT literacy is desirable
For more information, a job description and application form, please ring Rebecca on 01904 627 995.
Home Support Workers Part-time
£9.00 to £9.50 /hour

Benefits
Salary- £9.00 on weekdays and £9.50 on weekends.
Flexible hours and weekly shifts assigned in advance
Holidays are paid in accrual each month.
Full training provided.
Mileage paid.

Day to Day
Home Support Workers provide provide support to people in their own homes.
Tasks are to include:
· providing personal care
· assistance with dressing and undressing
· assisting into and out of bed
· changing pads, stoma care, change ted stockings
· preparation and serving of meals
· washing up
· general tidying up
· small amounts of shopping (eg bread, milk) etc
· Report any issues which may have arisen with regard to Health and Safety
Requirements
Essential
· Have a understanding of the needs of older and vulnerable adults
· Ability to work on own initiative without supervision
· Willingness to work as part of team and support each other
· Ability to handle challenging or inappropriate behaviour
· Adaptability to rapidly changing situations and behaviour patterns
· Honesty abd reliability
· Ability to communicate with people at all levels and in all medium
· Full driving licence and access to own vehicle
Desirable
· Knowledge of safe Moving and Handling, basic First Aid, Health and Safety and Risk Assessment procedures.
· A knowledge of the social care sector and its procedures.
Please complete our application form above and return this to our Walmgate Office
Feather Duster Home Helpers - £8.25 per hour
To provide a reliable and efficient service to people in their own homes, providing a range of domestic tasks to help them to maintain a clean home.
Own transport ( car or Bike ) needed.
All hours are Mon-Fri between 9-5.
Flexibility to work around other jobs.
It is a zero hour contract but hours will build up as you are allocated clients
Very rewarding job with great clients.
Our clients are not able to do all their cleaning themselves so you really feel that you are helping someone.
We clean, dust, vacuum, change bedding, ironing, laundry, bathrooms etc.
The minimum clean is 1.5 hrs.
DBS will be required but we will pay for this.
We are looking for 2 or 3 cleaners, ideally spread around York as we try to allocate jobs as close to your home as possible.
For further information contact our Admin Office on 01904 627995
Applications forms and guidance notes are given above and once completed should be returned to:
Jo Adams
Feather Duster Cleaning
15 Priory Street
York
YO16ET
Tel 01904 866142