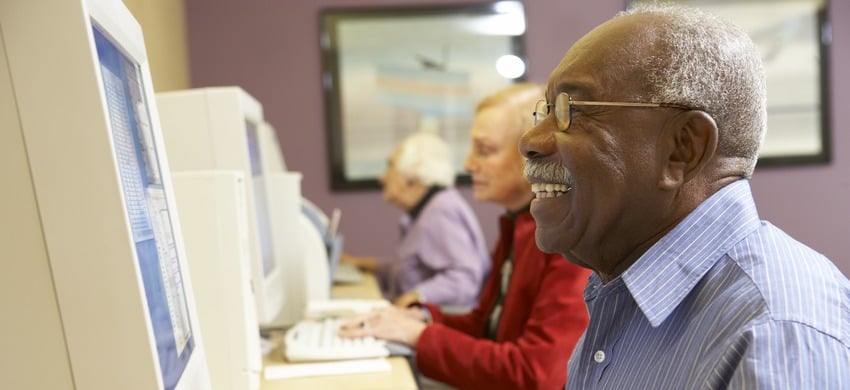 Age UK York is a great place to work. Could you bring your skills to our team? See our latest vacancies below.
Download our application form for paid work
Download the guidance notes for the paid work application form
Carer Respite Service – Support Workers - £8.18 per hour
Due to the demand of our carer respite service we are looking to recruit several support workers, both male and female.
The support workers take the place of the informal carer which gives people who are caring for an older relative or friend the chance to have a break, knowing that their relative or friend is in safe hands. Aside from giving the informal carers a break you will also increase social contact for the cared for person.
The successful candidates will need to have a full driving licence and access to a car and have business insurance so as to take clients out. You will need to be flexible and have an understanding of the needs of older and vulnerable adults, especially those with dementia and disabilities. Support workers are expected to attend regular training sessions throughout the year and will be paid to do so. Support workers need to be compassionate and have good organisational skills. An enhanced DBS will be required. See attached job description for further details.
Download the the job decription
For more information / application pack, please ring the Walmgate office on 01904 627995 or download the application form above.
Feather Duster Home Helpers - £8.25 per hour
To provide a reliable and efficient service to people in their own homes, providing a range of domestic tasks to help them to maintain a clean home.
Own transport ( car or Bike ) needed.
All hours are Mon-Fri between 9-5.
Flexibility to work around other jobs.
It is a zero hour contract but hours will build up as you are allocated clients
Very rewarding job with great clients.
Our clients are not able to do all their cleaning themselves so you really feel that you are helping someone.
We clean, dust, vacuum, change bedding, ironing, laundry, bathrooms etc.
The minimum clean is 1.5 hrs.
DBS will be required but we will pay for this.
We are looking for 2 or 3 cleaners, ideally spread around York as we try to allocate jobs as close to your home as possible.
For further information contact our Admin Office on 01904 627995
Applications forms and guidance notes are given above and once completed should be returned to:
Jo Adams
Feather Duster Cleaning
15 Priory Street
York
YO16ET
Tel 01904 866142
Hospital and community support services has the following vacancy.

Bridge the Gap home support workers £9.00 weekdays ph, £9.50 ph weekends, travel time and mileage
We are expanding our current service for short term care services. We are looking for the equivalent of one full time and one part time worker.
The successful candidates will need to be compassionate, kind, caring and have a understanding of the needs of older and vulnerable adults. Bridge the gap is a CQC registered service, and support workers are expected to work to current standards. Tasks include personal care, medication administration, befriending, identifying needs, and monitoring wellbeing, although this list is not exhaustive. Previous experience in care is an advantage but not essential as full training, including care certificate and NVQs will provided. An enhanced DBS will be required, the cost of which will be met by the charity.
For more information, or to pop in for a chat, please ring Mel on 01904 866070 or email bridgethegap@ageukyork.org.uk
An application form may be downloaded from the link above.