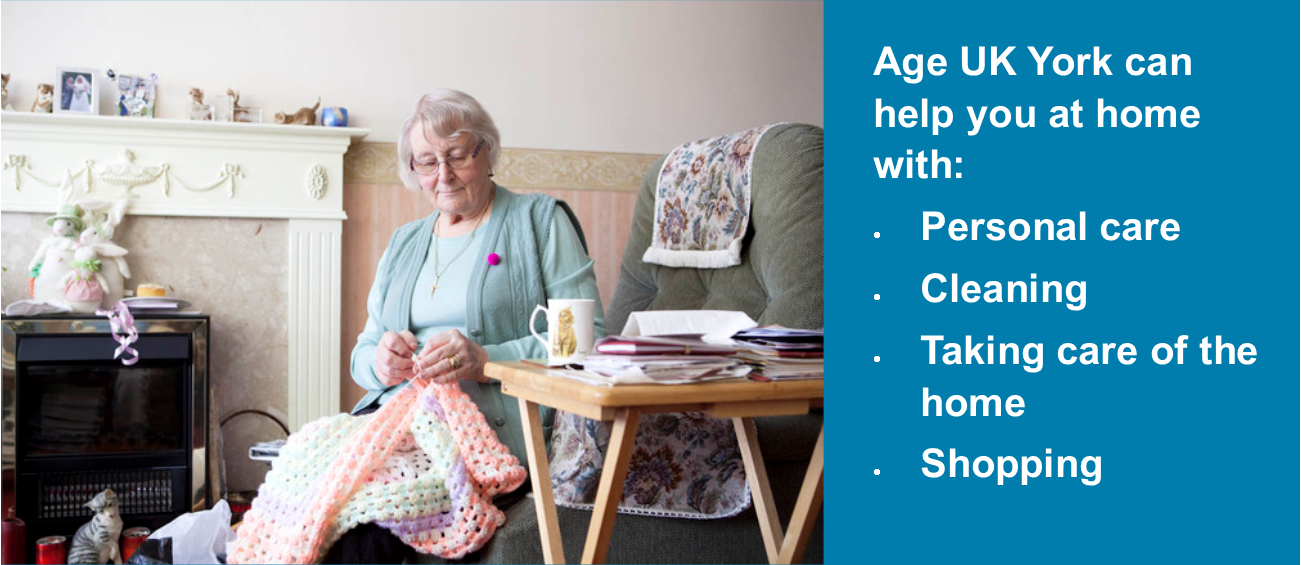 Age UK York offers several services to help people to live independent lives in their homes. We can provide regular care at home, a cleaning and general house care service and a shopping service. These services are run as a social enterprise and any profits are fed back into Age UK York to help us provide other services in York
All our staff in these teams who enter your house have undergone an enhanced DBS check (Disclosure and Barring Service).
Bridge the Gap personal care service
Our service is available across the whole city for both short and long term support offering a minimum of 30 minute call visits. We offer a high quality service, ranging from meeting personal care needs, preparing meals and giving medication. We have been rated GOOD in all areas by the Care Quality Commission.
Our charges are:
30 min £14
45 min £18
60 min £25
Feather Duster Home support service
Covid-19 Update - 5th January 2021
Our home helpers are operating social distancing whilst in your home. This includes maintaining a 2m distance and working in a different room where possible. All staff will wear disposable gloves and disposable or washable aprons. Our staff also wear face masks. Staff have also received training in best practice relating to infection control.
Home helpers will not be able to enter your property if you have any other visitors present and will do our best to avoid times when caregivers may be visiting. We will not be able to visit if you re displaying any symptoms of the virus, or if you have been advised to isolate.
Whilst we are doing all we can to keep our clients and staff as safe as possible, in line with government guidance, it should be noted that we cannot remove all risks related to this service at this time.
We are currently accepting new clients in some areas of York. New clients will be asked to provide relevant information about themselves and their requirements during a telephone interview. This would be followed by a short home visit to conduct a risk assessment before a home helper could be allocated.
Feather Duster is a cleaning service run for older people in the York area who find it difficult to do their own cleaning. Our cleaners offer a friendly and helpful service which is tailored to your particular needs.

The tasks your cleaner will carry out can include
changing bedding
laundry,
dusting and vacuuming
sweeping and mopping
cleaning windows, kitchens and bathrooms
ironing
If there is anything else you want us to help with please ask! We will do our best to help! We aim to send the same cleaner, each visit so that you will get to know your cleaner and vice versa. Cleaning charges start at £19.00 per hour and the minimum length of clean is an hour and a half. There is a one off, £10 arrangement fee for this service. Cleaning can be arranged on a weekly, fortnightly or monthly basis.
Shopping Support Service
Covid-19 Update
Applies to the new lockdown from 5th January 2021

We will continue to be doing our shopping service as normal. We won't be able to operate a separate shopping service as we did during the previous lockdown.
We have 3 different services to help people with their shopping needs.
Personal Shopping
You will be phoned up at the beginnng of the week and asked for your shopping list. We can visit you if that's easier. We will then buy your shopping, deliver it to your home and unpack it if need be.
Escorted Shopping
We will accompany you shopping to a suitable location and either escort you around or wait for you to return.
Internet Shopping
We will take your order over the phone and order it for you over the internet.
There is a charge for these service.
Contact Bridge the Gap: 01904 866070
Contact Feather Duster: 01904 866142
Contact the Shopping Support Service: 01904 393069