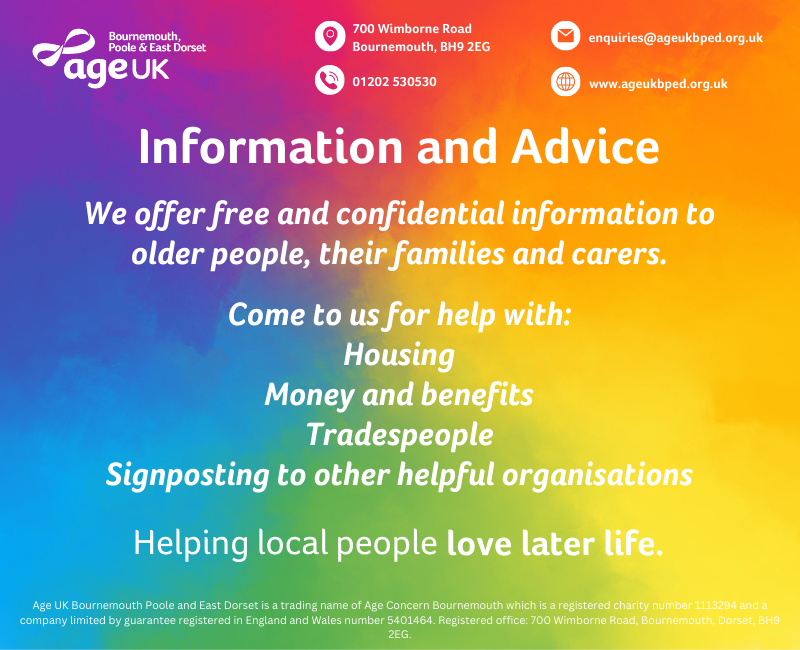 Age UK Bournemouth, Poole & East Dorset offers a free and confidential information and advice service for older people, their families and carers.
How to access the service
You can access our Information and Advice Service in a number of ways.
By phone: 01202 530530 Monday - Friday 10am - 3:45pm.
By email: enquiries@ageukbped.org.uk
By appointment only at our offices at 700 Wimborne Road, Bournemouth BH9 2EG and 22 Victoria Road, Ferndown, BH22 9HZ (specific days only).
Unfortunately we are not available for walk-ins but are happy to deal with your enquiries face to face via zoom or by a pre-booked appointment at one of our offices or clinics.
We offer an Attendance Allowance form completion service which can be done face to face, over the phone or via zoom. These are by appointment only and cost £20. If you require this service please contact our welfare benefits team on 01202 530530.
Housing
Often as people grow older, they may need to make housing changes due to changing circumstances.
There are a number of options available:
Adapting your home
Getting extra help at home
Improving your security at home
Moving to a smaller home
Moving to sheltered accommodation
Moving to a care home
Contact our office for independant advice on who to explore the options available.
Money and Benefits
If you are retired, we can help you check whether you are missing out on money which is rightfully yours.
You could be one of the thousands of older people missing out on money due to you. You'll never know unless you check.
We work very closely with the local Pensions Service regarding benefits and have a number of resources which can help you find out more about money and benefits.
We offer an Attendance Allowance form completion service which we can do face to face, over the phone or via zoom. The service costs £20. If you would like to make an appoitment please phone our bookings team on 01202 530530
Partnership Working
We try to use a holistic approach when dealing with each client. This can include signposting and referring to other organisations in order to gain certain services.
Dorset & Wiltshire Fire & Rescue Service
Can provide home safety checks, including the free fitting of smoke alarms.
Local Energy Assistance Programme (LEAP)
Can advise on eligibility to free cavity wall and loft insulation and other energy saving advice.
Care Direct
Can advise on social care, occupational therapy, assessment of needs and arrange contact with social workers.
The Pension Service
Can provide Pensions and Benefits advice and assist with making a claim to any financial income that you may be entitled to.
Tradespeople
Too often we hear of older people who have been caught out by rogue traders. To help combat this have a register of trades people who have been previously vetted by Trading Standards and whose minimum requirement is to produce public liability insurance on an annual basis.
Free booklets and online information
Age UK produces free information guides and factsheets on a wide range of topics, including home adaptations, dementia, and advice for carers. You can find a complete list of guides and factsheets on the Age UK national website.

If you prefer to read information online, the Age UK national website has information and advice on many topics, including how to find a care home, how to avoid scams, and Power of Attorney.