The last year has been extremely isolating for people of Bradford District. We reached out to speak with some of the older people that we know to ask them for a short diary entry on their experience of the pandemic.
AUDREY - FOLLOW UP
We spoke with Audrey again, catching up on how she has found the last 6 months as we experienced another lockdown. Her husband, Peter, sadly died with Covid-19 in November, although Audrey didn't catch the virus.
"Everything (relating to Peter's death) had to be done online and over the phone, so it was extremely long and drawn out. So it was difficult sorting everything out.
And I just felt so alone, when you couldn't go to your family and they couldn't come here. The only thing is, I had to very strong, and thousands have been in the same position and you just think 'I have go to get through this, come what may'.
Depression can soon step in and if you don't fight that then that's a bad situation for everyone concerned, particularly when friends and family can't come near.
A lot of people are going into depression, I have a lot of good friends and we keep in touch on the phone. I was part of a few groups, like the Reminiscing Sessions (Age UK Bradford District's group at Bradford Grammar School) so I have a group of people to stay in touch with but without that, where would we be? I am a person that likes to get people together and get people to join in, not to be stuck indoors.
It's been extremely hard to keep going, getting used to living alone. At least I know those people are there, at least I can ring. How many people have seen no one? I am lucky enough to have my daughter who does my shopping.
The Impressions Gallery had some Zoom meetings, that was jolly good. They sent quizzes out to us, they sent afternoon tea. That was a lovely day. That lightened the load a bit.
Me and my friends are all desperate to get back to the groups that we all supported. I've missed popping into groups, having a cup of tea and a chat, you'd make new friends.
People like myself who have been stuck in, we are not used to it. When you get out, for an hour with company, it helps in every way. With all the groups we were in, the days were full, so you had things to look forward to. When things are normal, it's up to people to get back out and join these things.
If the money isn't there for groups to reopen, where will we go from there? I really do think there should be some help from the Government. Age UK do a wonderful job in normal circumstances.
The thing I am looking forward to most is just being able to go out and meet friends for a tea and cake, meet up and go for a lunch. Just simple things."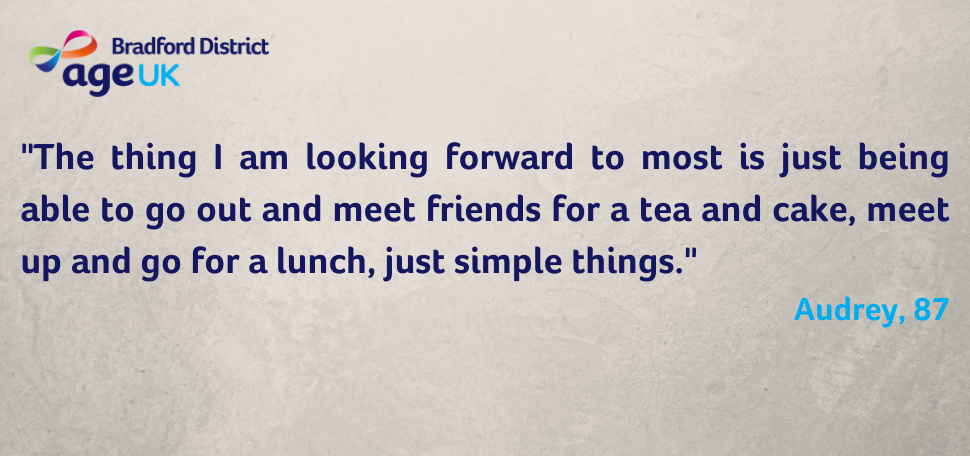 LIZ
Liz reflects on being a carer for her husband during lockdown and the uncertainty of the future.
There were times I struggled to get out of bed in a morning.

However, I was a member of various groups, and these did help. Even if I
did not feel like being fully active, I could go along and socialise.

Unfortunately, none of these groups can meet under Covid restrictions,
so it has been especially difficult for me to motivate myself.

I can attend virtual meetings, but a lot of the group members don't have
the ability or the equipment to facilitate this. it is also no
substitute for being able to meet people in person, as it is more
difficult to read body language.

I attended a painting and drawing group. On days I did not feel like
doing very much, I would often walk around, to see what others were
doing, and sometimes this would inspire me. I cannot do this virtually.

When well I am a very social person, and enjoyed meeting friends for a
drink or a meal. I miss not being able to hug them.

I am also a Carer for my husband. The restrictions have meant we are
spending more time together, and this can cause friction at time, as a
lot of the time my husband just wants peace and quiet, but I need to
talk and interact. There is also less opportunity for respite.

However, we have a strong, loving relationship, which means we fight to
support each other, to the best of our abilities.

The lack of certainty about when restrictions are going to be lifted,
mean it is difficult to plan ahead, for holidays or even days out. There
is less to look forward to, and an underlying anxiety that things will
never get back to "normal".

Despite all the things that are making life a struggle at the moment, I
am fortunate to have good friends, I can turn to, who help me get through.

I feel for people who do not have access to this level of support. It
must be especially difficult for them. My thanks goes out to
organisations, and people out there, who are trying to be there for them.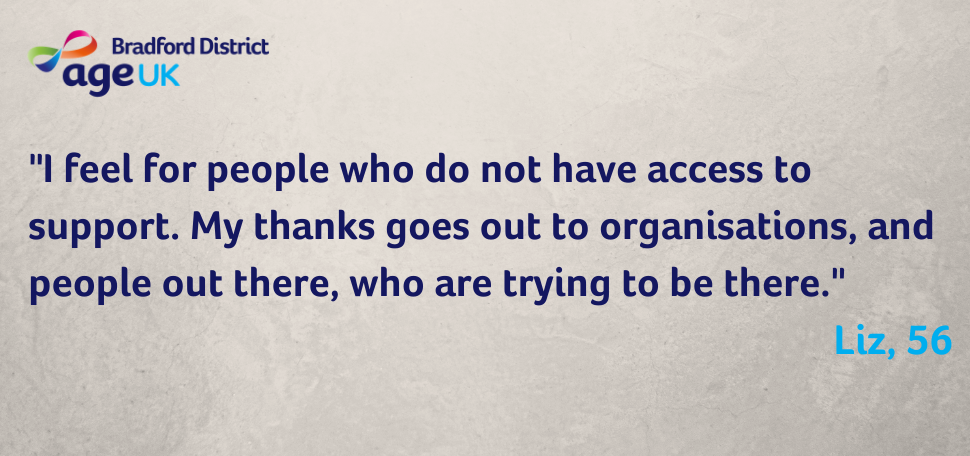 SHEILA
Shelia writes on the importance of her dogs during the pandemic and how she keeps on socialising, in the best ways possible in 2020.
Sheila joins the Older & Wilder group every other week on a Wednesday, a social group for older lesbian and bisexual women.
"As I remember what has happened today, it dawns on me how similar this Wednesday has been to every other Wednesday in Lockdown - and I do believe this is our third lockdown in almost a year - a year ago that word 'lockdown' was hardly in our vocabulary, let alone 'social distancing'. I remember someone saying to me last year, this is our World War - the actual world wars were just before our time, but we've had COVID 19 instead.
As it was a Wednesday, I was ready for the weekly Older and Wilder Zoom at 11.30. It is so good to have that weekly entry in the diary. Most of my Zooms are at the weekend, the O & W one is the only regular weekday Zoom. Today there were the usual 8 or so women, and it was good to catch up with their news - some good news, some not so good. Most of them had already had their COVID jabs, and I was beginning to feel a little left out, but during the meeting I had a text from my GP practice offering me my jab tomorrow - Hurrah!
I couldn't stay for the Dance session after the meeting cos I had to walk the dogs.
What can I say about my dogs - throughout these lockdowns they have been, and are, my life. They get me up, they get me out, they make me have exercise, they make me laugh, they give me love. Not only do I live alone, but I have no family within 200 miles, and altho friends are around they are pretty scattered, and I can only see them one at a time anyway, and that's outside. Not many of them want to go outside in this weather!
The evening passed as usual, with a couple of phone conversations to break it up, and that's it. If anyone had told me a year ago that I would have to go for weeks without seeing or speaking to anyone except on a screen, I would have panicked. I used to panic if I had an empty weekend without some social contact booked in, but it is amazing how we humans can adapt."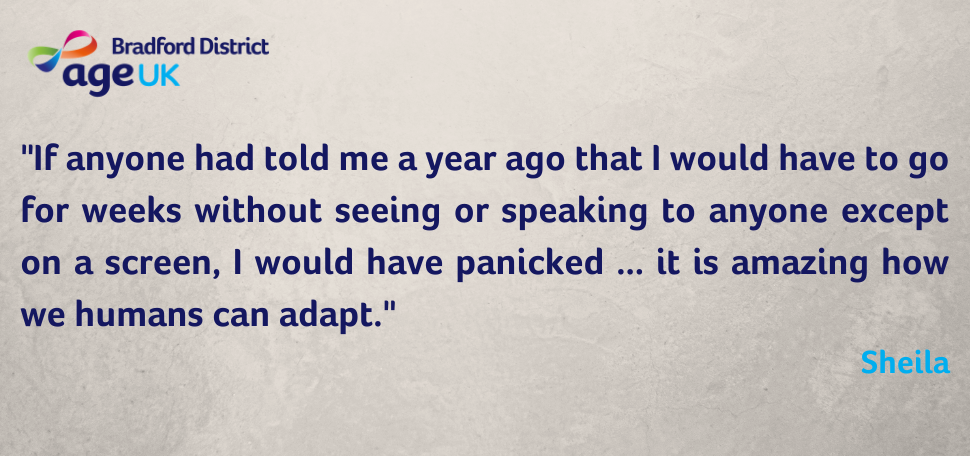 ANNE
In a moving entry to our 'Lockdown Diaries', Anne talks about the closure of social activities and cancelled family visits.
Anne is 95 and has a volunteer who has visited her for years, so she has the benefit of feeling connected through regular chats with a familiar voice. She is a keen knitter, so has contributed to Age UK's Big Knit by knitting a great number of hats for the campaign. She has also been at our Bradford Grammar School reminiscence sessions and shared her valuable local knowledge.
"I was 14 when World War 2 started. All the schools closed, and that put an end to my career of being a teacher. But we got through it.
Now I am 95 and living alone. The coronavirus situation has made me feel very lonely. But I have good people around me - friends, family and neighbours. I've had to give up going to keep fit and Thursday club and the Yorkshire Countrywomen's Association - they have had to close.
My family in Germany were due to visit at Easter but they couldn't; they came last Christmas and I am looking forward to seeing them when they can get here.
Somewhere along the way I came across Age UK Bradford District who helped me and to try to pay them back I have knitted 350 caps with pompoms for the Big Knit project.
I worry about young people. They should be encouraged to keep going and have faith - and hope they come out of it like we came out of the war. People mustn't fight the regulations.
People just have to get on with it!"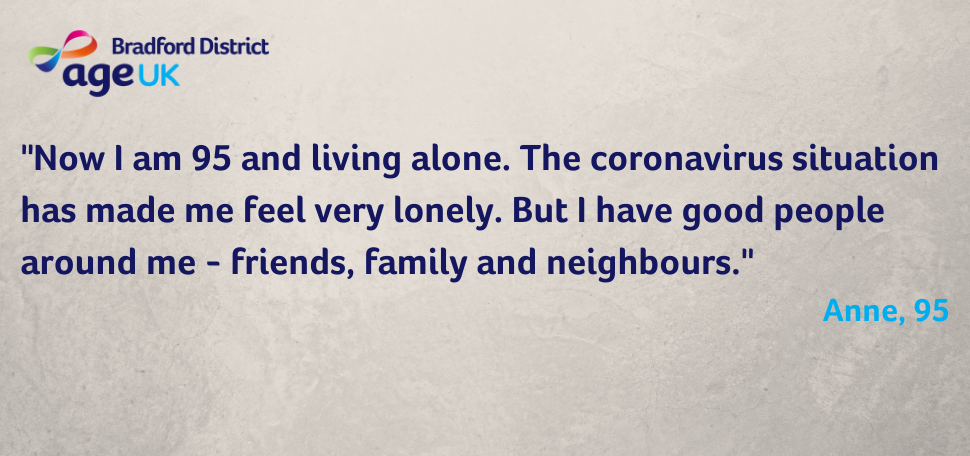 AUDREY
Audrey tells us how difficult she found the impact of groups closing and of family visits being cancelled, in our Lockdown Diaries.
Audrey, 87, has been involved with Age UK Bradford District for a long time. She has keenly attended Bradford Grammar School's reminiscence sessions over the last 5 years, having conversations and sharing her knowledge with history and geography students on the history and architecture of Bradford.
She has gained new digital skills via our Worth Connecting service and benefits from her new found confidence in using technology by staying in touch with friends and family online which during this challenging year has been important for all of us.
Prior to this year she attended coffee and chat groups and lunch groups, as well as contacting us when she needed any information or support that we could offer.
"Hearing of a new virus that the top scientists had no idea how to deal with was very upsetting.
My thoughts were to not let it rule my mind and carry on as normal as possible.
Then came the lockdown which was going to affect everyone and learn a new way of life.
Obviously not being able to see family members, especially grandchildren and great grandchildren was going to be extremely hard. Every day plodding on and hoping for the best was our way.
The lack of meeting up with friends at my age 87 was hard. We had many groups and charities which we were members of, now closed.
How people living alone cope is difficult to imagine, so much depression must be a serious issue."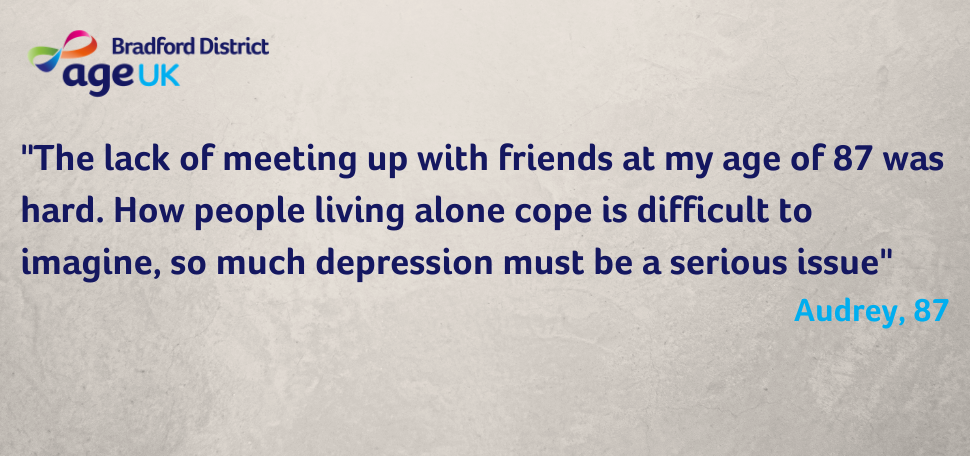 JOYCE
In another wonderful and thought-provoking entry to our 'Lockdown Diaries', Joyce details how loneliness sunk in and the importance of physical contact in our lives.
Joyce, 81, misses our regular cinema group that met prior to the pandemic. She also took part in the reminiscence sessions at Bradford Grammar School.
She also knows that she can contact our Information and Advice team when ever she has needed help we can offer.
My Sorrow – All Joy has gone!
"2020: The whole world is angry and fighting back! Spring brought the virus and the need for lockdown in towns and cities. Everything traffic, business, human interaction STOP!!
I was staying in the beautiful countryside when all hell broke loose. For a while nature took back her true colours and flourished in the clean air and silence. The sun shone the birds sung and the dawn chorus was heard filling the air. Night stars and the moon was as beautiful and clear as in my childhood memories.
But human contact was now a no no, families and friends kept apart, businesses shut and travel forbidden.
I managed to get home (it is now November) and the world is dying, people are dying in thousands human contact not allowed. I have never engaged loneliness but now it is driving me mad!!
Solitary confinement was always a severe form of punishment!! The war years and after were bad, but though poverty and anxiety was the norm, people lived and cared for others and muddled through , even then death was always hovering about and life was fragile and frightening.
This now is hell I am sure. Winter is coming, dark days and long nights, fear and dark thoughts. No work no money no comfort for those alone in angry and fearful silence.
Our wonderful world of plenty and of compassion for the old and lonely has turned into a hell of depression and despair.
Yet there are people who give hope, they give pleasure with kisses blown into the wind, pretend hugs and distance conversations through ghastly masks!! Lonesome folk never see a smile behind the coverings.
This is not life for solitary people it is mental and physical torture, PEOPLE NEED PEOPLE.
'When we can do nothing what can we do?'
Insanity begins to reign and the most terrifying thing is to accept oneself as being completely alone.
I've tried dancing with the hoover, talking to the telly, phoning friends; I've read books until my eyes crossed. But oh what I would give for a true smile a loving cuddle and proper conversation."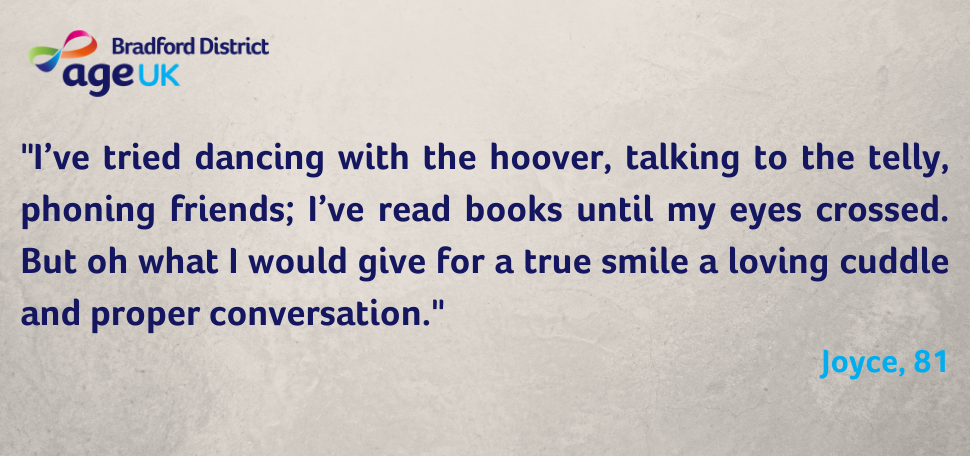 JEAN
This entry to our Lockdown Diaries is from Jean, previously a Trustee at Age UK Bradford District and a keen supporter of our charity for many years.
Jean, 87, has a volunteer who calls her regularly for a chat. She has also gained new digital confidence from our Worth Connecting service and gives some of her valuable insight to Bradford's history by engaging with the history students at Bradford Grammar School.
"I used to sit and have a sandwich with my friends and talk the day away, I can't do that now. I miss those days and I'm desperate to have those times back.
I haven't been out in so long I'm now scared to nip to the shop. I hate being alone. I led quite a busy social lifestyle, but now I have been stopped from doing or seeing anyone. I can call people but it's not the same and when I hang up I am on my own still. It is so lonely. I live to be around people and I'm really struggling without the warmth of friendship and companionship, I don't just want a hug, I need one.
I'm missing my two little great-grandchildren who live very close and have always been regular visitors. They are aged 2 ½ and 5 years old. At this age they cannot understand why they cannot visit and of course regular treats have vanished too. I miss the hugs and smiles.

Another thing about this dreadful time is the loneliness you have in your life now. I have now decided not to drive. I have lost some confidence and I must confess that not going out and about needs to be addressed when things get easier, It will feel strange but something to work at and find friendship again."