Age UK Bristol is marking 25 years of supporting Bristol's oldest generation and is celebrating in style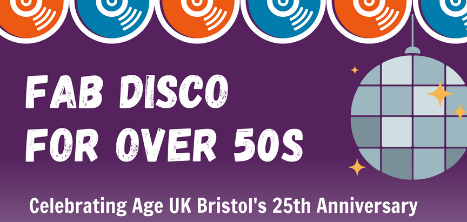 Published on 11 September 2019 04:12 PM
On Thursday 17th October, Age UK Bristol is hosting a disco for over 50s with food, drink and the greatest hits from the 50s, 60s, 70s and 80s. The event will take place at The Station on Silver Street from 5pm until 9pm. The event includes DJ sets, including a 'request your song' set, dance tasters, raffle prices and free buffet.
The charity would like to extend an invitation to everyone in Bristol to join them in a year of celebrations. We celebrate the organisations, businesses and members of the public that have worked alongside Age UK Bristol to make the city a better place to grow old.
Mark Baker, Co-Chief Executive, Age UK Bristol said, "We are thrilled to be celebrating 25 years of Age UK Bristol. Over this time, we have supported thousands of people over 55, raised tens of millions of pounds for individuals through benefits advice and now we are helping to make Bristol as age-friendly as possible. This disco is the perfect way to celebrate."
This is the second disco celebration that Age UK Bristol has thrown so far this year. The first one took place at Alchemy 198 on Gloucester Road in August with great success.
Lorne, Ashton Vale Resident, said, "My friends and I had a wonderful time and really enjoyed ourselves dancing the evening away to brilliant music. I'm looking forward to the next one."
The event is organised by Friends Ageing Better, a project led by Age UK Bristol in partnership with the Bristol Older People's Forum. Friends Ageing Better (FAB) is a city-wide membership of older people who share what is happening in the city while building relationships with like-minded people who live locally. It's free for anyone over the age of 50 to join. Members receive invitations to catch-up cafes in their area, discounts in cafes, restaurants and businesses, and access to special events and tours including discos.
Tickets to this event are £5 (£4 for FAB Members) and include a free buffet. To reserve a ticket, please call 0117 440 4301 or search for 'FAB Over 50s Disco' on Eventbrite.