FAB Disco at Alchemy 198
Published on 18 July 2019 12:20 PM
Join us on Friday 16th August, starting from 5pm at Alchemy 198 (198 Gloucester Road, BS7 8NU) for our first ever Friends Ageing Better Disco!
We are very excited to host our first ever disco in partnership with Alchemy 198 ahead of our big October celebration (watch this space for more info!). We'll have DJs playing the greatest hits from the 60s, 70s and 80s music.
Tickets are £3 (£2 for FAB members), and include 1 FREE drink, which can be wither beer, cider, wine or a soft drink. You can get your ticket in advance by clicking on this link (which will take you to Eventbrite), or you can get it at the door on the day.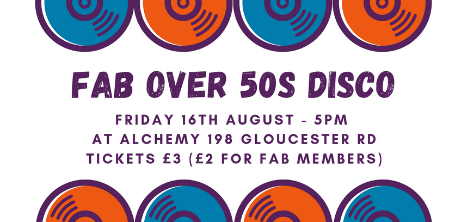 To reserve a space you can call 0117 440 4301 and speak to a member of our FAB team.
If you have any accessibility needs, please let us know to make arrangements and ensure that you will be able to enjoy the party. Also, transportation can be provided to those who have no other means of accessing this activity.
About Alchemy 198
Alchemy 198 is a Bar & Gallery set at the heart of Gloucester Road Central, offering funky cocktails, local gins & craft beers, freshly ground coffee and a lovely range of teas and coffee in a relaxed, beautiful setting.