Interview with Lee Carter: Aerial Theatre Performer with Ockham's Razor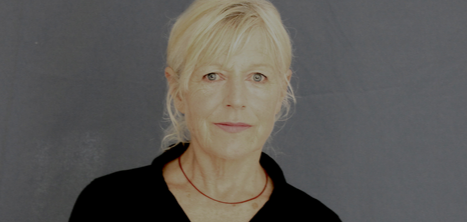 Published on 09 October 2019 03:22 PM
As part of the Celebrating Age Festival, Age UK Bristol was very pleased to catch up with Lee Carter to talk about her work. She is currently performing in an aerial theatre piece with Ockham's Razor company. Lee turned 60 this year and spoke with us about her life and being an 'older' actor doing physical acrobatic work.
Lee is London-based but does have strong Bristol connections. Many years ago, she opened the first Bristol photographic studio run by a woman. She left Bristol working as a photographer and has now come back to visit as a circus performer. She had a major life-changing moment at 49 and had to come to terms with many things. Lee took a chance on a week-long workshop in physical theatre that changed her life. She then studied Physical Theatre for two years, and worked in a dance company. She has been working with Ockham's Razor since November 2018 in a project called This Time. This Time is a piece of storytelling and physical theatre with only four actors.
Lee has found herself in a niche as an 'older' physical actor and performer. She has overcome fear, not only in doing the physical aspects, but in being able to tell her story in the piece. This project has allowed her to open neurological pathways that she didn't know before. Often after a performance there is someone in their 50s or 60s who comes up in tears and says thank you to Lee for her performance. It is so very important to see older people being active and telling their stories. People can relate to Lee's story.
Age UK Bristol is one of many partner organisations in Bristol running the Celebrating Age Festival this October. We believe in people over 55 staying active and involved. Lee said that finding something new keeps you alive. "You can do things that you never imagined. You get a much deeper relationship with yourself."
When asked if she had any advice for older people who were thinking of starting something new, Lee said, "follow your heart and if you get that feeling, just find out what that feeling is".
Lee didn't want to be, as she put it, "an older person who shrinks and disappears," so she keeps doing what she loves. She is pushing the boundaries of what her own body can do as well as what audiences think they will see from an 'older' performer. She doesn't see retirement anytime in the future. As she says, "you don't really retire from being an artist".
If you are interested in seeing Lee Carter in action, This Time is coming to Bristol on the 24th and 25th October. More details can be found on https://www.ockhamsrazor.co.uk/this-time.
Thanks to Lee Carter for taking a few minutes to share her thoughts with us. For more information on activities during the Celebrating Age Festival can be found on the Age UK Bristol website.