Launch of month-long Celebrating Age Festival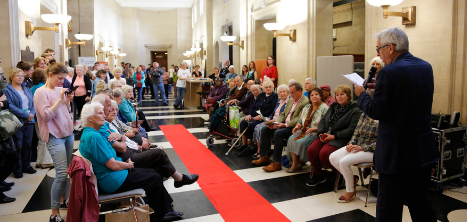 Published on 10 September 2019 03:28 PM
The Celebrating Age Festival (CAF) is a festival aimed at challenging stereotypes and recognising the contribution that older people in Bristol make. The festival launches on the 1st October, the same day as the International Day of Older Persons, and ends on 31st October.
Age UK Bristol has coordinated CAF with support from Bristol Ageing Better, St Monica Trust, LinkAge Network and Active Ageing Bristol.
Throughout the month, there will be a variety of taster activities, open days and events for people of all ages to get involved in, the majority of which are completely free of charge. The festival is a fantastic opportunity to try a new craft, make new friends and share experiences. This year CAF are linking up with the Festival of Ideas and Bristol's Research Forum to host three panel events at The Watershed on Healthy Ageing, Innovative Housing and Exploring What Retirement means in 2019. Guest panellists who are experts in their fields will be discussing the latest research and thinking on these topics.
Mark Baker, Co-Chief Executive of Age UK Bristol said, "Our CAF partners have all contributed so much time and effort into making this year's festival a success, we're all looking forward to welcoming the community to these events and celebrating everyone's hard work."
Angelina Shoemake, St Monica Trust Community Giving Manager, said, "We have been delighted to provide funds for older peoples' groups across Bristol, to assist them in putting on activities during the festival and showcasing the fantastic range of activities available in the city."
The festival launches with an opening event on Tuesday 1st October at The Station on Silver Street in Bristol City Centre where a variety of groups and organisations will be running stalls. There will be free refreshments.