Bristol Walkfest is back for 2020!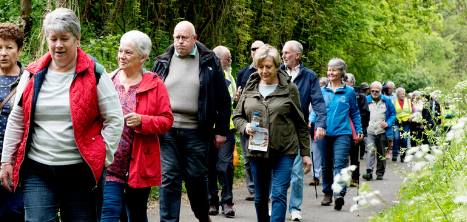 Published on 17 February 2020 10:00 AM
The month-long Bristol Walk Fest returns in May, aimed at encouraging people of all ages, interests and fitness levels to explore the city and its surroundings by foot.
Bristol Walk Fest is urging organisations with ideas for walking events to get in touch by Monday 24 February if they want a listing in the printed programme for the festival's next edition, taking place from 1st-31st May.
Festival director Karen Lloyd of Active Ageing Bristol says: "Interest in Bristol Walk Fest surged last year with 7,800+ people taking advantage of a choice of more than 250 adventures on foot and covering a combined total estimate of 12,600 miles around the city. We know that scores of last year's event organisers are already fine-tuning their plans for Bristol Walk Fest 2020 but more submissions to our free guide are most welcome – if we hear in time."
There is no charge for adding a listing to the festival's line-up and while the organisers are keen to make sure that most walks and walking sports are free to join, some organisers are allowed to sell tickets.
Bristol Walk Fest 2020 is being co-ordinated by Active Ageing Bristol in collaboration with The Anchor Society and St Monica Trust, working in partnership with Age UK Bristol. Principal funders are Active Ageing Bristol and Bristol City Council's Access Fund.
Age UK Bristol Co-Chief Exec, Kay Libby says: "It's fantastic to be involved in Bristol Walkfest for a second year as walking is such an accessible and sociable way for older people in our communities to get out and explore Bristol."
To find the events submissions form, visit https://www.bristolwalkfest.com/get-involved/submit-an-event/.