FAB Disco FAQs - Everything you wanted to know about our FAB Discos!
Published on 02 March 2020 04:38 PM
FAB Discos have been running and going strong for a while now, and, together with our disco goers, we thought it would be a great opportunity to answer some of the most common questions we get asked, especially if you have been thinking about joining us and just need an extra push to make up your mind.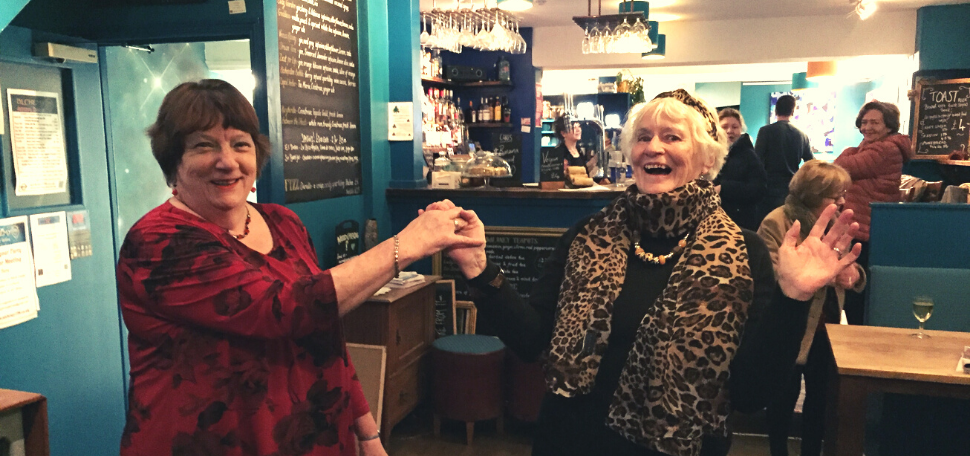 When do discos happen?
Our FAB Discos happen always on the last Wednesday of every month, upcoming dates 25th March and 29th April. We play music from 5pm to 9pm, although people are welcome to stay longer if they feel like it.
I've never been to Alchemy, can you tell me a bit more about the place?
Alchemy 198 is a bar, cafe and art gallery set at the heart of Gloucester Road Central. Sarah, owner of Alchemy 198 and Room 212, created this space as means for people to socialise, relax and enjoy creativity in all its forms. The pub hosts a range of events, including live music, craft sessions, comedy nights and socials. To find out more about events happening at Alchemy, join their mailing list here!
Can I come on my own?
Of course! Our discos are a great way to meet new people. We keep an eye out for those who arrive on their own and show them a table that they can join in with friendly people. Some people do dance in pairs, but most of us just dance with everyone at our own rhythm.
What sort of music will be played?
It varies from night to night, but mostly is music from the 60s, 70s and 80s. Silvia takes music requests, which she plays throughout the night with the help of the internet, so you can be guaranteed you will listen and dance to something you enjoy.
How about the noise, can you have a conversation?
For sure! We set up the dance floor in a way that allows for the back of the pub, where most of the sitting area is, to remain quieter so you can have a good catch up over your favourite drink. We avoid using the pub's PA so we can control the volume of the music in different areas, so if you think the music is too loud or too quiet, let us know!
What kind of food is available?
Alchemy 198 hosts 'Eat Me', part of the Plastic Free Catering Company. They offer small snacks including vegetarian sausage rolls, cakes, toast, and nibbles. Just like Alchemy, Eat Me will compost food waste at their allotment, keep other waste to a minimum, use local produce wherever possible and avoid anything wrapped in plastic. Their motto is, 'nothing tastes as good as a clean conscience'. If you are looking for a bigger meal, there are several restaurants and cafes open less than 10 minutes away from Alchemy on Gloucester Road.
Is there a dress code?
Not at all, come as you are or dress up, everyone is welcome!
How much does it cost?
Entrance to the pub and disco is free. However, we do ask for a suggested £2 donation to keep these events going. This collection covers our DJ expenses and admin costs of advertising.
Can I DJ?
Yes! If you are interest in becoming one of our volunteer DJs, please get in touch with Silvia on silviajc@ageukbristol.org.uk. We welcome amateur and professional DJs. Please note, we currently don't have a budget for DJs, so you can take on the dance floor on a voluntary basis (expenses covered).
How do I get to Alchemy 198?
Several bus routes go up the Gloucester Road, past Alchemy 198, such as 71, 72, 73, 75 and 76. The closest bus stop is Hatherley Road. There is also on street parking on nearby roads. If transport is an issue, please get in touch with us and we'll try to work with you on this.