Update on Our Services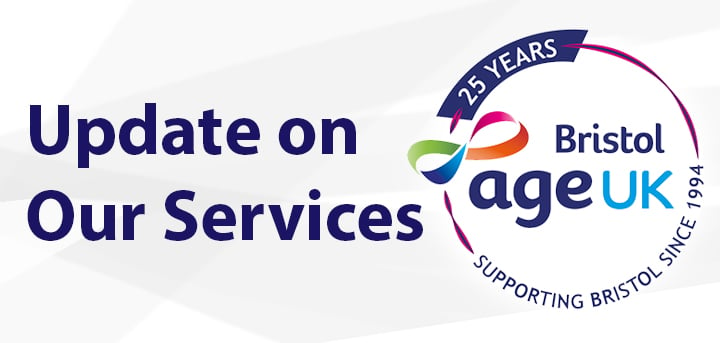 Published on 15 September 2020 01:32 PM
Update on our services at Age UK Bristol
September 2020
Age UK Bristol is doing everything possible to support older people in Bristol during the coronavirus pandemic. In the early days of coronavirus (Covid-19) lockdown, we changed our services to provide support to people over the phone and with online activities and provided emergency help with shopping and prescription collection. We are now re-designing our services so we can support people to stay safe and well while Covid-19 is in the community.
Our office on Victoria Street and our Daytime Activities service at the Withywood Centre are currently closed to the public.
The range of support and services we can offer is likely to change often, based on the latest situation with the pandemic. To find out more about our current services, please call our Helpline on 0117 929 7537.
We are now working with over 30 partner organisations on the Support Hub for Older People. One phone call to our Helpline will put you in touch with all of the services offered by ourselves and our partners on the Support Hub. Together, we can help you with practical support, the chance to meet up by phone or online with others, activities and also emotional support. Visit our Support Hub webpage for more information by clicking the link below.
Click here to visit the Support Hub for Older People
Face-to-face services
We will re-open face-to-face services as soon as it is safe to do so. Please be patient in the meantime - the safety of all who use our services as well as our volunteers and staff is very important to us.
We will widely publicise and promote any new or re-opened services but in the meantime, please know that we are just a phone call away if you need us. We will always do everything possible to help you ourselves and where we aren't able to, we will put you in touch with someone who can. Our aim remains to help make Bristol a wonderful place to grow older.
Stay up-to-date
Do keep in touch with us - sign up to our social media and newsletters for the latest developments. Click on the icons below to visit our social media pages.
Sign up as a Friends Ageing Better (FAB) member and receive our weekly FAB e-newsletter, full of information on local and online events, activities you can take part in from the comfort of your own home, and ideas on keeping active during the current pandemic - straight to your inbox!
Become a FAB member today - Click here!
Thank you for your support.