Bridging the Digital Divide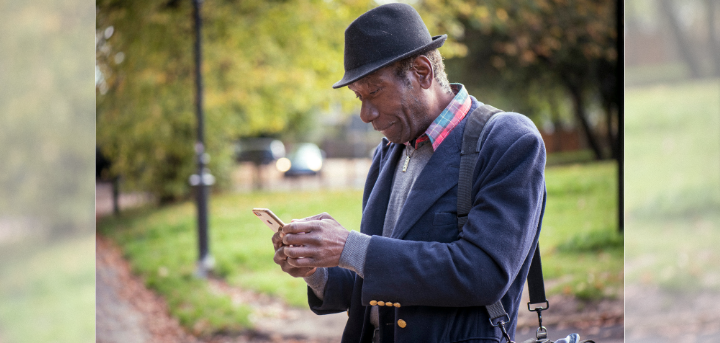 Published on 07 September 2021 03:57 PM
We know that there is a significant digital divide between the ages; across the UK, 3 million people are offline (ONS 2020). Of these, 32% or approximately 1 million people are aged 50-69. The majority (67%) were aged 70 or over.*
During the coronavirus crisis this issue has been exacerbated as many services, such as shopping and banking, have gone online. Similarly, social activities and clubs, keeping in contact with friends and family has also gone online, leaving many older people more isolated than before.
How has Age UK Bristol addressed this issue?
Communication and Information Group:
As part of Bristol's Age-Friendly City strategy, we want to ensure that increasing digitisation, changes in people's life circumstances and health conditions do not cause older people to become isolated.
We've set up an Age-friendly Communication and Information action group to improve how older people access information and connect with services and organisations. This group meet monthly to discuss the challenges encountered by people navigating information sources and communication methods as they get older, and using that lived experience to co-create tools that will make a difference in Bristol. The group meet online and in-person. We know that digital inclusion is an increasingly vital focus for age-friendly work. We are keen to hear how people feel about different sources of information and the language used in communication. We will post further updates on the website as we continue these conversations. If you would like to join this group please contact agefriendly@ageukbristol.org.uk or call 0117 928 1539.
Working with Sparko:
We've linked up with Sparko TV, a company that connects your TV to the internet with a plugin box. The Sparko TV box connects to the existing TV, creating an interactive channel that incorporates live classes and social events, lifelong learning opportunities, access to video calls and a messaging service, and much more. Currently, the Bristol Sparko team are running weekly shared reading and poetry sessions and afternoon tea and chat sessions.
As a part of an introductory offer, we will be funding the cost of the Sparko kits (worth £189) and Sparko will be offering a free 2-month trial for the subscription service. After this time, the team will check in to see if you are interested in continuing with the service, which will cost £9.99 a month. To register your interest in receiving a Sparko kit contact Linkage@ageukbristol.org.uk or ring 0117 929 7537
Our virtual activities through the Support Hub
Since March 2020, the Support Hub for Older People has worked with partners across the city to deliver virtual activities which take place either online or over the phone.
We wanted to ensure that support and activities were still available to people who are not online and so trialled the use of telephone groups. The groups are free to join. One unexpected bonus of this approach was receiving feedback from attendees of our virtual activities to say that this was the first time they had been able to attend an activity, these attendees were older people with mobility issues or caring responsibilities which had restricted their ability to socialise outside of the home.
Examples of virtual activities we run include Shared Reading groups and a weekly Art on Zoom club. These activities are either free or low cost, find out more on the LinkAge website.
If you didn't find what you were looking for, contact us for a conversation. Activities across the city are starting all of the time, we may be able to help you find an activity. There are resources out there to gain digital skills, from drop in sessions to volunteer one-to-one support. Age UK Bristol and the Support Hub for Older People are working together to bridge the digital divide.
* https://www.ageing-better.org.uk/sites/default/files/2021-07/COVID-19-and-the-digital-divide.pdf