Festive Cheer with Age UK Bristol
Published on 09 December 2021 04:53 PM
We're running a Festive Cheer campaign over Christmas!
The end-of-year festivities can be hard for many people, and we get inundated with negative stereotypes of ageing in the media around December. We would like to turn the conversation around and share some joy to brighten up these long nights with our Festive Cheer Christmas campaign by sharing stories from across Age UK Bristol's services and supporters.
You can get involved by sharing your story/picture, and if you wish to, make a donation to help our services in the new year.
To share your story either email comms@ageukbristol.org.uk or ring our Christmas storyline answerphone and leave an audio message on 0117 9281 554


Festive Cheer Stories
Christine, from the Withywood Friends Ageing Better (FAB) cafe, shared her memories from Christmas.
"I was one of 13, so we didn't have a lot of money growing up. You had your stocking with an apple, an orange, a bit of ribbon for your hair and that was it. But I remember one year, my mum stayed up all night. She took the curtains down and stitched us new pyjamas out of the curtains. So they were up in the window Christmas Eve, and I was wearing them Christmas Day!"
Brenda, also from the FAB cafe shared her experience as a foster carer at Christmas.
"We used to have great fun, but every year I had to hide presents round all my neighbours because the kids would go looking for them, many of them had never had a Christmas before. One year I bought a 12 foot by 6-foot snooker table for the boys and they were thrilled. It sat out in my front garden all the year following because I had no space inside."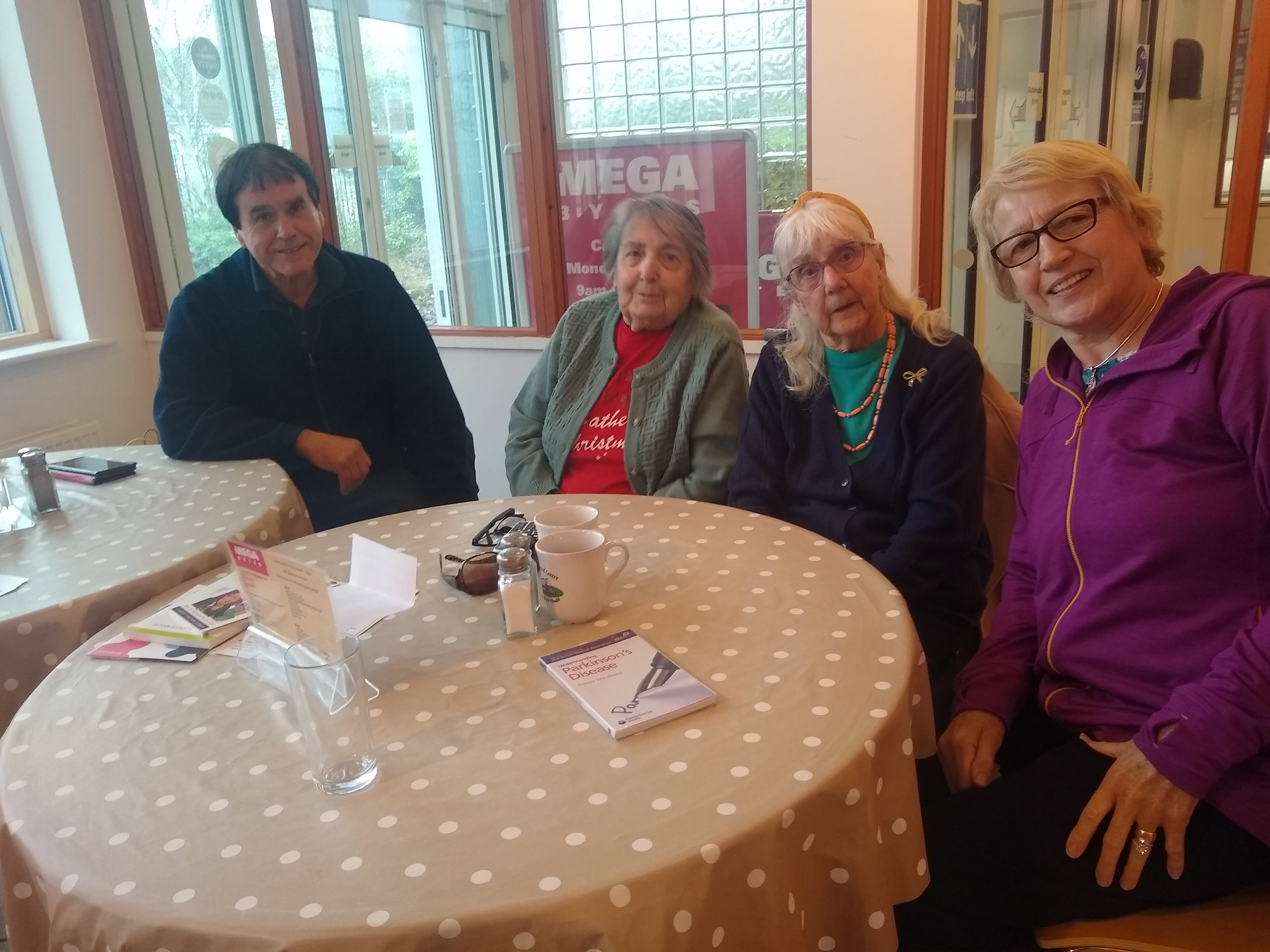 Pat, told us about the home made cards she has made, and how they link to her Christmas wish...
"This card reflects the important role of stars in the Christmas story. It also adds to my hopes for next year. We have been through dark and difficult times in the last couple of years. I hope now we can begin to make sense of our altered world.
So my Christmas wish this year is that we can all manage to create a new beginning in 2022, which builds on contacts we have made on the internet, also drawing in the community which is not digitally connected.
My first wider wish is that we can combat digital poverty in older people, not only providing the equipment but also the technical support. My second one is that we can establish in Bristol a network of local social groups so that people can access convivial, interesting company."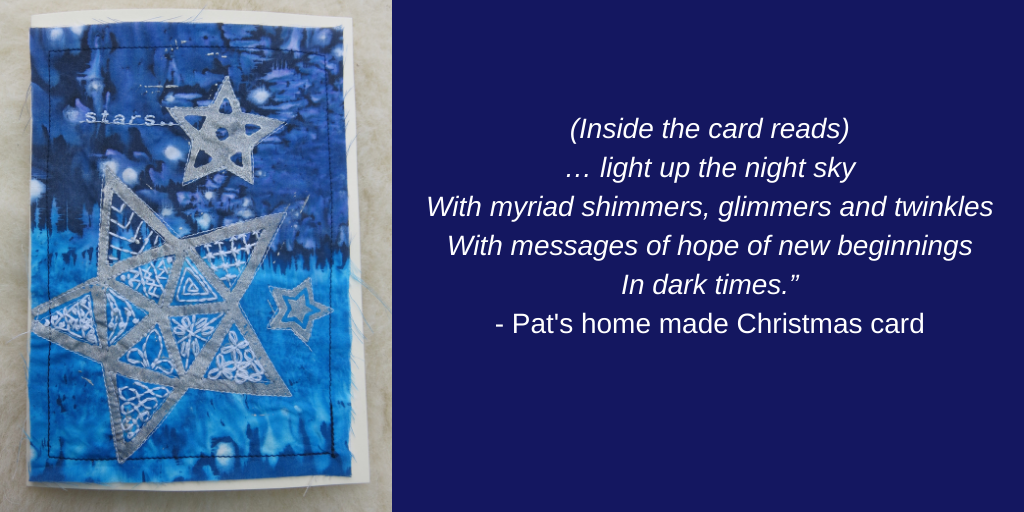 Jo, Age UK Bristol Community Services Manager, told us about a favourite Christmas present she received as a child.
"I have a strong memory of being about five years old and I can remember our lounge with the large windows which let in lots of light and looking up at the Christmas tree which seemed enormous.
We were allowed one present before breakfast and I chose a long rectangular box which turned out to be a ballet Sindy. I was ecstatic! She had bendy feet to point which I also remember kept breaking, probably due to my clumsy overuse, so we eventually bought a bag of spare Sindy bendy feet." -
Howard, one of our fantastic volunteers at the New Beginnings Day Centre told us about his experience with Father Christmas...
"When me and my brother were small, my dad used to go into the back room and talk down the fire vent and pretend he was Father Christmas."
Rod, who attends our Art on Zoom club recalled his memories of Christmases' spent in Rome where he lived for many years. (Christmas tableaux below by Rod).
"I love the nativity scenes that are on display in late December all over Italy. There are so many little exhibitions, and they are very intricate, some with moving parts, some with water flowing over them or life-size 3-dimensional pieces. They really bring out the spirit of Christmas to me."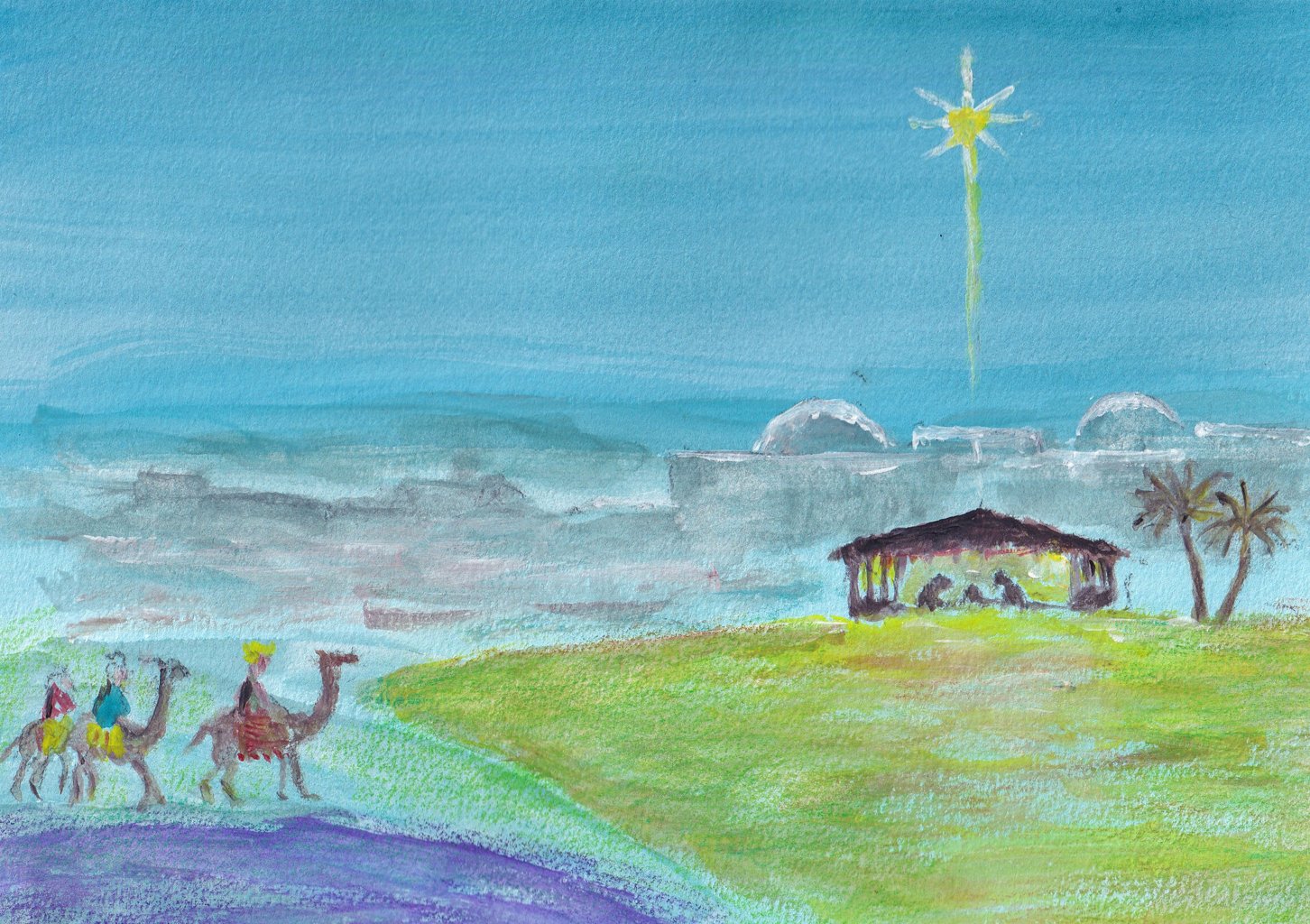 Judith, from our board of trustees, remembers a Christmas spent in post-war Germany when her father was working in the RAF.
"Most of Germany was in ruins, and people were very poor. The lady who cleaned for my mother, invited me to their house for Christmas Eve, and her husband came for me on his bike, I sat on the crossbar, and the stars blazed in the sky, because there were no street lights.
At their house, all the children were gathered in the kitchen where we played games and ate the sweets my mother had given me to share.
The Christmas tree was lit with candles, and under it were brown paper parcels tied up with string. We all got one, even, me, and I got a beautiful pair of red mittens. I knew someone must have knitted them, and sacrificed a garment to make them, because in my mother's words, 'You can't get wool for love or money!'. Looking across the room, I saw Frau Hoffman, she was wearing a red short-sleeved sweater. She smiled at me, I never forgot that Christmas, when people who were very poor welcomed the child of an enemy into their home and made sure she was not left out."
Kay, our Chief Executive shared a strong memory of Christmas from when she was very small.
"I remember sitting around my Nan's big dinner table with my parents, brother and sister with a special place set for my new doll who came for Christmas. I think I was 3 and I insisted she had to be able to sit with us. I called her Mary – very original – and she had a red velvet dress with white furry edging. Here is what Mary looks like today!"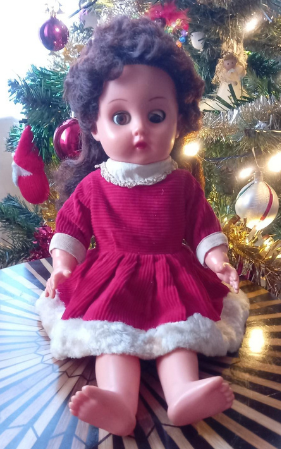 If you don't have a Christmassy story to share, could you donate instead to help fund our services in the new year?
You can donate on our JustGiving page, or alternatively text CHEER to 70460 to donate £3. (The text will cost the donation amount plus one standard network rate message.)
If you want to donate another amount, you can text CHEER5 or CHEER10 to 70460 and you will donate £5 or £10. You can enter any whole number between 1 to 20 and donate that amount.
This is a one-off donation and Age UK Bristol will not contact you again using these details for marketing or other purposes. You will have the opportunity to make your donation a monthly donation if you so wish.