Loneliness Awareness Week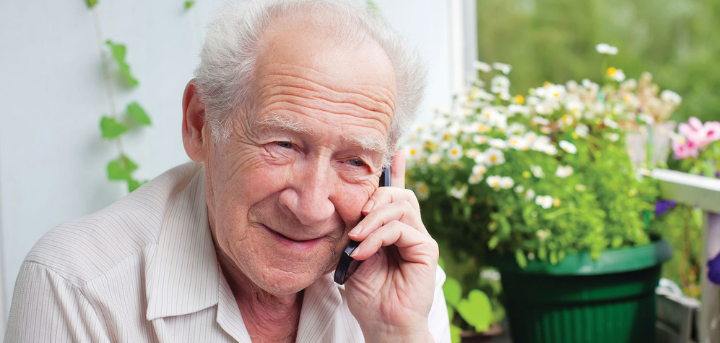 Published on 16 June 2021 02:14 PM
Loneliness affects people from all walks of life, and at all ages. Here at Age UK Bristol, we run a variety of activities for people who may be experiencing social isolation, offering activities like Tai-Chi and online art clubs, as well as one to one telephone befriending services.
As a part of Loneliness Awareness Week, we're highlighting a story from one of our befrienders, Katrina, and her befriendee Matthew*. Katrina joined us as a volunteer in October last year as a telephone befriender and has been speaking to Matthew, every week since.
Katrina had been interested in volunteering with Age UK Bristol for a while and when she researched the roles available, she found our befriending service. "I enjoy talking to people and listening to their stories," said Katrina. "And I've always had a certain leaning towards older people and encouraging them to still have a voice and be heard, so this role seemed a good fit."
Matthew has lived all over the world and has a keen interest in history and culture which Katrina said has kept her on her toes as she often makes a note to herself to read up on a subject they have discussed. "Learning about his life has been so interesting, it's been a whole insight into another world," said Katrina.
This insight into Matthew's life has also been a learning experience for Katrina in other ways. "There can be a lack of awareness about issues affecting more deprived communities and volunteering is a route to accessing those communities and experiences. It's been humbling, but it's also been good for my wellbeing too, it's helped me gain a sense of perspective."
Matthew lost his wife last year and Katrina also lost her stepfather, so she understood the need to have someone to talk to. "I've realised how important it is for people who've lost someone, at any age, to have the opportunity to speak to someone and be heard and responded to. Knowing that I'm making an opportunity for Matthew to share his thoughts has been a good experience for me."
Although Katrina hasn't met Matthew in person, she was able to give him a wave when she attended and performed at our online open mic night back in March where she dedicated a song to Matthew. Katrina was also able to arrange for Matthew to receive a Christmas hamper from loneliness awareness charity, the Marmalade Trust.
It's thanks to volunteers like Katrina that our services continue to be available. If you'd like to volunteer with us, please visit our volunteering page to find out more about the roles available.