One Small Step to Reconnect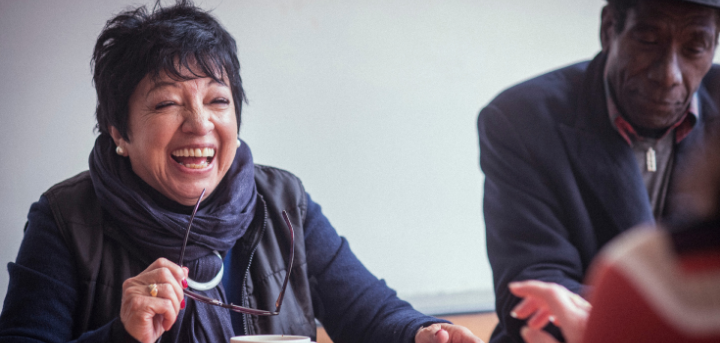 Published on 29 July 2021 01:02 PM
Age UK Bristol and the Support Hub for Older People are launching a new campaign to run for the month of August aimed at supporting and empowering people over 50 to reconnect with their community and to rebuild their confidence in going out again post-lockdown.
One Small Step to Reconnect will share stories from older people across Bristol about their experience of lockdown and how they are reconnecting with their community again as well as their advice on how others can reengage. Additionally, the campaign will share advice from Age UK on coping with going back out again and advice on how businesses can better support customers who have previously been shielding.
Kay Libby, Chief Executive at Age UK Bristol said, "At our meetings with the Support Hub we have discussed the impact that Covid-19 has had on older people, one of which is an increased level of social isolation due to lockdown and shielding. Despite restrictions being lifted, we know that some older people are now anxious about returning to their everyday lives but we want to encourage people to take a small step towards reconnecting, whether that be virtually or in-person."
The campaign will include information about a range of activities available through Age UK Bristol and the Support Hub such as in-person Tai-Chi sessions, gardening clubs and online and telephone chat groups.
One person featured in One Small Step to Reconnect is Pat who volunteers with Bristol Older People's Forum, she helps to run their online meetup morning. Pat said, "I think lockdown has taught us that we should no longer do things that we don't enjoy, and we shouldn't let other people influence us either. Be brave to choose the things that you want to do, and be brave to tell people when they are making you feel uncomfortable."
Pat suggested that if someone wants to go to restaurant or café venues to first ring ahead and ask if they have outdoor seating and Covid conscious policies, as this is something she has found helpful when seeing friends again.
Look out for the campaign updates on the Age UK Bristol website and share your support on social media using the #OneSmallStep. If you would like to get involved or share your story contact comms@ageukbristol.org.uk