The Support Hub and the Exercise Club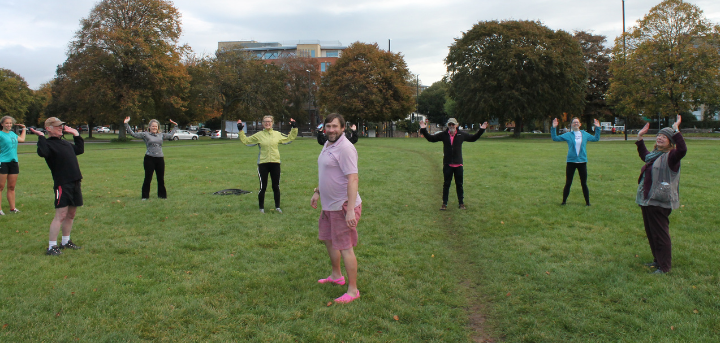 Published on 26 April 2021 10:55 AM
The Support Hub was formed by a collaboration of local organisations in response to the coronavirus crisis in March 2020, offering practical, social and emotional support services to people aged 50+ in Bristol. A year on, the Support Hub has grown to include 37 organisations and continues to support older people during the pandemic.
One such partner organisation is the Exercise Club gym in Clifton. The Exercise Club aims to support older people and those living with decreased mobility, to stay fit and active. Ross, who had never expected to run online gym classes, has been running a variety of classes for his clients over Zoom since March last year. One client Ross has been able to support during this time has been Eddy, a stroke survivor who started attending the virtual classes after hearing about them on the local Babbers radio show.
Eddy retired at the beginning of 2020 and had looked forward to spending more time with friends and family however due the lockdown; these plans were put on hold. As a part of Eddy's stroke rehabilitation before the pandemic he was part of a support group where members attended the gym together, however this also had to stop during lockdown.
Eddy describes himself as the "black sheep of the family" with regards to exercise as the rest of his family is very active but experiencing a stroke has made him have to focus more on his health. It was more difficult to do this during lockdown but once he started virtually attending the classes run by Ross, he found it very encouraging.
"I know a bit about personal trainers, most of the last 11 years I've had personal trainers to help with my rehabilitation, and Ross is without question one of the best." Says Eddy who goes to two classes a week from his living room.
Ross has a personalised way of supporting each client and although he can't be there in person to adjust postures, he has adapted the way he leads classes to get the best out of people. Ross will use furniture as visual cues to support clients, e.g. asking them to get their chin in line with a bookcase in the background. Instead of specialist weights equipment, people fill rucksacks with books and lift cans of beans. Ross has had fantastic results from people attending the online classes: Ross says, "We've been reaching people who wouldn't have been able to get to the gym five times a week due to disability, transport costs, time commitments etc., but who can get out of bed and exercise in their living room with the laptop or tablet out."
For Eddy, the results have been impressive and he can now jump with both feet off the ground and he can bend down further than before. "Its things like this that you take for granted from about the age of 6, but as a stroke survivor it's something you have to re-learn."
Asked what his favourite part of the classes are, Eddy responded with, "I know what parts are my least favourite! Some of those exercises are really very difficult! But actually its Ross' terrible jokes and gags that make it a fun environment. There's a kind of togetherness in it all, it really does create a good atmosphere, you really do feel part of a group which is a rare thing in 20201."
As well as running the exercise club online sessions, Ross also set up an informal Friday social over Zoom for clients, followed by 'the hangover club' exercise session on a Saturday morning which has really helped Eddy and others in the group to connect with each other.
For Ross, being part of the Support Hub has helped him to link in with other organisations, bounce ideas and learn from other people in the sector. Although gyms have now been able to reopen, and Ross has been able to meet Eddy in person for an outdoor class, he will continue to run a mixture of online and offline exercise sessions. "Most of those on zoom sessions will continue in some shape or form, by popular demand, people really value them. It adds to our offering, and I still don't think we've really scratched the surface with more isolated people and I want to ensure people aren't forgotten as we 'return to normal'".