What's it like to get the vaccine?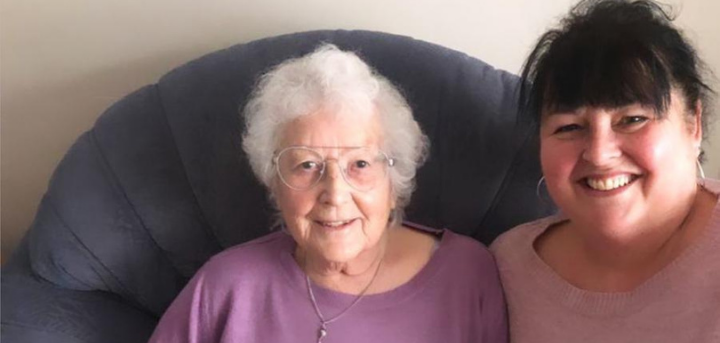 Published on 11 March 2021 04:57 PM
New Beginnings Coordinator, Marie and her team have all had their first dose of the Covid-19 vaccine because they work closely with people living with dementia who are at higher risk of catching the coronavirus. Myrna, Marie's mum, was offered her vaccine as a part of the vaccine rollout reaching people over the age of 80.
We caught up with Marie and Myrna to find out about their experience of getting the vaccine.
Myrna moved in with Marie in March last year, which meant they were able to support one another during the lockdown. "Lockdown has been quite depressing." Said Myrna. "If I hadn't moved in with my daughter I don't know what I'd have done." For Marie, lockdown meant working from home and adapting the day centre services to continue supporting clients. You might remember reading about her work in this article.
Lockdown has been tough, and both Marie and Myrna were delighted to hear the news about the discovery of a vaccine.
Myrna's doctor contacted her to set up a vaccination appointment in early January. Myrna's appointment took place at a clinic not far from where she lives; she said it was all was very easy with marshals directing people through a one-way system and plenty of staff available to offer advice. "It was marvellous." Said Myrna, "It makes you really proud of the NHS to see how well organised everything was."
The vaccination itself was very quick; Myrna had to check whether the needle had gone in! Myrna was then asked to take a seat for a few minutes before she left so that staff could ensure she didn't feel unwell. It is quite common for people to experience side effects after taking a vaccine; this is a sign that the vaccine is doing its job. Myrna felt a little bit shivery in the evening after her appointment, but was otherwise fine.
Marie booked her appointment online and attended the mass vaccination site at Ashton Gate Stadium. Upon arrival, Marie was guided along a one-way system that she described as "like walking on a conveyor belt from one area to the next." She found the process to be fast and efficient and she felt the staff and volunteers involved were very friendly. "Being at home for so long, it all felt a bit like a day out in a funny kind of way!" Said Marie.
Marie said that after the vaccine, she felt a little more tired than usual, but that if the nurses hadn't told her this was a possible side effect she probably wouldn't have noticed.
Myrna and Marie were pleased to have had their first dose of the vaccine and hope that following their second dose in April, life can start to get back to 'normal' as they both look forward to seeing more of their extended family in the coming months.
If you are over 55 or clinically extremely vulnerable and have not yet had your first COVID-19 vaccination, you are now being asked to contact your local NHS to book. Speak to your GP, call 119 or go to the national booking portal, here.