Start of Bristol Walk Fest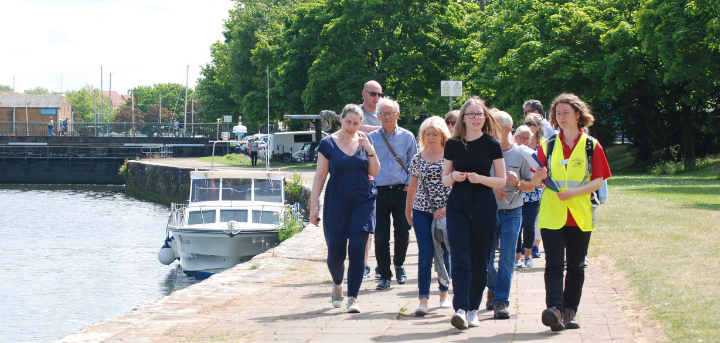 Published on 22 April 2022 04:55 PM
The month long Bristol Walk Fest returns this May with a 'one stop shop' website of walking in Bristol, featuring over 200 free or low-cost walks and events. The festival showcases the best of Bristol for everyone to enjoy, either on their own or with others, with inclusive walks and events taking place all over the city for people of all ages, interests and abilities.
Walk Fest is a celebration of all things walk related. Now in its tenth year, the event is one of the largest annual urban walking festivals in the UK and takes place as part of Living Streets National Walking Month.
The 2022 festival aims to combine the return of the successful programme of 'in-person' events and activities from 2019 with the online self-guided walks, challenges and events, and partnership with Go Jauntly that was successfully offered in 2021.
This year's festival will see new challenges for everyone to get involved with, including those hosted by Go Jauntly, a free, community-based walking app that allows users to discover nature-filled walking routes. Go Jauntly's 15-minute walking challenge will encourage people to spend time outside each day throughout the month and as an added incentive, prizes of Good Sixty vouchers and Go Jauntly premium membership will be on offer each week.
The festival will kick off on 28th April at 14:00 with Alex Rotas' NO LIMITS#2 exhibition displayed on College Green. Alex is a Bristol-based photographer, writer and public speaker, passionate about promoting active ageing and the benefits of the wonderful grass-roots sports initiatives in our city. The exhibition features some elite older athletes as well as local groups participating in a range of walking activity, displayed to celebrate Bristol Walk Fest 2022.
Festival director Karen Lloyd says: "A short, brisk daily walk has lots of health benefits, including building stamina, burning calories and strengthening the heart, and counts towards your recommended 150 minutes of weekly exercise.
We already know people have been walking more due to lockdown and we're excited that the Bristol Walk Fest 2022 website provides a 'one stop shop' for all things walking related in Bristol. We showcase the huge range of walking opportunities there are in our city, hopefully inspiring people of all ages and backgrounds to try different routes or join a walking group now that restrictions are easing."
Visit the Bristol WalkFest website for a complete list of events and activities taking place.
As a part of Bristol Walk Fest, Age UK Bristol will be running a sociable Nordic walking taster for FAB members where you'll be taught the basic technique by Vicky Welsh of Let's Walk Bristol.
Nordic walking is an outdoor fitness activity based on ordinary walking, adding two specially designed poles to boost your balance, strength and mental wellbeing. It is fun and easy to learn and great for your joints and back. Please come dressed appropriately for the weather conditions and wear trainers or walking shoes and clothing that will enable you to swing your arms easily. Please don't bring a handbag, but a small backpack and water bottle (if it's a hot day) is a good idea. If you are not a FAB member already, you can sign up on the day – it's free!
Bristol Walk Fest 2022 is co-ordinated by Active Ageing Bristol and hosted by Age UK Bristol.