Bristol Walk Fest 2023 - A huge success!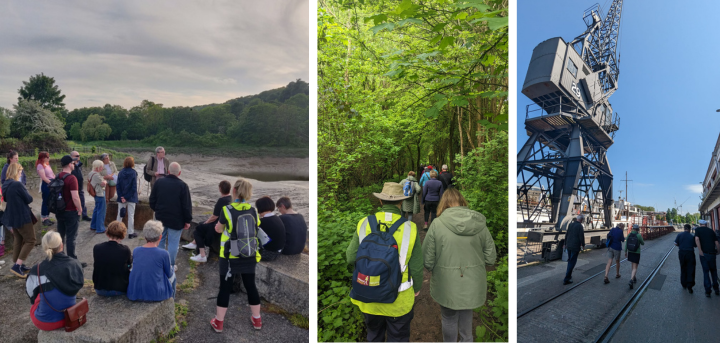 Published on 01 June 2023 01:16 PM
Thank you to everyone who took part in this year's festival!
After more than 600 walks and events took place across May, Bristol Walk Fest 2023 has officially come to an end.
Throughout May's National Walking Month, 86 providers hosted 156 unique walks and events across Greater Bristol sharing the opportunity to explore local places and spread the joy of walking.
We've had some brilliant feedback so far that we wanted to share with you:
"It was a wonderful day. The guide was excellent - informative and knew a huge amount about the area we walked through. All very interesting. Pace was perfect."
"Very interesting walk and there's an amazing choice of walks during the festival. Thanks."
"It was amazing, and I will now join Ramblers because of it!"
The 2023 festival saw a huge variety of walks, with everything from well-being walks hosted by Your Park Bristol to nature walks led by Manor Woods Valley Group; history walks led by Abolition Shed Collective (BEAM), Bristol Improv Theatre and a Bristol Slave Walk led by Rob Collin Blue Badge Guide.
As part of this year's festival, Max Minerva's organised a self-guided bookshop crawl across the city in collaboration with other independent bookshops.
Walkers enjoyed a variety of walking tours led by some of Bristol's leading tourist attractions including M Shed, SS Great Britain and Clifton Suspension Bridge designed to inspire people to explore, share stories and give insights into Bristol as a great city to walk around.
Karen Lloyd, Event Director said: "Thank you to all the walk organisers and hosts, including Bristol Ramblers, local visitor attractions, walking sports groups, established walking groups and many community organisations, who put something special on for the festival.
"We were delighted to welcome all those people who joined a walk, particularly those who don't walk regularly. We hope Bristol Walk Fest has inspired you to walk more often. See you next year - and keep walking in between!"
From everyone at the Bristol Walk Fest team, thank you to all those who hosted or took part in this year's festival and helped to make it a huge success.
Visit the Bristol Walk Fest website to find out about plans for the 2024 festival.
The festival is run by Age UK Bristol as a part of their Active Ageing programme but is open to people of all ages. Funded by Bristol City Council with support from Bristol Ramblers