Caroline's volunteering story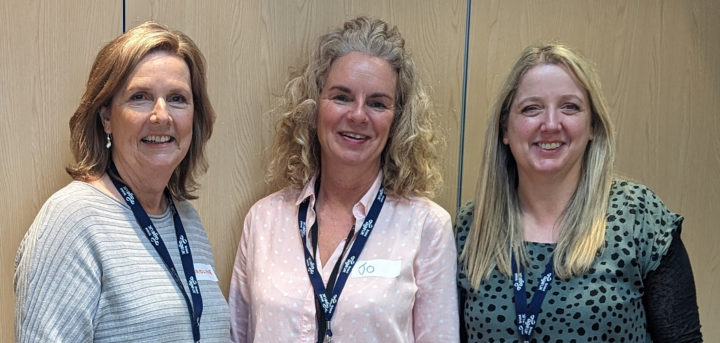 Published on 07 June 2023 04:01 PM
Caroline volunteers with our Memory Connections group in Henleaze, supporting people with mild to moderate dementia. Memory Connections uses Maintenance Cognitive Stimulation Therapy (MCST) to allow members of the group to take part in meaningful and stimulating exercises, proven to help maintain memory and mental functioning.
Caroline retired from a busy role in HR just before the beginning of lockdown in 2020. By the time Bristol was opening up again, she wanted something to do. "I knew I wanted to do something useful with my time," Caroline explained. She began looking around for volunteering roles available, and one that caught her eye was Age UK Bristol's Memory Connections groups.
Caroline has experience caring for her mother-in-law who had advanced dementia, and her professional role in HR has equipped her with the skills to help facilitate the group.
Caroline helps the group to run smoothly, a part of her role is to provide a warm welcome to members as they arrive: "Really giving them the biggest smile and welcome that you can muster to make members feel wanted and safe in that environment." It also means that she is there to help coordinate the activities and take an active role in the group. The Memory Connections group kicks off with an orientation session which prompts members of the group about the day of the week, the season and any topical news stories. In recent weeks examples have included the coronation and seasonal events like the Chelsea Flower Show.
"The idea is for members to be doing the thinking and the talking at orientation, so we encourage people to join in by asking questions. We then get to a point where we do a bit of physical exercise, so we move to the other side of the hall and that can involve supporting some people who are less mobile, and then being involved in the physical activities with them and generally just trying to make it fun. We have a laugh, and I try to make it light-hearted and then we'll usually do some creative activity. So, I might sit with one of the people who's less excited about doing creative things and try and encourage them to take part. It's about being involved throughout, making sure everyone is happy and enjoying themselves and helping people to get the most out of the session.
"On a personal level, I enjoy doing something that is clearly of use, not only to the members themselves but to their carers. We very much get to know people's partners and carers as well and you can see that they are very happy that they can leave their loved ones somewhere that they know they're going to have fun for a couple of hours. It also gives the carer a couple of hours off which is very much needed. So that's very satisfying for me to see members having a good time, but also, the appreciation that comes from the carers. They are a lovely bunch of people and I feel quite connected to them. I look forward to Thursday mornings and I thoroughly enjoy being there with them."
Volunteering has also offered Caroline an opportunity to get to know the other volunteers, and Jo, who is the MCST Coordinator. "We formed quite a strong little team. And we all enjoy each other's company. We occasionally get together and talk about what other things we might do in the future. I would say they've become friends of mine as well. So that's a very nice thing that's come out of volunteering too."
The Henleaze Memory Connections group is coming up for its first anniversary, an event that Caroline, the other volunteers and many from the group are all looking forward to marking. "Knowing how difficult it is to see a loved one experience dementia; it is very satisfying to be able to just do a small thing like this to try and help members and particularly their carers."
We couldn't deliver our services without wonderful volunteers like Caroline. This Volunteers Week we'd like to celebrate the fantastic contribution that volunteers bring to our services and to the older people we support. Thank you so much for all the help and most importantly time that you dedicate to your community.
Volunteer with us
If you'd like to find out more about our current volunteering opportunities, click here. We'd love to have your support.