Helen's volunteering story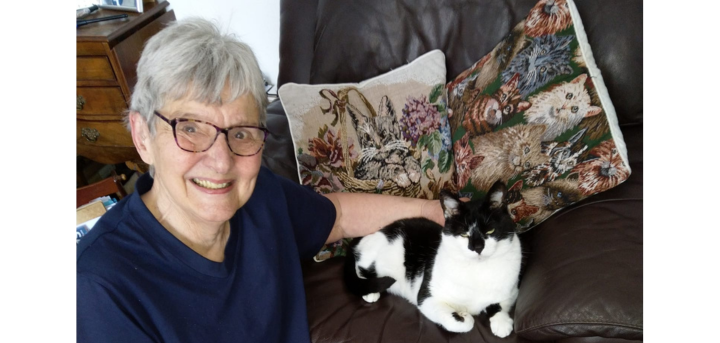 Published on 05 June 2023 02:55 PM
After having lived in Bristol since the 1960s, Helen considers herself a Bristolian by default. Helen and her partner, Len lived together in Bedminster up until Len passed away in February 2016. Helen's partner had Alzheimer's and attended our New Beginning's day centre service.
When Len passed away, Helen wanted to volunteer in his memory and has been attending the New Beginnings day centre and supporting the service ever since.
"I enjoy volunteering," Helen said. "I enjoy working with the service users, enjoy working with the staff and getting to know them all."
Helen's volunteer role at the day centre, (as well as preparing lots of cups of tea and coffee!) involves making the group members feel welcome and supporting them to take part in the activities. The centre varies the activities available according to the season and themes. They do a lot of arts and crafts projects, trying out different foods and enjoying the garden space in the warmer months.
"I just look forward to going. It's part of my weekly routine now and I miss it when I don't go," Helen explained. "You feel you're doing some good, helping people and getting to know them. The members don't always remember me, but on the mornings they do, that's a nice feeling."
"I do a lot of one-to-one with the members, which is nice. If one of them is looking a bit quiet or not joining in, you go and make conversation with them or do something. You have to empathise with them. Having been through it with Len, I can understand it better."
We couldn't deliver our services without wonderful volunteers like Helen. This Volunteers Week we'd like to celebrate the fantastic contribution that volunteers bring to our services and to the older people we support. Thank you so much for all the help and most importantly time that you dedicate to your community.
Volunteer with us
If you'd like to volunteer with Age UK Bristol's New Beginning service, get in touch by email newbeginnings@ageukbristol.org.uk or by phone 0117 987 8406. We'd love to have your support.