Roman Tombs
Published on 21 August 2018 11:00 AM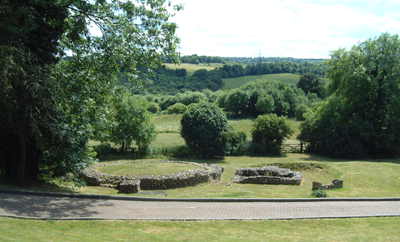 There will be a chance to see these unique Roman tombs on Sunday 23rd September from 11am - 4pm. They are on private land so are not normally open to the public.
Dating from the 3rd century AD, the tombs are the remains of Roman mausolea and formed part of a larger extensive Roman cemetery
There are three tombs visible and the main mausoleum is thought to have been 16 to 20 feet high and, judging by fragments of recovered plaster, painted a bright red on the outside! Also on display is a Roman stone coffin, originally discovered in about 1800 and said to have been removed from the site and used as a horse-trough, and then as a flower box. It has been smashed to pieces on at least one occasion since its discovery (the last time by a German bomb in 1942!). It was reconstructed from the remaining fragments in about 1950 and finally moved back to the cemetery in 1967.
Entrance to the tombs is free with guided tours lasting about 20 minutes. There will be informative displays and publications for sale. While you are there, why not visit the large associated garden which is south facing and has a terrace with a great view across the valley towards Biggin Hill Airport. There will be Tea, Coffee and Homemade cakes available and all proceeds will be donated to Age UK Bromley & Greenwich, which helps promote independance and well being for older people.
The Tombs are at Brambletye, off Westerham Road in Keston (BR2 6AG) and access will be on Sunday 23rd September 2018 from 11am till 4pm. There is only pedestrian access, so it is best to park in the carpark at the top of Heathfield Road,or at Keston Ponds and walk up.
The tombs were first discovered in the 19th Century but extensive excavations were carried out by the Bromley and West Kent Archaeological Group and the Kent Archaeological Rescue Unit between 1967 and 1992. Excavation reports of both the mausolea and villa have been published by the Kent Archaeological Rescue Unit.