Working for Age UK Bromley & Greenwich
Age UK Bromley & Greenwich is a local independent charity with over 100 members of staff. We help over 25,000 local older people every year, offering activities, events, befriending and information. It's a great place to work if you really want to make a difference in people's lives.
We are the leading voluntary sector provider of services for older people, working across both boroughs with a reputation for quality and information.
If there are no current vacancies listed below, please take a look at the other ways you can get involved with us.
Current Vacancies with Age UK Bromley & Greenwich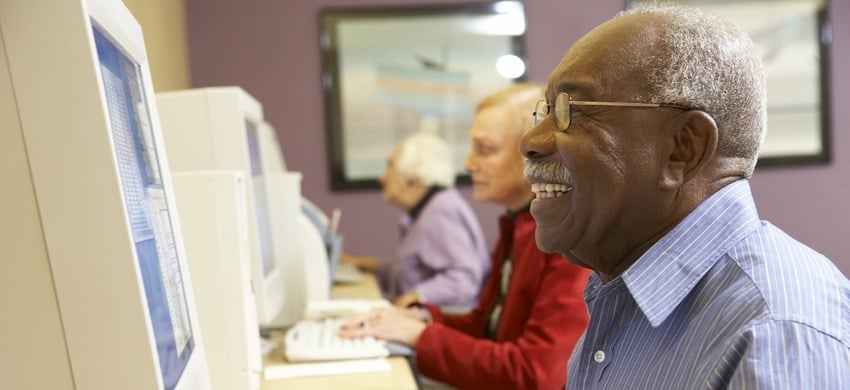 Age UK Bromley & Greenwich is a great place to work. Could you bring your skills to our team? See our latest vacancies below.
Sitting Service Coordinator
To lead on the co-ordination of the CQC Registered Sitting Service to facilitate safe and timely discharges and prevent or avoid re-admission to hospital when it is safer to receive care and support in a person's own home. To adhere to the requirements outlined as a CQC Registered Service provider. To manage the sitting service team, and to oversee any recruitment, training and development needs whilst providing capacity to deliver a 24/7 service.
I&A Welfare Benefits Advisor
To provide Specialist welfare benefits Information & Advice to older people. The service is primarily office-based, but may also include outreach or home visits; to provide support to the volunteer I&A Advisors; to provide cover for the I&A Manager and support the I&A Manager in keeping our information resources up to date.
Take Home & Settle Assistant Lewisham
To support safe discharge of clients by accompanying clients with any small items of equipment, home from the University Lewisham Hospital and local hospital sites, providing practical and emotional support and ensure that they are left in a safe warm environment with access to adequate food provisions.
Sitter
To provide a service for older people in Bromley who have been recently discharged from hospital and identified by the hospital as requiring support and reassurance for a maximum of 24 hours on discharge. The aim of the service is to reduce the number of unnecessary readmissions to hospital, and to help the client regain their independence, by recuperation in their own home. Staff will be required to remain in the client's home whilst on shift
Sitter - Carers Respite
The aim of the service provides respite services for carers and focuses on providing companionship and practical assistance to those they care for. We support carers to maintain their caring roles, increase carers' resilience and help to avoid crisis. The service assists with appropriate domestic and daily living tasks such. Staff will be required to remain in the clients home whilst on shift.
Clip It Assistant
we are looking for a friendly, bubbly person to join our team ensuring Bromley & Greenwich stay on their feet! If you are an experienced nail technician or podiatrist looking for a new role, we want to hear from you. More information by clicking the link. Open Applications