Volunteer at GDIF
Published on 07 June 2019 01:41 PM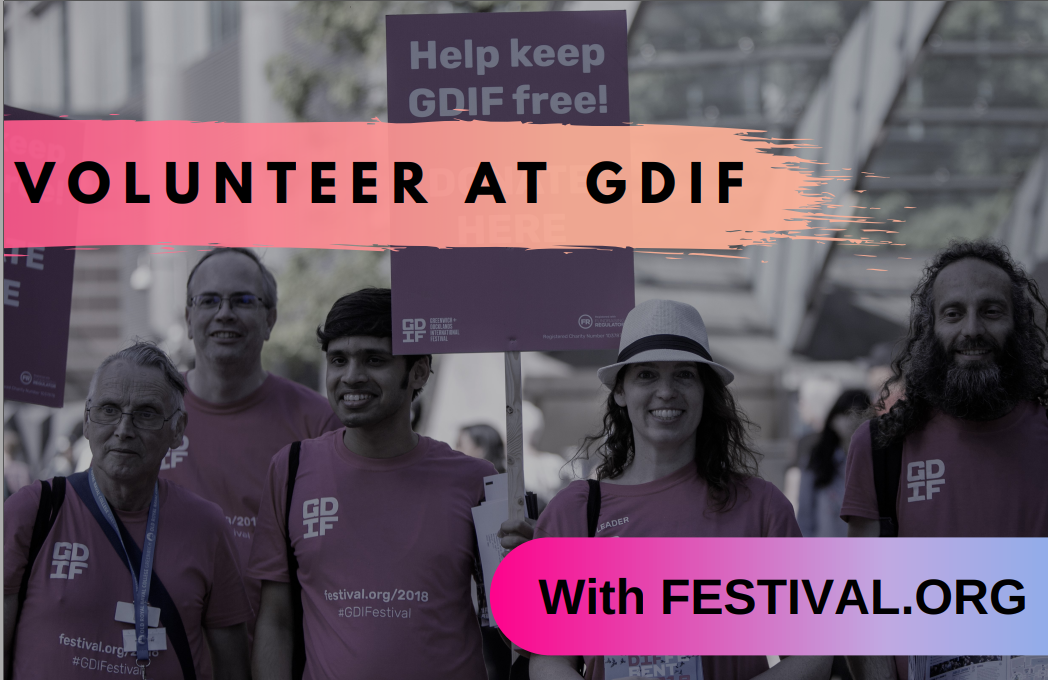 Volunteer Opportunities with FESTIVAL.ORG for Greenwich+Docklands International Festival 2019
If you require an easy-read copy, large-print copy or other alternative format of this document, please contact Elizabeth at elizabeth@festival.org or on 020 8305 5021.
Delivered by FESTIVAL.ORG, Greenwich+Docklands International Festival (GDIF) is London's leading festival of free outdoor theatre and performing arts. Now in its 24th year, the 2019 Festival will take place from 21 June to 6 July, across different locations in Royal Greenwich and Tower Hamlets. With over 130 performances and 15 UK premières, this year's Festival is packed with incredible outdoor theatre and performances, as well as opening and closing ceremonies. You can find out more about the Festival by clicking on the following link: festival.org/gdif
Every year, GDIF needs a number of volunteers to ensure that London's festival of outdoor arts is a truly memorable event. FESTIVAL.ORG are currently recruiting for volunteers for a number of different roles, from welcoming the public and answering any questions they may have, to participating in shows or leading a small team of volunteers. You can find out more about our volunteering programme by clicking on the following link: https://festival.org/get-involved/volunteer-at-gdif/.
Accessibility is a cornerstone of the FESTIVAL.ORG ethos. They are committed to building an inclusive volunteering programme which invites individuals from all walks of life, and with a range of abilities, to join in. Volunteering at GDIF is a brilliant opportunity for anyone who'd like to see their city in a new light, meet new people, learn new skills and experience world-class events on their doorstep. Last year, a giant 94% of our volunteers said they felt happier as a result of taking part.
Requirements for all volunteers at FESTIVAL.ORG
Volunteers must be over 18 to take part.
Volunteers must be able to take direction from the GDIF staff team.
FESTIVAL.ORG need people who are friendly, outgoing and enthusiastic about the arts.
GDIF prides itself on its accessibility, and they expect all volunteers to promote and take an active role in ensuring access for all audience members and other volunteers during the Festival.
It's ideal if volunteers are able to sign up to a minimum of three shifts. This helps us to build cohesive teams across the festival, and volunteers will get more from the experience overall (shifts are mostly around 5 hours long, with some shorter shifts available).
What volunteers can expect from GDIF
All volunteers will be given full support throughout their volunteering period. FESTIAL.ORG provide a Volunteer Induction, held on the evening of Monday 10th June, which is mandatory for volunteers to attend and an excellent opportunity to learn key skills. We hope it will be a helpful and interesting event where volunteers can get to know the GDIF staff team and meet other volunteers!
Accessibility is a cornerstone of the GDIF ethos. They welcome applicants of all backgrounds and abilities. They ask volunteers to let them know as soon as possible of any individual and access needs you may have, in order for them to support them in having the best possible volunteering experience.
FESTIVAL.ORG are happy to reimburse travel and refreshment expenses at a flat fee of £5 or £10 per day. As they are a charity, they ask volunteers to please request the amount that corresponds with how much they have spent on travel and refreshments. Water will be available for volunteers on-site.
The volunteering opportunities available with GDIF
Descriptions of a small selection of our volunteering opportunities is shown below. Full details of all the available opportunities can be found by contacting the Volunteer Coordinator, or by logging on to Better Impact.
Festival Volunteers - Festival Volunteers play a crucial role in the delivery of GDIF, providing support across a range of tasks to ensure our audiences and artists have the best possible experience.
Team Leaders - Support the Volunteer Coordinator by leading a team of volunteers on your shift. Volunteers must have had some previous experience of managing people for this role.
MO and the Red Ribbon Participation Volunteers – Assist in a range of roles from lighting, sound, pyrotechnics, puppet management and stewarding to ensure this spectacular outdoor processional piece is a success.
Signing up to volunteer
At FESTIVAL.ORG, they use an online volunteering system called Better Impact. Volunteers can complete a (very) short application form by clicking the following link: http://bttr.im/b72cr. Once approved, this system will allow volunteers to view full details of all the opportunities available to them, sign up to these opportunities, and view a comprehensive list of all their volunteering shifts in one place.
We have a User Guide to Better Impact which we send out to all our volunteers, and volunteers are always welcome to get in touch with Mo, our Volunteer Coordinator, if they have any further questions. Furthermore, if volunteers do not have access to the internet or feel unable to use the Better Impact system, they can liaise directly with Mo to organise shifts. Mo can be reached on 0208 305 5027 or at volunteer@festival.org.
Talk to FESTIVAL.ORG about Volunteering
If you wish to talk about the volunteering opportunities at FESTIVAL.ORG, or need support with filling out the application form, then please contact Mo Cahill on 020 8305 5027.