A Day in the Life of...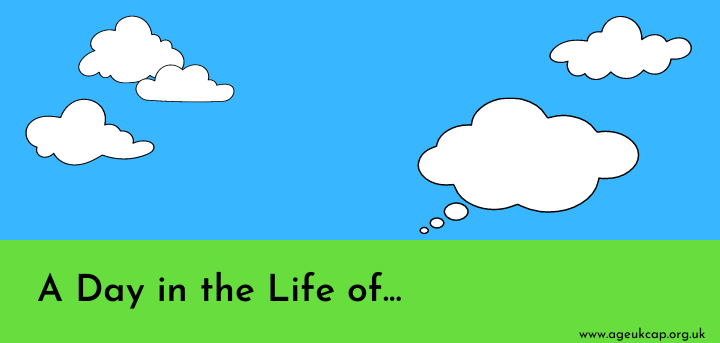 Published on 10 March 2022 11:04 AM
A Day in The Life of ...
Tracey Booth, Swavesey Community Warden
Ever wondered what it would be like to be one of our Community Wardens?
Curious to know what they do and how our community wardens support older people?
Then read on...!
Hello my name is Tracey and this is what I did today:

My working morning starts at 9am, I check my emails and texts for any updates from Age UK Cambridgeshire and Peterborough. Some Service Users email or text me with their shopping lists or errands they need doing. I also receive updates from carers and families regarding service users.
Next, it's on to the phone calls...
Some of my service users have daily phone calls, some have a mixture of phone calls and visits. I phone people who have requested a phone call today, check they're ok and we have a nice chat.
Finish my cuppa now off to do my visits...
Today, I have had one person not answering their phone, this can happen and could be for a number of reasons, I have changed my route to check the welfare of this lady first. All is ok, she was on the other phone. This lady loves her garden so when the weather is dry we have a walk round it. She has been teaching me the names of the flowers, her garden is beautiful.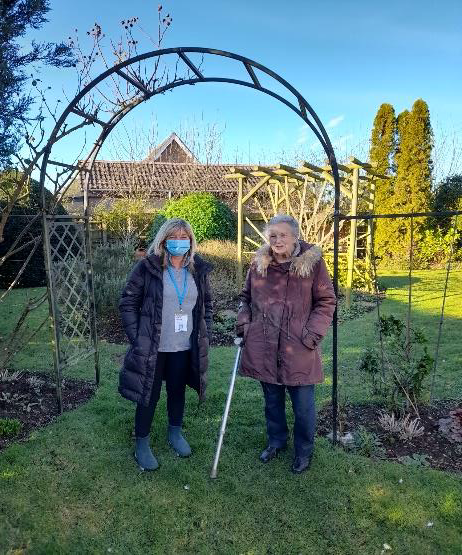 Photo - Cynthia and me, enjoying a walk round her garden, the spring flowers are just beginning to grow, lovely sunshine today.
My 2nd visit is to a lady who is quite independent, her family like the reassurance of my visits and welcome any support I offer. Today this lady also has her gardener at her property, so I only stop a few minutes to say hello. I recently helped her with an issue she had, the child lock was on her washing machine and therefore the door wouldn't open. All ok today, I have no concerns.
Back in the car and round the corner to my 3rd visit...
This lady's neighbour recently died, they supported each other for sometime. She feels quite lonely now and is concerned about the house next door being empty. We discussed possible downsizing, however she loves looking at her garden, we chatted about smaller properties having small gardens. We agreed to chat about it another day. Discussed additional medication that will need collecting later in the week and her bus pass form needs completing before the expiry date in June, which I'll help her with.
Popped my head into the community centre coffee morning, just to say "hello" and a quick promotion of the service. Always on the lookout for a coffee morning to attend and talk about the job I love and how I, and all the other Community Wardens can help.
Now down the road to my next visit...
This gentleman requires social interaction, we have a chat about life, and the the past. I also pick milk up for him from the local shop a couple of times a week and collect his medication when its ready.
Now, onto my oldest service user, nearly 100! I make this wonderful lady a cup of tea, she can no longer hear me on the phone so we replaced phone calls with visits now. She has support from carers and family, I am just another pair of eyes and ears to help her remain independent, safe and in her own home. In good weather I push her in the wheelchair round the cul-de-sac so she can wave at her friends.
Just two more visits to go...
This lady has support from a good care team and family. We work closely together to ensure we are all doing what is best and to maintain a routine for this lady.
Last visit of the morning...
I support this lady with many tasks, she requires prompting with post and knows to save letters to show me if she doesn't understand, I often book Owls transport for her and work with the Crisis Team to support when needed.
Now home for another cuppa and feeling happy with my morning.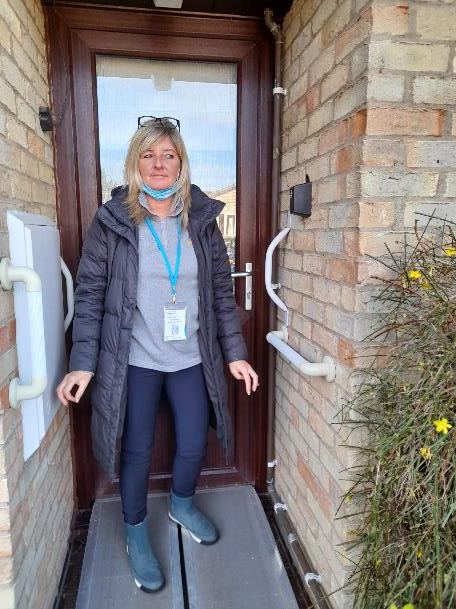 Photo - Tracey Booth,Swavesey Community Warden, standing outside in doorway a service user home.
If you would like more information on the Community Warden Service or to start a FREE trial, please contact us email wardens@ageukcap.org.uk or phone the Community Warden Team Leaders:
Marion Arnold call 07944 181 307 or Nicola Richards call 07812 496 004
Alternativey you can contact a community warden directly - all numbers are on our website page in the link below.
Community Warden Service
Read more about what the service does and how to make contact with direct phone numbers to our Community Wardens