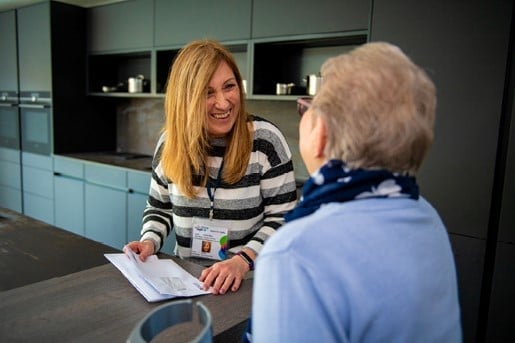 £10 per week for a single person and £12 per week for a couple. You will be entitled to a two week free trial, however after the trial period, we charge a small fee for our service which is payable to the warden. A warden will provide you with daily contact giving you peace of mind and support for independent living, this can be ongoing or short term support depending upon what you need.
Please note, this service is not available outside Age UK Cambridgeshire & Peterborough - Head Office's catchment area.
Age UK Cambridgeshire and Peterborough
L24 South Fens Business Centre
Fenton Way
Chatteris
Cambridgeshire
PE16 6TT
United Kingdom
The service assists older people to continue to live independently at home by providing daily contact (Monday to Friday) and support, either by a personal visit or telephone call, to ensure a sense of security and wellbeing.
How can we help
👂 Listening to your concerns and linking you to helpful information and guidance
ℹ️ Advice on other local community services
🛍 Small items of shopping
💊 Collecting prescriptions
✉️ Reading post
☎️ Making phone calls on your behalf, if requested
🧑🏻‍🤝‍🧑🏼 Ensuring your safety and wellbeing

Please see our service leaflet below:
https://www.ageuk.org.uk/bp-assets/globalassets/cambridgeshire--peterborough-/original-blocks/community-warden-service.pdf
Who can we help?
This service is for people aged 60yrs and above living in certain areas in Cambridgeshire or Peterborough.

It is important to note that the warden is not a domestic, home help or a carer providing physical care.
The Community Warden is employed and paid by Age UK Cambridgeshire and Peterborough and must not undertake tasks for you on a private basis.

Please have a listen to our interview with a service user. Eileen talks about why she likes having the warden service:
https://soundcloud.com/ageukcap/radio-interview-warden-service-09122020
Contact Us
Please contact the Warden directly for the relevant scheme below or email: wardens@ageukcap.org.uk

Community Wardens direct contact numbers:

Team Leaders: Marion Arnold and Kelly Mason
☎️ 07944 181 307
☎️ 07812 496 004

Cambridge City- Michelle Collier
☎️ 07970 168 045

Cambridge North West Villages (Fen Drayton, Fenstanton and Lolworth) - Racheal Mortimer
☎️ 07971 951 412

Cambridge South Villages (Sawston, Whittlesford, Hinxton, Ickleton, Duxford & Pampisford) - Anita Gilchrist
☎️ 07812 496 001

Cambridge South West Villages (Papworth, Hardwick, Wimpole, Comberton, Caldecote, Toft, Bourn) - Kirsten Monk
☎️ 07812 495 997

Ely – Jane Freeman
☎️ 07918 569 987

Fenland South Villages - Louise Taylor
☎️ 07977 948 917

Girton – Sarah Stuart
☎️ 07979 333 963

Histon and Impington – Kirsty Speed
☎️ 07957 608 530

Huntingdon - Val March and Marney Connor
☎️ 07976209186
☎️ 07976210249

Linton – Chrissy Sayer
☎️ 07931 852 019

Littleport – Debbie Forsdick
☎️ 07970 166 835

Longstanton - Claire Greer
☎️ 07816 087 742

Peterborough - Phil Ogley
☎️ 07966 282 723

Ramsey – Sara Matthews
☎️ 07900 340 265

Small Villages (Weston Colville, West Wratting, Balsham, Shudy Camps, Horseheath, Castle Camps & West Wickham) - Lucy Cameron
☎️ 07436102865

Stapleford - Juliet Hawksworth
☎️ 07436 102 733

Swavesey – Tracey Booth
☎️ 07436 102 736

Waterbeach, Landbeach & Chittering – Mandy Jefford
☎️ 07977 219 403

Willingham and Over - Joanne Twinn
☎️ 07812 496002

See out Day in the life of a Community Warden article:
https://www.ageuk.org.uk/cambridgeshireandpeterborough/about-us/news/2022/a-day-in-the-life-of/