Incredible Challenge by a Fundraiser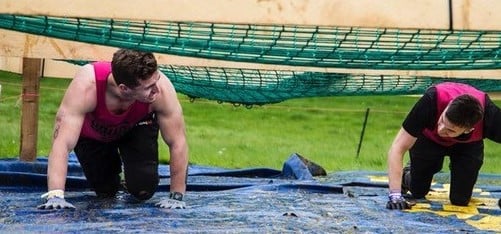 Published on 29 May 2018 03:36 PM
Our thanks to Graham Cook who took part in the 2018 Rat Race, Dirty Weekend at Burghley House, Stamford. This is the world's biggest and longest obstacle race, with 20 miles and 200 obstacles.
Graham set himeslf an incredible challenge to do the race not once but TWICE – 40 miles and 400 obstacles!
Why did he decide to take on this mammouth challenge?
"I have had times of loneliess but I can't comprehend how the older generation cope with it not for hours, but for days and weeks.
What Age UK do is amazing and something my own grandmother currently gains a lot from – that friendly face, a little bit of help and that all important company."
Graham has helped us to raise awarenes of our Visting and Befriending Service where we support volunteers to share time with older people, providing company and conversation to help prevent feelings of loneliness. Read more in these links about the Visiting and Befriending Service and how to become a volunteer.
Graham has also raised an incredible £1,140. You can view his donation page here and visit Grahams blog page here.
Congratultations Graham for completeing the Rat Race it looks to be an extremely gruelling event. We know you are disappointed not to have completed the course twice, but we think you have done exceptionally well and are very grateful to you for supporting us.
Message from Graham:
"So Max & I, on Saturday morning, set out with the target of 40 miles & 400 obstacles to complete. Unfortunately come 32.5 miles we tapped out with all manner of pains, aches, bruises & cramps.
By then I was barely moving forward and unable to do most obstacles. My state yesterday was pretty similar if not worse. Big up Max as my company/ partner/ support/ motivator for 7+ hours & 61k steps.
We have agreed to have another go again next year and will be back on that start line for the double! A massive thank you to every single person who donated & my 'support team'. Sorry I couldn't get round & a congratulations to all those that did."
Thank you again.
If you would like to support us take a look at our page How you can Get Involved