Summer Meeting 2018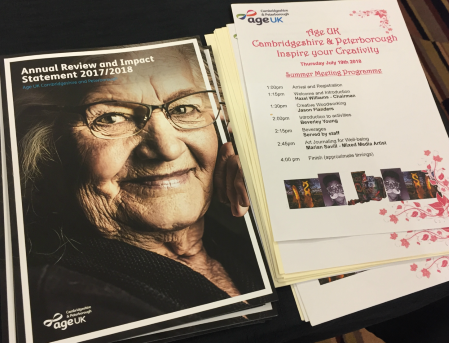 Published on 06 August 2018 11:30 AM
What a lovely day we had for our summer meeting on 19th July, not only was the weather warm but we also received a warm welcome from the staff at The Broadway Theatre, Peterborough. They looked after us and our guests very well, providing an assortment of delicious cakes and a variety of beverages.
Thank you to all of our guests and the wonderful feedback given on the evaluation forms.
The meeting was introduced by the Chair of our Trustees, Hazel Williams. Our Annual Review and Impact Statement was available and is now on line. To read about our activities during the period April 2017 to March 2018 please click HERE. We are very proud of our achievements and how many people we have been privileged to assist and support. The comments in the review statement are merely a few of those we received and really reflect the true impact of what we do.
Beverley Young, Communications and Campaigns Manager, introduced the theme of our meeting, explaining it is part of a wider campaign regarding The Arts and Creativity for Wellbeing. This campaign is based upon Age UK research entitled The Index of Wellbeing. In summary, the findings of this report, were that participating in creative and cultural activities had the biggest impact on wellbeing, coming the top-most contributor to wellbeing in older age, whatever an individual's circumstances.
As a result our campaign is to encourage participation and promote wellbeing by becoming involved with activities. Our events are planned to increase our arts, creativity and cultural offer, both at our general meetings and within our services, particularly Day Services. More information about the Index of Wellbeing can be read HERE.
Jason Flanders, staff member within our handyperson team, gave a talk about his hobby working with natural wood creatively. Jason brought some of his work along and spoke about how he collects dead wood and turns it into beautiful objects.
During the break guests were invited to complete a couple of activity sheets, designed to get people thinking creatively. Guests joined in discussions on their tables about favourite songs, films, books, foods, places they've lived and named three things they love.
There was still plenty of time, amongst the chatting, for drinks served with cake and / or fruit.
Marion Leaper, local mixed media artist, then entertained us further with details about her journaling and why journaling is good for well-being. Marion explained what journaling is, how to go about it, materials you can use and gave lots of ideas and inspiration to get started with journaling. Marion gave out small starter kits to journaling, so each guest could go away and start their own journal.
Also at our event we had an information and advice stand and 2 of our information officers were on hand to answer questions on a one to one basis. A staff member was available with a products and insurances stand and we had knitting and crochet patterns available on a Big Knit stand. Read more about the Big Knit campaign HERE
We were very pleased to have a stand from Living Sport which proved to be busy giving out information on exercise and how to stay healthy and carrying out mini fitness MOT's. Gloria our Chief Executive took part in a fitness MOT. Please follow link HERE to Living Sport website for more information.
It was a lovely afternoon all round and some of the feedback comments we received include:
"Friendly", "relaxed", "organised", "informative" and "enjoyable". A comment left that we really value is in reply to the question 'Is there anything else you'd like to share about the event?' Someone wrote, "It made me feel good". Our aim is to improve well-being and we will continue to do our best to enable more older people to "feel good".
Thank you everyone for coming. We hope to see you next time.
Invitations to our Autumn Meeting, taking place on 23rd October in Cambridge, will be sent out in September. You will need to register early for our Autumn meeting. We are most pleased to be hosting a performing arts show, which will be popular and venue capacity is limited.
We will be welcoming the act 2 Crooners and an Age Gap with their light-hearted show, offering a mix of "vocal standards with a theatrical twist – backed by a jazz quartet."
If you wish to be added to our mailing list please let us know by contacting us on:
Email: adminservices@ageukcap.org.uk
Telephone: 01354 691896
Write to: Administration Services, Age UK Cambridgeshire and Peterborough, 2 Victoria Street, Chatteris, Cambridgeshire, PE16 6AP.
Some of our photos from the event are below. More images can be viewed on our Facebook Page.