Great Get Together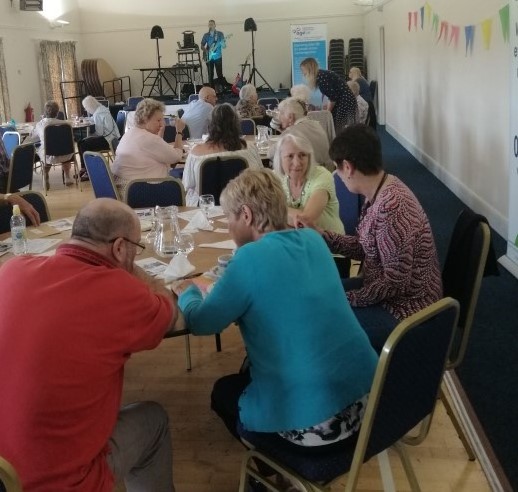 Published on 29 July 2019 03:46 PM
Thank you to everyone who came to our summer meeting held at Abbotts Ripton Village Hall on Thursday 18th July.
As usual chair of trustees Hazel Williams welcomed everyone to our meeting and Great Get Together. Hazel then presented our Annual Review and Impact Statement for 2018/2019. You can read about our many achievements in this link.
Dr Katherine Hartley, Consultant in Public Health, spoke about the origins of the Great Get Together and why it is being promoted locally; basically, to bring our communities together and celebrate all that unites us.
Some children from the local primary school in Abbotts Ripton then delighted our audience with a few songs from their recent school performance of The Giant Slayer, the story of David and Goliath. Such huge voices came forth from the children and they sang very well and bravely in front of our audience.
The afternoon continued with music, song and dance from local singer and musician Bondy and visits to our information and games stalls. Attendees were invited to bring a picnic and whilst a downpour of morning rain prevented us from setting up outside, people enjoyed eating in the hall, whilst staff and volunteers served beverages, cakes and fruit options. The sun shone in the afternoon and we were able to run the hook a duck stall outside, much to many people's amusement, with the breeze ensuring it was not an easy game! All game participation was free but we are grateful for the donations that many gave 'to play'.
Thank you to Living Sport and Healthwatch who attended and shared information as well as Abbotts Ripton School for their performace and hats for our Big Knit Campaign.
Thank you to Fenstanton Knitters for donating 120 hats and Tina's in Burwell for donating 540 hats for our Big Knit Campaign!
More photos can be viewed on our Facebook page in the Summer Meeting 2019 album.
https://www.facebook.com/pg/AgeUKCAP
Please save the date and come and join us for our autumn meeting on 14th October at The Meadows Community Centre, Cambridge
Page Links: http://www.healthwatchcambridgeshire.co.uk/
https://www.livingsport.co.uk/
Annual Review and Impact Statement 2018/2019