Covid-19 Response Civic Award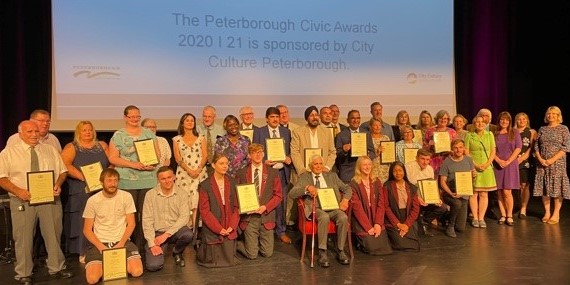 Published on 14 September 2021 05:55 PM
We are very proud to have been part of the Voluntary Sector of Peterborough Covid-19 Response Group and to be recognised with a Civic Award. The Peterborough City Council's Civic Awards 2020/21 were hosted at the Key Theatre on 7th September. 25 awards were presented to individuals and groups in Peterborough who have made an impact on the city's communities, arts, culture and sports.
The voluntary sector of Peterborough created a Covid-19 Response group very early on during the first lockdown and this continued until recently. The group of around 90 voluntary organisations came together to react quickly to support those in need during the outbreak, forming a fantastic team approach which was recognised with a Community Involvement Award Civic Award.
Our CEO, Melanie Wicklen, was invited along with other members of the group to collect the award.
'It was a pleasure to attend the event, along with colleagues from the voluntary sector. The past 18 months have been the toughest of times for all of us, so to receive this recognition and collect the award on behalf of so many valuable organisations, was an honour'.
We were already mobilised to provide the support needed and were able to increase capacity, adapt delivery and scale up services to respond to the pandemic. This enabled us to rapidly provide shopping and prescription delivery, wellbeing support, and befriending calls.
We were also very quick to create a Community Resource Document, mapping the available support and signposting. This was vey useful to the public and our professional colleagues.
Our Covid Response Services have recently been incorporated into our usual delivery services.
For information, help or support please contact us on 0300 666 9860 or email infoandadvice@ageukcap.org.uk