Volunteers Week 2021

Published on 02 June 2021 01:10 PM
Volunteers' Week takes place across the country, every year, from 1st-7th June and is a chance to recognise the fantastic contribution volunteers make to our communities.
Here at Age UK Cambridgeshire and Peterborough, we want to take this opportunity to say a BIG THANK YOU to all of our volunteers who have supported us over the past year.
We know the past year has been incredibly challenging for many people which is why we want to take some time to recognise the hard work our volunteers have supported us with during a really tough time.
Volunteers give their support through several of our services including: handyperson, shopping, information and advice, sharing time, day services, friendship clubs, as well as communications, campaigns, admin and back office tasks.
Volunteers new and old have been supporting our service users throughout the pandemic. We feel so very proud of how volunteers responded and adapted with us to ensure service users were supported and safe.
Friendship Club volunteers created buddy support systems and made phone calls.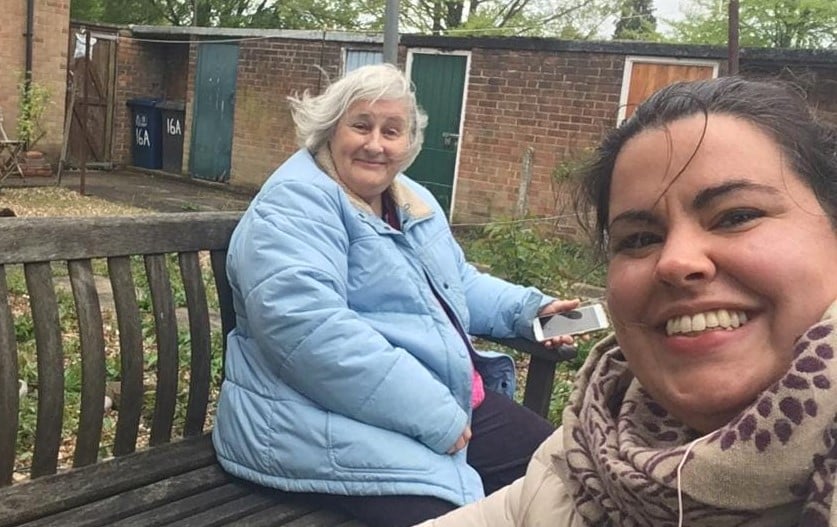 Our Sharing Time volunteers switched from home visits to make phone calls and when possible, doorstep or garden visits. They wrote letters, sent cards and small gifts (like craft packs/puzzles).
Photo: Sharing Time volunteer on a visit
The pandemic left many older people without their usual support networks and we were humbled by the new offers to help from the public. We were able to create a Covid Response Service and volunteers assisted with shopping, collected prescriptions and a new telephone befriending service was set up as a result. New volunteers were signed up and we have been able to support even more people, especially in combating issues of loneliness and isolation exacerbated by the pandemic.
We have almost 500 volunteers and on average they make over 1,300 phone calls each month to our service users. That is an incredible number of hours contributed to the community, to be supportive and kind to another.
And that's not all…!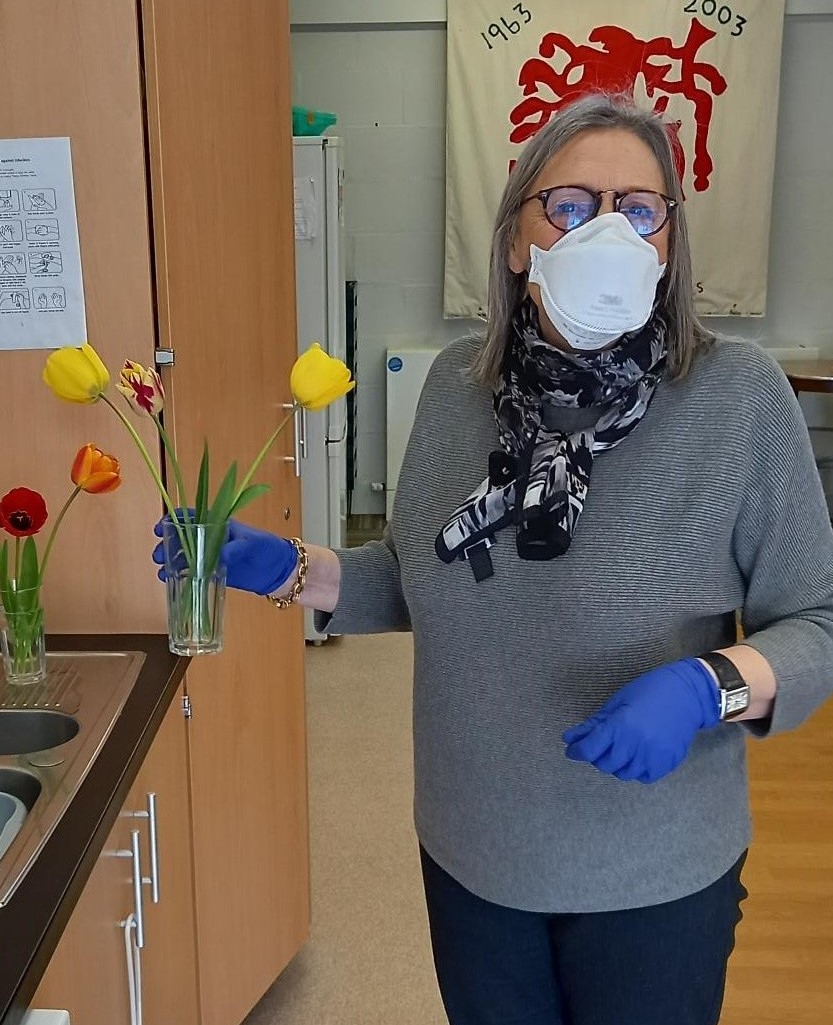 Volunteers support the operations of our Day Services. They have been an enormous support to staff and service users.
Here's Paola, she jokes that everyone likes to see her as she brings them tea!
"I really enjoy helping at the day centre, everyone is so happy to be here and we have fun"
Photo: Paola dressing the lunch tables with flowers
Over 50 volunteers supported our re-usable face masks appeal and we exceeded our target of 3,000 masks, which we gave out to our service users.
Volunteers also support our campaigns such as the Big Knit and are currently helping us to raise funds by knitting 15,000 little hats!
This past year businesses were unable to send employee teams to help in our day services or friendship clubs, however corporate volunteers still gave us support, sending goody bags, food hampers and gifts early in the pandemic and at Christmas, which our staff were able to deliver to service users. This meant so much to so many, to be thought of with kindness, in a time of confusion and fear.
A corporate volunteer team even showed remote initiative and created short promotional videos for us.
Not to forget…
Our Board of Trustees who are all volunteers. They have legal responsibility for the planning and management of our charity and give so much time and dedication. They have supported us to steer the charity through extraordinary times and challenges. Thank you to:
Hazel Williams (Chair), Clive Adkin (Vice Chair), David Bruch FCA (Treasurer), Adrian Kirby, Cllr John Holdich, Brian Parsons, Alison Reid, Michael Bond, Alex Alexander, Julie Weaver. President: Dr Stephen Webster
See for yourself…
Take a look at our Photographic Exhibition and you will see some of the people who volunteers for us, their roles and interests.
It is a pleasure for us to meet and get to know so many incredible volunteers and we wish to say: Thank you again to our amazing volunteers for all your hard work and support you give to us.
If you are interested in volunteering for us you can find out more on our volunteering page here or contact us using the details below.
#ProudToBeAgeUK #VolunteersWeek2021 #AUKCAP
Volunteer For Us
Email : volunteering@ageukcap.org.uk  or phone for an informal chat on:  01354 691898
On The Radio
Listen to an interview with Carol Cook, Sharing Time Team Leader and Jenny, a volunteer, on BBC Radio Cambridgeshire talking about our volunteer opportunities. May 2021