Telephone Befriending Service

For years we have campaigned upon the effects of isolation and loneliness and provide services to reduce the impact it has.
In 2020 the Covid-19 pandemic highlighted the devastating effects isolation and loneliness can have and exasperated the problem even further. Thousands of older people who were already feeling lonely saw what little contact they did receive removed, as the nation went into lockdowns. They could no longer have a chat on the bus, or with a shop assistant, attend day centres or clubs, family and friends were unable to visit, and many do not have access to the internet or the ability to take part in virtual conversations.
We set up this Telephone Befriending Service in response and with the assistance of emergency covid grants. Our communities responded wonderfully, and we had many offers of help, so we were able to match newly recruited volunteers to older people who contacted us asking for support.
We wish to continue to offer this service beyond the emergency pandemic measures taken. The service has proved to be extremely popular and appreciated by both parties, who enjoy their catchups with each other and chats. We have volunteers who tell us how much they enjoy the contact as much as the person they telephone.
"I couldn't have been matched to a better person. I enjoy our chats so much."
"We get on so well. I was worried we'd have nothing to talk about, but there's always something – it never stops, the time flies by!"
"I've made a new friend, someone I'd never have known, and love hearing the stories."
If you would like to receive a friendship phone call contact us 01733 554963 or email sharingtime@ageukcap.org.uk.
If you would like to volunteer to make a weekly friendship phone call, please contact us on volunteering@ageukcap.org.uk OR PHONE 01733 554963
Anyone who is empathetic, patient, a good listener, able to encourage conversation and has up to one hour a week to spare can be a telephone befriender. After you have completed the volunteer application process, you will be 'matched' to a person to telephone, and your journey of friendship will begin!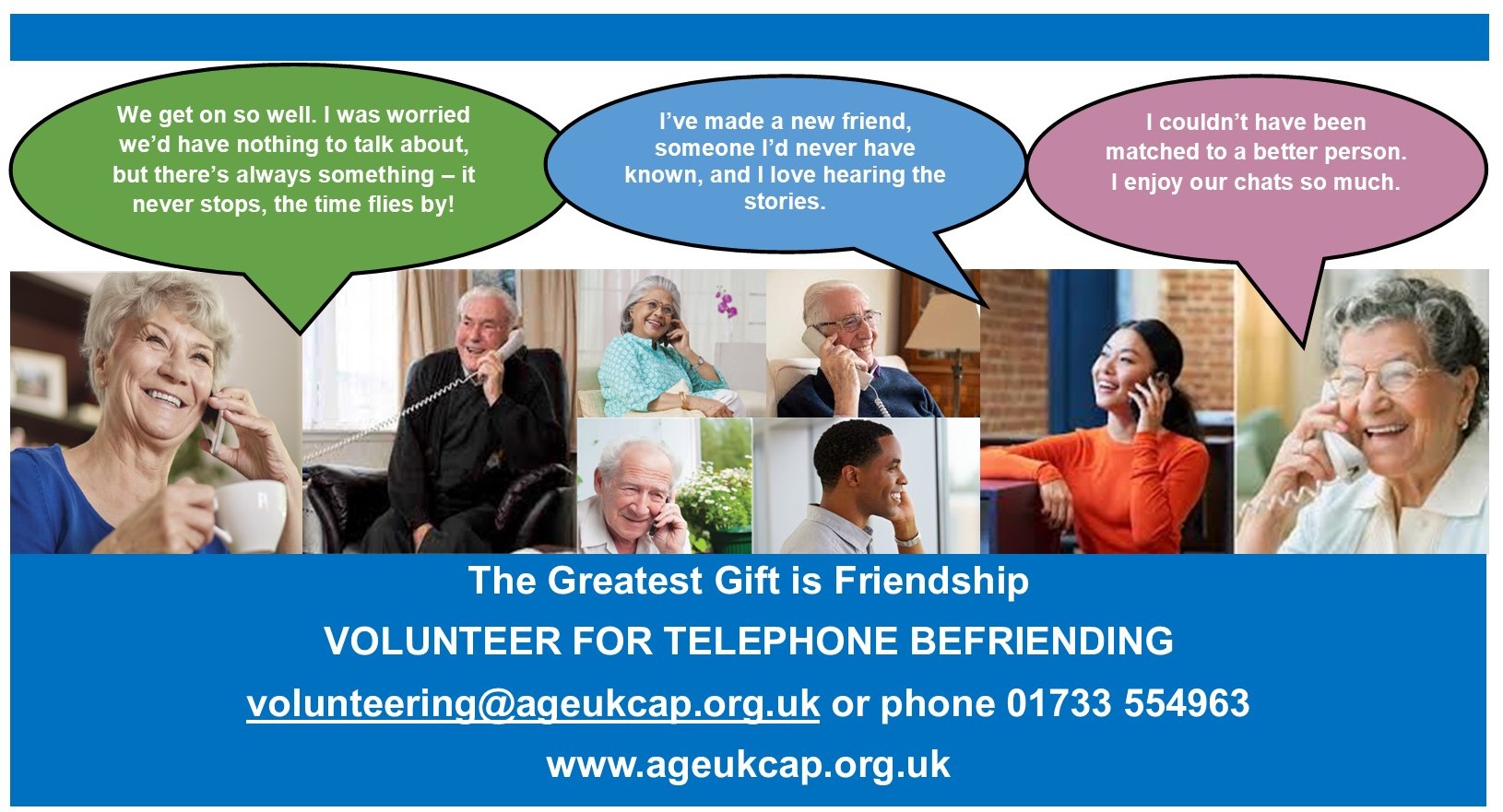 Volunteer For Us
More opportunities