Day in the life of Dementia Pathfinder Dawn: Attending The Alzheimer's Show 2022
Published on 25 April 2022 12:31 PM
This Friday 25th March, I attended The Alzheimer's Show at the Business Design Centre, London.
An event staged over two days in partnership with The Alzheimer's Society, the annual exhibition is the UK's only event for dementia advice, support, and information for healthcare professionals as well as family carers and those with an interest in dementia.
Attending the show was an exciting opportunity to find out more about products, services and information that would benefit clients of the Dementia Pathfinding Project at Age Cymru West Glamorgan with over 40 exhibitors spread throughout the event, showcasing the latest products, services, and innovations in dementia care.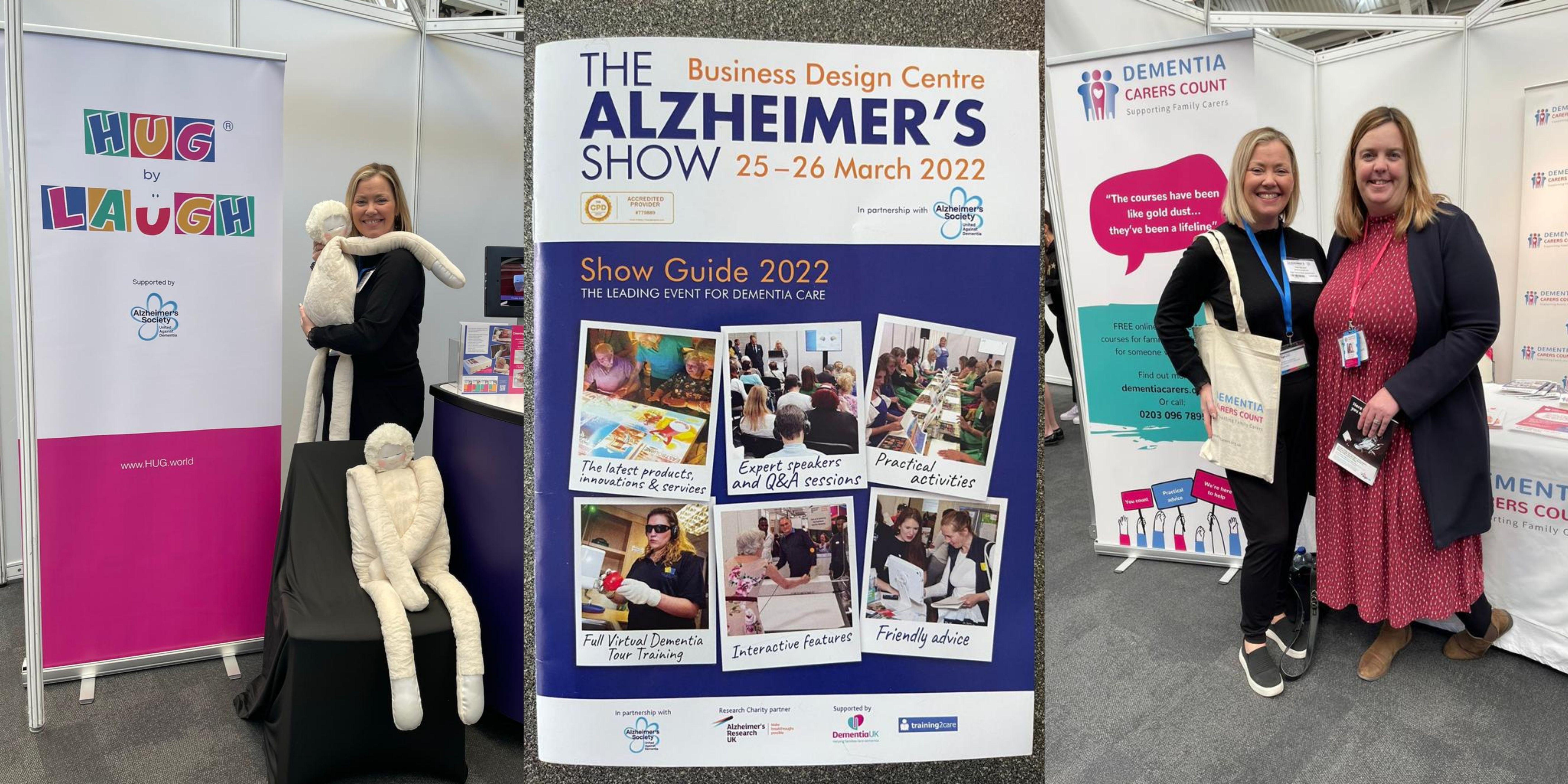 Talks and presentations
At the heart of the exhibition were two 'Talks Hubs' with discussions taking place throughout the day. Talks Hub 1 featured carers sharing their invaluable experiences alongside professionals covering a range of practical advice topics, including various dementia types, difficulties faced and end of life care. Talks Hub 2 showcased the latest products and services from many of the exhibitors in short, interactive sessions.
I continued around the exhibition and saw friendly faces behind every stand, all keen to offer advice, information, and demonstrations of practical and interactive activities. The Alzheimer's Society, Dementia UK and Age UK stands were well stocked with information guides and leaflets, including information about the rarer dementias and specialist advice. Dementia Carers Count had plenty of information for carers on their stand, including how to access their virtual carers centre – with support available online anytime, anywhere.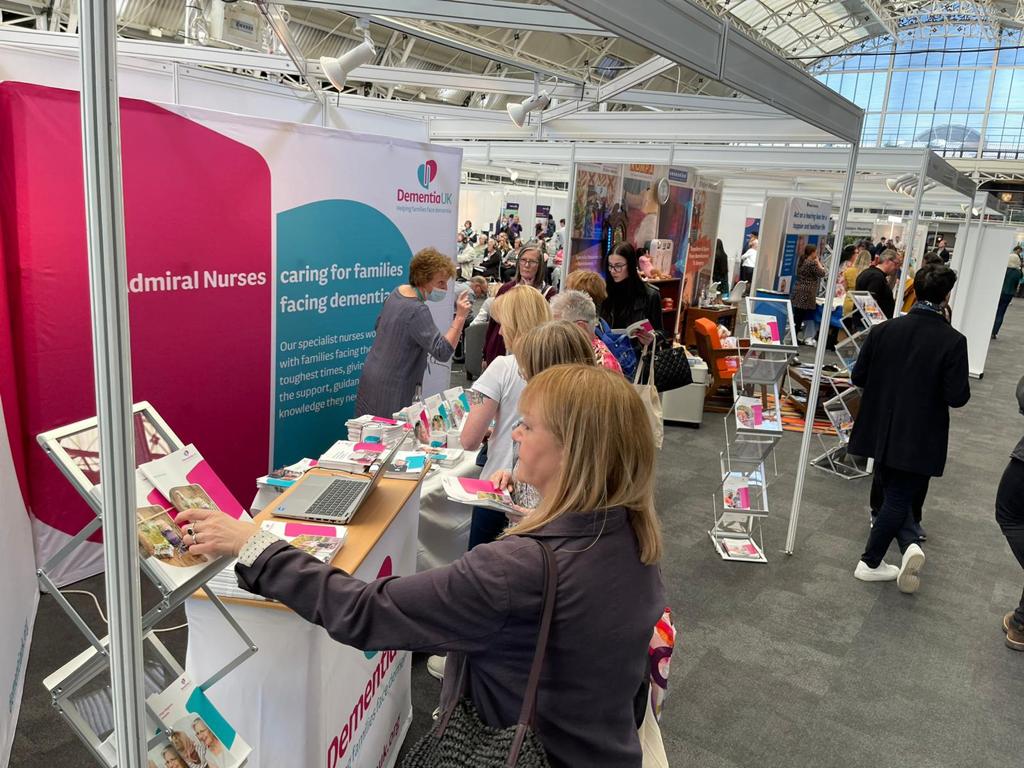 Technology and new products
A new feature for the show this year, was the Virtual Dementia Tour - an interactive and innovative training experience run by Training2Care. Free taster sessions were available to give an understanding of what a person with dementia experiences daily. This worldwide, scientifically, and medically proven method of giving a person with a healthy brain and experience of what dementia might be like, allows delegates to enter the world of the person and understand which simple changes need to be made to their practice and environment to really improve lives of people with dementia.
I got to experience 'A walk through dementia' developed by Alzheimer's Research UK. This is a virtual reality app, designed to gain an understanding of living with dementia and 'see life through a new lense'. After putting on the headset I saw life through the eyes of a lady with dementia who was visiting a supermarket. It was difficult to read the shopping list and confusing to navigate around the aisles, and I could hear the anxiety in her voice as she tried to find things, becoming disorientated. It demonstrated that popping to the shops is no easy task. It requires planning, decision making, concentration, spatial navigation, and calculation. All of these get harder when you have dementia – and is something we can offer help with through our Dementia Pathfinding Project.
I was already aware of the benefits of assistive technologies for people with dementia, so it was useful to see in person the variety of products available to facilitate independent living such as:
Memory clocks
Personal trackers
Reminders
Medication dispensers
Simple TV remote controls/telephones/smart phones/music players
Signs and stickers
Cutlery and crockery
Easy-dress clothing
It was great to see the Pivotell automatic pill dispensers being demonstrated and to learn that text and email notifications can be sent to family and carers if a dose is missed. They also had a colourful range of reminder watches and wristbands that could be worn discreetly.
I was particularly fond of HUG – a soft comforter designed to be cuddled, it has weighted limbs and soft body that contains a simulated heartbeat, and a music player that can be programmed to play a person's favourite music. It can improve well-being, reduce anxiety, agitation, and loneliness, provide reassurance, and improve communication. It felt comforting, and I wanted to take it home with me – I can understand how these products would benefit a person with dementia.
Wellbeing and living well were the focus for Dementia Adventure – who arrange supported holidays for people with dementia and their carers, often subsidised to make them accessible to all. Passionate about the benefits of nature and connecting to the outdoors, they also offer tips and advice, as well as free training for family and friends about understanding dementia better, and mood and motivation sessions.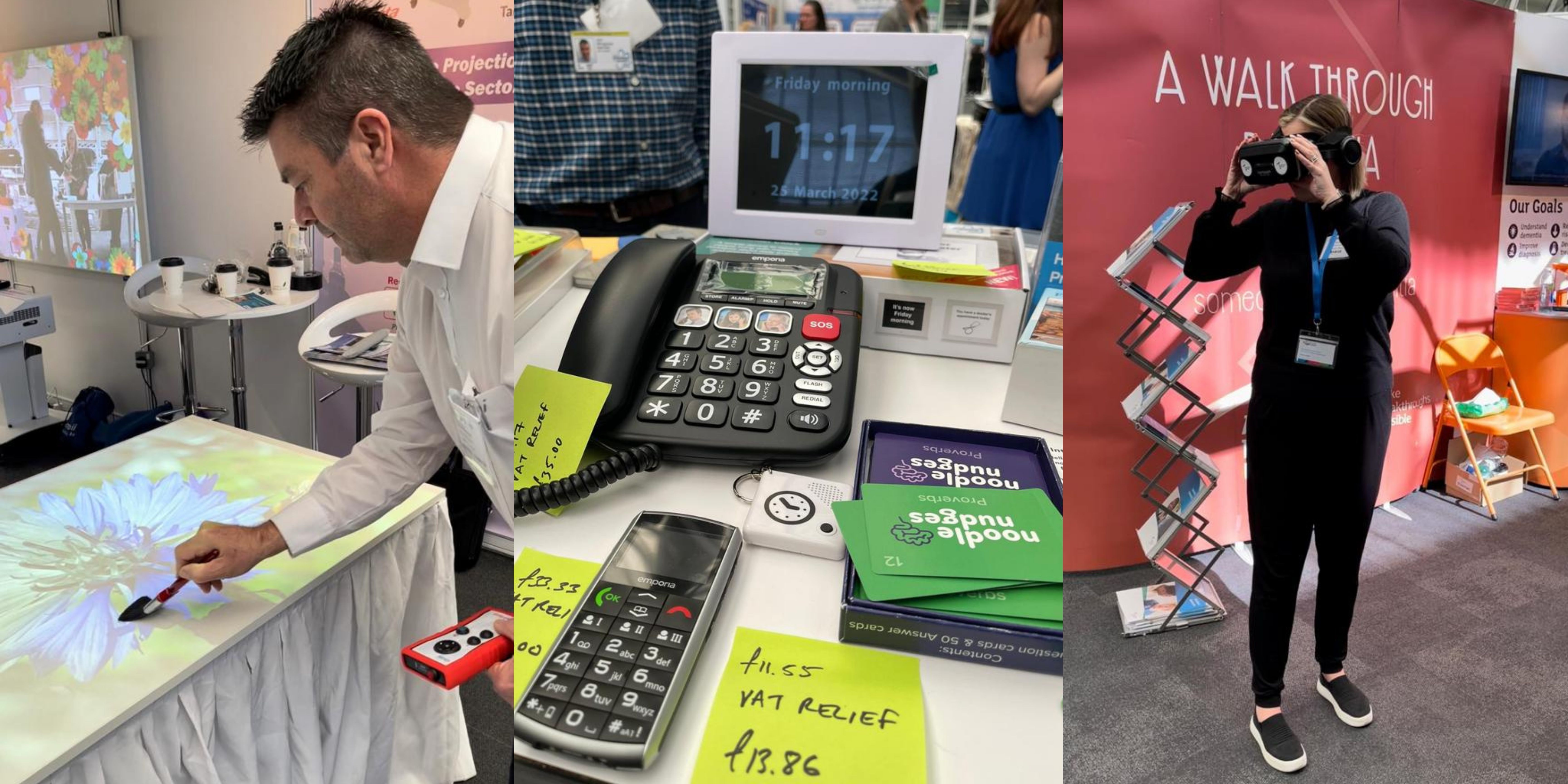 Roundup
The large Dementia Matters theatre was the focus for my day, with in-depth talks and question-time sessions with professionals covering a range of insightful topics surrounding new treatments and diagnosis, the impact of meaningful activity, managing dementia behaviour and psychological symptoms and communication.
The sessions were insightful and interesting with far too much information to record here! But some of the key points were:
Alzheimer's disease is still the only leading cause of death that is still on the rise, and was recognised in 2018 as a global pandemic by W.H.O.
The profound impact of COVID 19 has caused significant delays to testing/getting a diagnosis. Alarmingly it could take 4 years to clear this backlog at a cost of over 70 million pounds.
Anti-amyloid (Aducanumab) trials could see potential new treatments for the underlying causes of Alzheimer's disease in the near future, along with other drugs.
Biomarkers can revolutionise the diagnosis and treatment of Alzheimer's disease, with clinical trials playing a vital part in this research.
The final presentation of the day was for me, the most poignant. Simon Wheeler, Knowledge Officer for Alzheimer's Society, asked "How a person might feel after a diagnosis of dementia?". We would not truly know the answer to this, unless we were the person affected. He introduced us to Mary Tucker who has Alzheimer's disease, and Visna Okaikoi who has vascular dementia. Both ladies bravely imparted their very personal stories, describing 'anxiety, bleakness and dread for the future'. We heard about the support they received (and also did not receive), the impact dementia has had on their families, the determination to keep living well and making memories and the challenges they face daily. The presentation ended with a beautiful poem written by Vesna about how she experiences the world and nature. It was an emotional listen, and I felt privileged to be included.
The Alzheimer's Show was incredibly beneficial to my role as Dementia Pathfinder at Age Cymru West Glamorgan. I learned about technology, research, treatments, and products that would benefit people with dementia and their families/carers. More importantly I gained further insight into how it feels for the person with dementia, and how it is beneficial to understand this.
There is so much out there, from new technology to ongoing research, to help those living with and caring for those with dementia.
Get in touch with us to access that support and let us help you navigate the dementia journey by giving us a call on 01792 346377 or emailing us at dementia@agecymruwestglamorgan.org.uk.