Making friends - Norma & Nick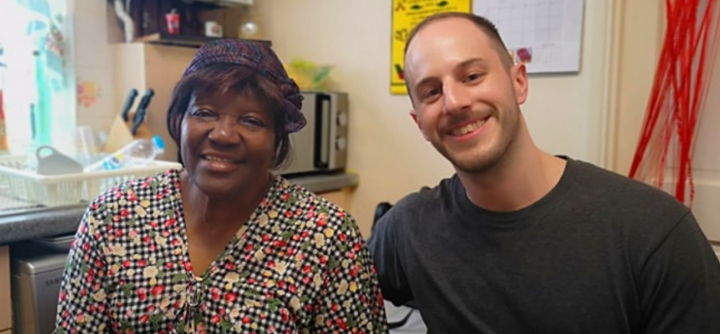 Published on 24 July 2019 04:40 PM
Meet one of our befriending pairs, Norma and Nick. They have been matched for about 10 months now and we caught up with them to see how it is going and what they like about befriending!
What made you want to volunteer as a befriender for Age UK Lambeth?
Nick - I thought it would be a nice thing to do, and I wanted to do something for someone else. I always really enjoyed talking to my grandparents, so I thought it would be fun to share stories, and have a different level of the company to what you have with friends your own age.
How were you feeling before Nick started visiting you? What made you decide that you wanted to have a befriender come to visit you?
Norma - I was asking Age UK Lambeth for some help at home - I wasn't looking for a befriender. But I got a letter come through the door about befriending. I used to have loads of friends when I was working - but some have moved, some have passed away - so now I don't have many friends.
How did you feel when you heard you had been matched with someone? Were you nervous? Excited?
Nick - It was a bit nerve-wracking going into someone's house for the first time, not knowing if you're going to get on! But within about ten minutes I knew it would be fine. We had a cup of tea and by the end, it was like we had known each other for ages.
How was your first visit? What happened?
Norma - He rang the bell and I could see just his head through the window! All of a sudden I was happy. He had such a happy face - so I thought 'I think this will be okay!' I told him all about the 1960s. I was so happy to see this smiling young man!
What kind of things do you do together during your visits?
Norma - We chat. I tell him about films and actresses I like - although I don't always remember their names. I like Clooney though - mm, he's my favourite!
Nick - Norma is a big fan of films and TV and I work in TV, so that's worked out well. We talk about all the shows. We chat and have a cup of tea, sometimes a snack.
Norma - Sometimes we have a pastry from Greggs.
Nick - Yeah, we both love Greggs! Something else we have in common.
Do you think your relationship has changed since you first met?
Nick - We've got to know each other better, and started to talk about more personal things, like family. We've built that level of trust now.
Norma - I'm not close with my family, so talking to Nick really helps.
Is befriending what you expected? Or has anything surprised you?
Nick - It's gone better than I expected in terms of bonding with someone. I didn't expect to laugh so much! It's never boring. We take the mick out of each other a lot.
Norma - Some people are so grumpy, I can't stand grumpy people! Not everyone has such a welcoming personality. We can talk about anything.

What difference has befriending made to your life?
Norma - He's the only visitor I get, so on Sundays, I look forward to seeing him. It makes a lot of difference. Back in Jamaica when I was younger, there was a sense of community. People just don't have time for each other these days. But, I came to London from Jamaica and I don't think I could live anywhere else now. London forever!
What would you say to someone who was thinking about volunteering as a befriender?
Nick - Definitely do it! It isn't daunting, it doesn't take a lot of your time and is quite flexible. It really helps make a difference to someone in a very short time. You'll hopefully end up with a great bond. I've got to learn lots about life in Jamaica - you learn to see things from a new perspective. It's relaxing to look forward to seeing someone once a week and take time out from a hectic life.
Are you inspired by Norma and Nick's story?
Become a volunteer befriender today and we can match you with an older person that needs your help. We ask for a regular commitment of one hour a week!