Take part in Age UK Lancashire's Donation Station!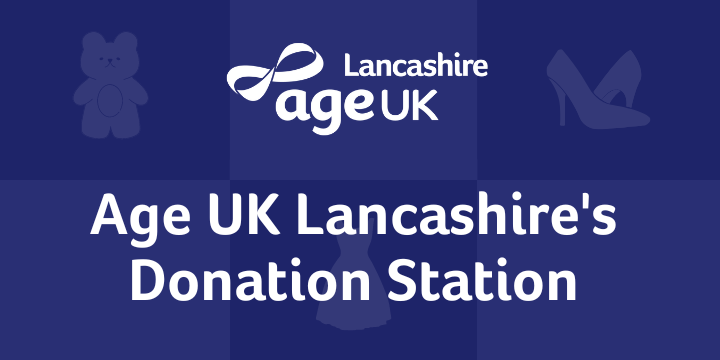 Published on 14 August 2023 03:52 PM
It's free. It's simple. It's impactful!
Sign up to our Donation Station today.
Age UK Lancashire are looking for local businesses to take part in our new Donation Scheme.
Our Donation Station is an exciting new, feel-good activity that teams can get involved with to help raise funds so that we can continue our vital work in supporting older people across Lancashire.
Everything donated will be used and resold in our Shops across Lancashire and raising money to support our vital services across the county supporting isolated and vulnerable older people.
It's free to be part of - simply registers your interest below, select a specific day, week or month and get your whole workplace involved by asking them to put their unwanted items to better use.
We have partnered with BRSK to help us with the new donation scheme.
Jo from BRSK said:
"BRSK is proud to be rolling out better broadband across Lancashire. Our partnership with Age UK Lancashire marks our commitment to supporting the community, including helping the older generation across Lancashire. We look forward to supporting and promoting the Donation Station fundraiser to make it as successful as possible."
Sharon Watson, our Corporate Funding & Partnerships Manager said:
"We are pleased to have partnered with BRSK for our Donation Station fundraiser. With their help we hope to see many local businesses in Lancashire take part in the fantastic activity which will help raise funds to support older people in Lancashire."
How to get involved?
Step 1: Contact us or sign up below to confirm your involvement.
Step 2: Age UK Lancashire will send out your 'Donation Station' pack.
Step 3: Pick a date, a week, or a month to run your Donation Station.
Step 4: Encourage your team to donate their good quality unwanted items.
Step 5: Collect it all together.
Step 6: Age UK Lancashire will pick up all donations.
Step 7: Receive your certificate and publicity on social media.
How your participation helps us
In 2022/23 we reached 52,910 individuals across Lancashire, including older people, carers, and family members. With your help from these events, we can increase our outreach further.
For any further details about the Donation Station or any of our other fundraisers, email fundraising@ageuklancs.org.uk or click here.
Click here to find out more information about BRSK.