Our volunteer recruitment is currently closed to new applications. Should you wish to be contacted when recruitment re-opens, please complete the online 'contact us' form stating which role you are interested in and we will be in touch: https://www.ageuk.org.uk/lancashire/about-us/contact-us/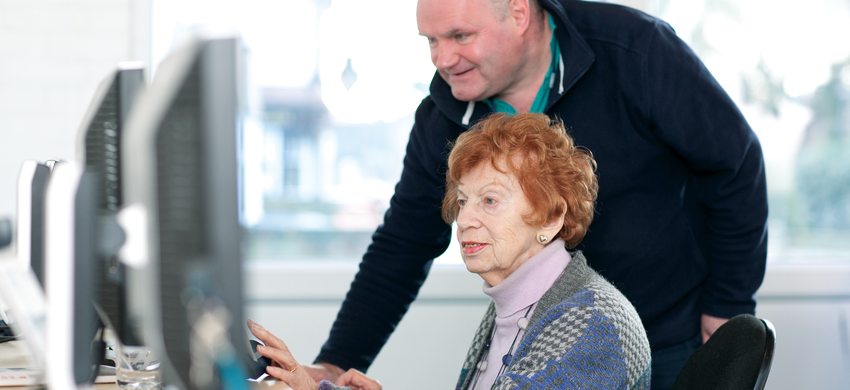 Age UK Lancashire relies on volunteers to help us offer vital services in the local community. Would you like to lend a hand?
Volunteering roles with Age UK Lancashire
Lancashire Older Veteran- volunteer

This volunteer role will be to support older veterans to maintain their independence and remain connected within their local community.

Fundraising Volunteer

Are you passionate about helping charities and have experience in fundraising? We are looking for an experienced person to join our organisation and play a key role in supporting our fundraising strategy.

Retail - Retail Assistant

We are looking for volunteer retail assistants around the country to help in our shops with a variety of different roles from sorting stock to helping with till sales.

Retail- Van Drivers

We are looking for volunteer van drivers to help in the collection and delivery of donated stock and furniture around the county.
Integrated Care Programme Volunteer

This is an exciting new opportunity for volunteers to support older people as part of the Integrated Care Programme.

Day Time Support Volunteer

This is a rewarding opportunity to support older people within our day time support venues in East Lancashire

Day Time Support Passenger Assistant

The role will be to assist members of our day time support service on and off the daily transport in the morning and afternoon.

Administration Assistant for Advice Line Team

Age UK Lancashire are looking to recruit a volunteer to help us with administration tasks in our Lancaster office.
Home Help Service Administrator

Lytham St Annes

We require a volunteer to provide confidential and professional support to the Home Help Coordinator and administrative team.

Receptionist- Information and Advice

This volunteer role is based in our St. Annes's office and is an integral part of our Information and Advice service
Why volunteer?
Volunteering is a great way to meet new people, learn new skills, and support the work we do in the community.
Who can volunteer?
Almost anyone can be a volunteer. We have a wide range of roles which suit different people and different skills.
How much time do I need to give?
It depends on the volunteer role you are interested in. Some people give an hour a week, other people do more.
What else you can do to support us
Take part in a fundraiser

Could you help us to raise vital funds by taking part in a fundraising event? We have regular events such as sponsored walks, but you could also do your own fundraiser like a cake sale.

Get your colleagues involved

Could you talk to your colleagues or your employer about how you can support us? We have lots of ideas for how organisations can get involved, including sponsoring an event, making us Charity of the Year, or donating equipment.