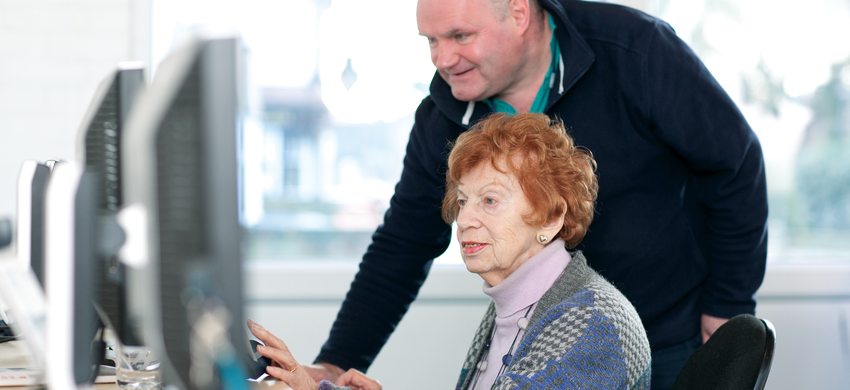 Age UK Lancashire relies on volunteers to help us offer vital services in the local community. Would you like to lend a hand?
Volunteering roles with Age UK Lancashire
We receive a high volume of volunteer enquiries over the festive period and unfortunately cannot always accommodate short term offers of support.  If you are able to support us on a longer term basis please take a look at our opportunities and contact us if any of the roles are of interest.  It would be great to hear from you.
Age UK Lancashire is seeking to recruit a committed and enthusiastic Chair to lead our excellent Board of Trustees and to help us achieve the next phase of our exciting new strategy.

Fundraising Volunteer

Are you passionate about helping charities and have experience in fundraising? We are looking for an experienced person to join our organisation and play a key role in supporting our fundraising strategy.

Retail - Retail Assistant

The aim of the Retail Department is to support the organisation in the generation of vital unrestricted income through the sale of donated goods in our Charity shops across the county.

Retail- Van Drivers

We are looking for volunteer van drivers to help in the collection and delivery of donated stock and furniture around the county.
Day Time Support - Wyre

Volunteer support is required for our Daytime Support Service in Wyre.
Our Day Centres provide valuable respite for carers and enable older people to remain in their local community.

Volunteer Receptionist for Information & Advice service

We are seeking a volunteer who will help deliver the Information and Advice service in our St Anne's office, meeting and greeting people who call in.

Befriending Volunteer

Age UK Lancashire has been successful in obtaining funding support from Soroptimists (Fylde) Ltd in order to set up a Befriending Service in support of older people who may be lonely and isolated.

Foot Care Volunteer

Age UK Lancashire are looking to recruit Foot Care volunteers in Chorley to provide support with the nail cutting service for the over 50's.
The Primrose Project

This is an exciting new opportunity for volunteers to support older people as part of the Primrose Project.

Lancashire Older Veterans Project

We have launched a new project working with older veterans (born before 1950) as part of a wider portfolio of work being undertaken by Age UKs around the country.

Day Time Support - Burnley and Pendle

Our day centres provide valuable respite for carers and enable older people to remain in their local community.
Integrated Care Programme Volunteer

This is an exciting new opportunity for volunteers to support older people as part of the Integrated Care Programme.

Hospital Aftercare Support Volunteer

The volunteer role is an integral part of the delivery and support of the individual's personalised plan, being involved directly with the client helping them achieve their goals and aspirations.

Day Time Support Passenger Assistant

The role will be to assist members of our day time support service on and off the daily transport in the morning and afternoon.

Administration Assistant for Advice Line Team

Age UK Lancashire are looking to recruit a volunteer to help us with administration tasks in our Lancaster office.
Why volunteer?
Volunteering is a great way to meet new people, learn new skills, and support the work we do in the community.
Who can volunteer?
Almost anyone can be a volunteer. We have a wide range of roles which suit different people and different skills.
How much time do I need to give?
It depends on the volunteer role you are interested in. Some people give an hour a week, other people do more.
What else you can do to support us
Take part in a fundraiser

Could you help us to raise vital funds by taking part in a fundraising event? We have regular events such as sponsored walks, but you could also do your own fundraiser like a cake sale.

Get your colleagues involved

Could you talk to your colleagues or your employer about how you can support us? We have lots of ideas for how organisations can get involved, including sponsoring an event, making us Charity of the Year, or donating equipment.