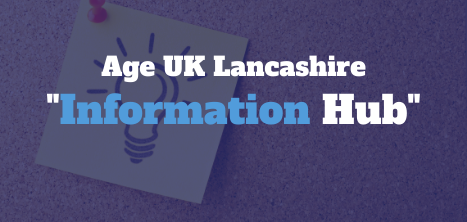 Introducing the all-new Age UK Lancashire "Information Hub". Here at Age UK Lancashire, we pride ourselves on delivering professional, person-centred, practical support. However, we recognise that not everyone wants practical person to person support. We wanted to create a private, judgement-free and safe space for people to access information and advice across different topics that even some of our staff may not have the answers to. So we created our very own "Information Hub".
Our Information Hub has access to information and advice in completely safe places. For all those uncomfortable conversations that we just aren't quite ready to have, those new experiences we aren't quite sure how to manage all your needs, right here in one place.
We want older people across Lancashire to access information the same way anyone else can. Our elderly friends need advice the same way you and I do. So here it is! Introducing, The Age UK Lancashire Information Hub.
Information, advice and links to external sites that can help you understand everything there is to know about "menopause"

How can you keep well this winter? Not sure? Find out more on our top tips to keep you well in Winter