Age UK Leicester Shire & Rutland - Gypsum Close Reuse Shop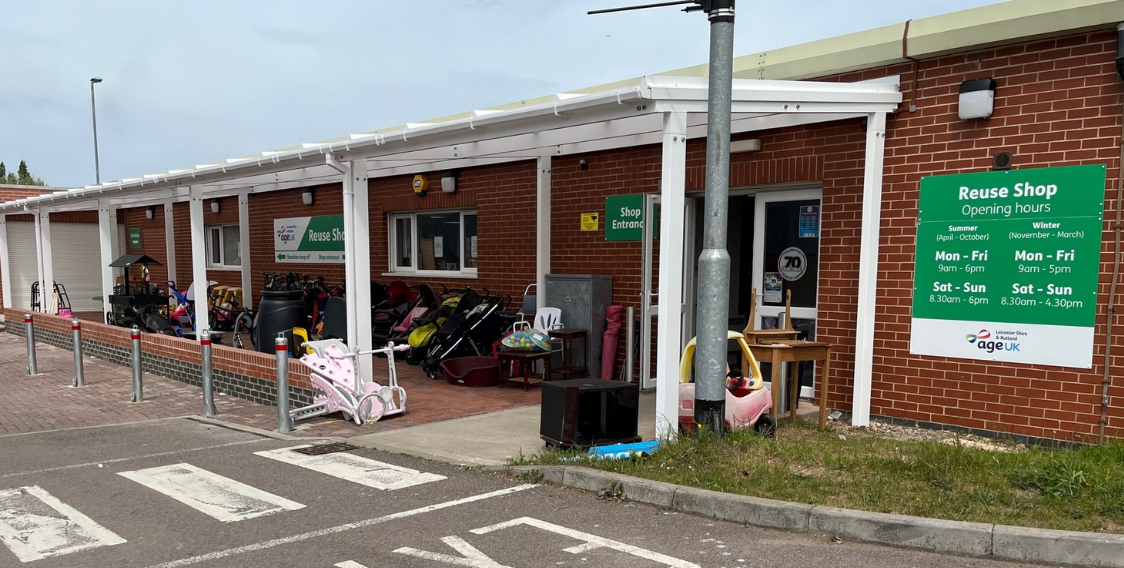 Household Waste Recycling Centre
5 Gypsum Close
Leicester
LE4 9AB
United Kingdom
Telephone: 01162 461533
Opening hours
Monday - Friday - 9am - 6pm Saturday - Sunday 8.30am - 6pm
Wheelchair access ramp: No
Step free access: Yes
Toilets: No
The Reuse shop is located at the Gypsum Close Recycling Centre and allows items that are 'too good to tip' to be given a new lease of life.
If you're looking for something unique, a hidden treasure at a bargain price, our newly extended Reuse Shop is just the place for you. Saving items that are destined for landfill, the Reuse shop gives items that are 'too good for the tip' a new lease of life.

All proceeds from the sale of goods goes back into the local community to support local older people.

The Reuse Shop is a project between Age UK Leicester Shire & Rutland and Leicester City Council to bring about positive change through reusing donated goods that may have otherwise gone in the tip. It is anticipated that this shop alone will take and redistribute about half a million items each year and divert around 250 tons of landfill – around the same weight as 20 double decker buses!

The shop has just completed an extension with an expanded shop floor and a new workshop, as well as areas for receiving and sorting donations.

The Reuse Shop is grateful for all donations of clean, saleable items, including small electrical items in working condition. Items donated to the reuse shop that cannot be sold will be recycled where possible.

As part of its investment in the site, the city council has also created 10 parking spaces, making it easy for people to drop off items in good condition for re-sale, or to pop in to browse the displays.

So why not come down and have a rummage, not only can you pick up a bargain but in doing so, you will support your local community and help to reduce landfill.