Update on Trees of Life campaign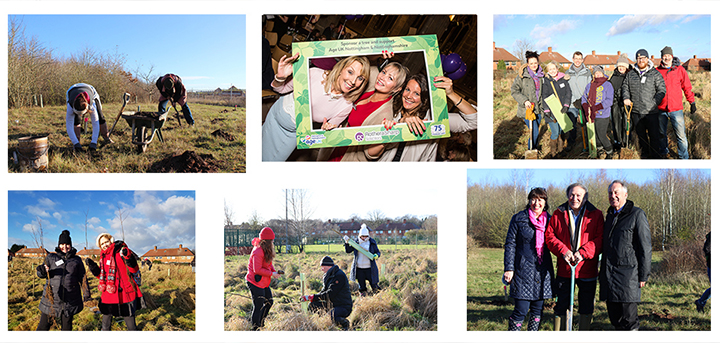 Published on 05 February 2018 11:04 AM
This year Age UK Notts' celebrates its 75th birthday. It is supported by Rothera Sharp Solicitors to achieve its goal of planting 750 trees, to have a lasting legacy for the communities it serves and to raise £75,000.
Trees create oxygen for life. Nottinghamshire is renowned worldwide for its protection and preservation of older trees.
So, by sponsoring an Age UK Notts tree, you are not only enhancing our environment but also the lives of older people in our city and county.
It's not just a tree, it also includes expertise throughout the planting process and maintenance of the tree to create a legacy of Age UK Notts throughout the city and county. Sponsors will also receive a Certificate of Planting and a Commemorative Booklet including dedications.
So far the trees have been planted to provide a screen between a popular open space and a new housing estate at Cotgrave Country Park and will transform an open space in an inner city residential and school area at Amesbury Circus in Cinderhill with thanks to volunteers from Experian, Friends of Cotgrave Country Park, Nottingham College, Office of the Public Guardian, Rothera Sharp Solicitors, Woodland Trust.
As well as planting trees, these days have provided a great opportunity to enjoy the environment in the county and meet other Nottinghamshire businesses.
One of the volunteers said, "The opportunity was a great cause to support, and the values and meaning behind the planting day really appealed to me."
Another volunteer added, "I really enjoyed yesterday's activity. We had really good weather as well. I will always remember this always and also the joy that surrounded us on the day."
The remaining trees will be planted at Tipping's Wood near Blidworth and a second site at Cotgrave Country Park in March 2018.
Thanks to the ongoing expertise and support provided by Nottingham City Council Nottinghamshire County Council and the Woodland Trust.
You can sponsor a tree or request more information by phoning our freephone number 0800 088 6349 or email getinvolved@ageuknotts.org.uk