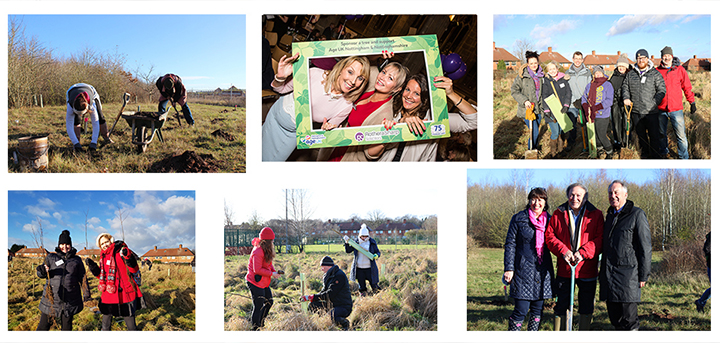 In 2017 Age UK Notts' celebrated its 75th birthday. We were supported by Rothera Sharp Solicitors to achieve our goal of planting 750 trees, to leave a lasting legacy for the city and county.
After the success of the campaign, tree planting continued throughout 2018, and due to its triumph, we will once again be continuing the Trees of Life Campaign throughout 2019.
Trees create oxygen for life. Nottinghamshire is renowned worldwide for its protection and preservation of older trees. By sponsoring the Age UK Notts Trees of Life campaign, you are not only enhancing our environment but also the lives of older people in our city and county.
So far, tree planting has taken place at Cotgrave Country Park, Amesbury Circus in Cinderhill, NTU Brakenhurst Campus, Woodthorpe Grange, Firework Island, Tippings Wood in Blidworth and Linby Ranges in Linby. The campaign has been possible thanks to volunteers from Experian, Friends of Cotgrave Country Park, Nottingham College, Office of the Public Guardian, VF Corporation, Rothera Sharp Solicitors, The Cotgrave Candleby Lane School, The Woodland Trust, Mazars, Brewin Dolphin, Mansfield Building Society and Cema.
As well as planting trees to enhance the environment, planting days provide a fantastic opportunity for corporates to meet their CSR requirements, whilst offering a great opportunity to enjoy the environment and meet other Nottinghamshire businesses. We will be planting 420 more trees in the Winter of 2019. If your organisation would like to get involved, please contacted us at getinvolved@ageuknotts.org.uk
The High Sheriff of Nottingham, Nick Ebbs said, "I was delighted to be invited by Age UK to take part in their tree planting event at Tippings Wood. The notion of Age UK creating a legacy for future generations really appealed to me. The planting will enhance an area of woodland for all to enjoy for many years to come. It will also, in its own small way, help redress climate change. Described only yesterday, by the venerable David Attenborough, as a manmade disaster of global scale it felt particularly apposite that in this little corner of Nottinghamshire Age UK were making a difference. The beautiful weather and convivial atmosphere also made it a memorable occasion. Keep up the good work Maggie and colleagues!"
We would like to give thanks to the ongoing expertise and support provided by Nottingham City Council Nottinghamshire County Council and the Woodland Trust.
You can sponsor our campaign or request more information by phoning our freephone number 0800 088 6349 or email getinvolved@ageuknotts.org.uk