Sky Cares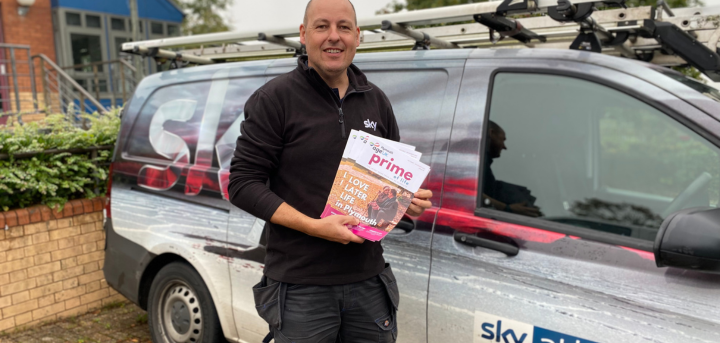 Published on 02 November 2023 03:42 PM
Since 2019 the Sky Cares programme has seen over 15,000 Sky employees volunteer almost 122,000 hours across nine countries, but right in the heart of Plymouth a new partnership has developed between Age UK Plymouth and Sky.
Teams of volunteers from Sky have been volunteering at Age UK Plymouth's Mount Gould centre and in the community. Headed by Sky Field Operations colleagues Victoria and Claire, teams have supported Veterans projects, delivered thousands of magazines and flyers across the city, supported Coronation Celebrations and carried out a huge garden project.
"The team manager, Vicky, could not be more helpful and passionate about supporting us," said Head of Fundraising, Tara Dale. "When she first visited us here at Mount Gould with her colleague Claire, they were overwhelmed at the level of support the charity provide for people aged 50+ and those living with dementia in the city. Since then, they have become real ambassadors for Age UK Plymouth and are always looking at ways they can help our clients further. They have a real focus on helping relieve loneliness and when they saw the work we do, it has become a perfect partnership."
"Working with Age UK Plymouth's passionate team has been a pleasure. Their dedication to charitable support is evident in the bustling groups and engaged volunteers," said Victoria. "We are excited to continue this flourishing relationship!"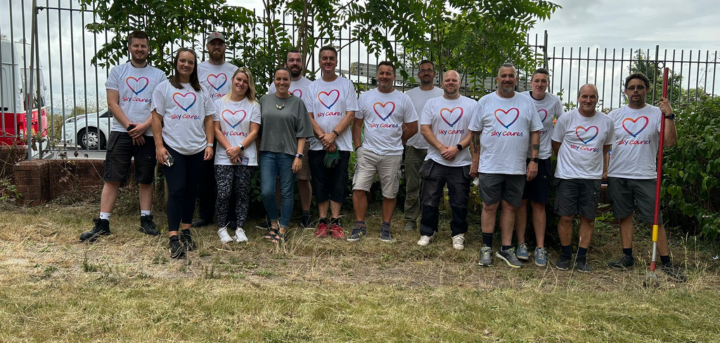 The partnership between Victoria's team and Age UK Plymouth has not gone unnoticed with many praising the alliance and the individuals who have worked tirelessly to identify opportunities and make them happen.
"The relationship that has been built in Plymouth is heart-warming and really brings to life Sky's initial mission on tackling loneliness and truly supporting the community we serve," said Vish Bagga, Head of Field at Sky, Home Service. "I hope we can mirror this across all our regions."
Richard Curtis, Team Manager at Sky, Home Service echoed this by saying, "The relationship you have built up with Age UK Plymouth should be the template for the rest of the business. We used to call it Corporate Social Responsibility which in short meant that we turned up somewhere for the day, painted a scout hut or similar and were never seen or heard of again. The relationship you have with Age UK Plymouth is so far removed from CSR that it is unrecognisable and all the better for it.
"Having an ongoing connection where you can make a real difference whether that is delivering magazines or helping out with coffee mornings is really inspirational. I was impressed from afar, but seeing your relationship first hand has prompted me to raise my game. It was clear by the way Tara talked about her clients that they were valued and the efforts that she and her team put in to raise funds is remarkable."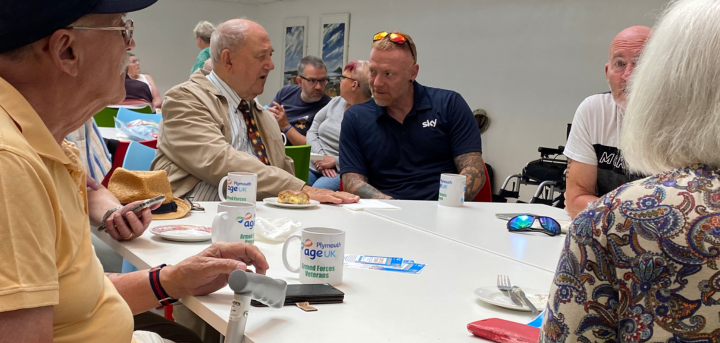 At the beginning of summer a team of 14 engineers from across the South West took a day to work on the garden at the Mount Gould Centre. Weeding, raking and painting in torrential rain. Now the garden is a tranquil and peaceful place for volunteers, colleagues and guests at the Short Term Care Centre to spend some time relaxing.
Head of Operations, Mike Hardie said, "The Sky volunteers that came to the William and Patricia Venton centre have performed wonders to the gardens here. As a charity, we are exceptionally fortunate to have this venue to operate from. However, the necessary upkeep that is required to maintain our centres have the potential to take away time and resources that we would much rather focus on the people we are here to help. Volunteer programs such as this are a vital way of improving areas that can now be used by a variety of clients, from outdoor programs for our Day Centre clients, to improving the mobility of patients in Livewell's Short Term Care Centre. A massive thanks to all the volunteers who brought energy, enthusiasm and support to the project."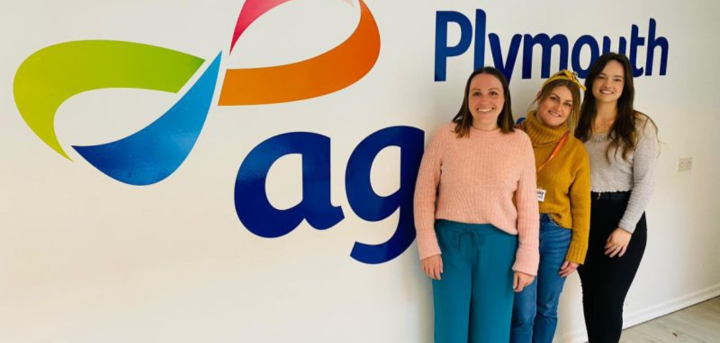 With help from the volunteers two editions of Prime Magazine and many hundreds of flyers have also been distributed across the city. "I'm so grateful to the support from Vicky and the team with distributing our literature," said Bryony Rawson, Head of Communications. "As a charity we take great consideration into every penny we spend, when it comes to producing our magazines we do everything in house to help keep costs down. It's really important to us to make sure that we're producing communications in mediums that everyone can access. Having a team of volunteers to distribute our magazines across the city is a huge benefit to us and gives that precious time back to our tiny team."
Chris Davey, a Regional Manager in Sky's Home Service Team is one of many team members who have now completed the free Dementia Awareness Training that Age UK Plymouth offer for anyone to attend, "It was brilliant. All of the engineers were really engaged and involved in the discussions. For me the analogies really resonated with me and helped me better understand the impact of dementia. One of the engineers has two parents with dementia and the feedback from him was that he now understands their condition better and as a result he expects to have a better relationship with them in the future – if that's not testament to the benefit of the training then I don't know what is!"
Like many charities Age UK Plymouth relies on volunteers to help offer vital services in the local community. There are a wide range of volunteering opportunities available with the organisation as CEO David Wood explains; "Age UK Plymouth are committed to making our city a community where people Love Later Life. As the need for our services grow, so does the need for volunteers. People may be surprised by how many different ways there are to give their time and skills. In our day centres our clients enjoy listening to live music, we hold events throughout the year that need to be marshalled or photographed, volunteers support our catering and admin teams, the list is as varied as it is long!"