London to Paris Cycle 2024
Text LON2PAR to 70580 to donate £5
Texts will cost the donation amount plus one standard network rate message
We teamed up with Discover Adventure to bring you a new exciting Challenge Fundraising trip.
7th - 11th July 2024
Cycle approximeately 330 miles in four days.
Finish at the Eiffel Tower with a real sense of achievement.
Last day in Paris allows you to soak up the sights and atmosphere of this majestic city!
Full vehicle support throughout the trip. Discover Adventure leaders, mechanics and drivers on hand.

All cyclists will recieve an Age UK Plymouth branded wicking cycling top!
This is designed to be a challenge, and it is vital that you train sufficiently for it. Discover Adventure will supply you with a thorough training guide once you have registered. All participants are expected to train hard in advance, but everyone's limits are respected and there is no expectation for everyone to maintain the same pace. Inadequate training is likely to have an impact not just on your chances of completing the challenge, but enjoying it too - and we want you to have the time of your life!
Cycling from London to Paris is one of the great cycle experiences in Europe. Passing through picturesque Kent countryside, we cross the Channel and continue through the small villages and medieval market towns of Northern France.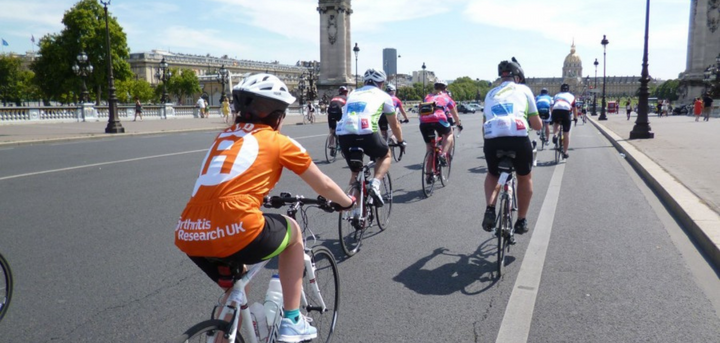 Trip costs
All cyclists will need to pay a £124 registration fee
Then either:
Pay your own event costs of £900 and then fundraise a minimum of £500
Or fundraise for your whole event of £1,400
For a breakdown of costs, how to pay and terms and conditions click here.
For detailed information about the challenge click here.