We have teamed up with The Different Travel Company to bring you a new exciting adventure!
This trek in the Moroccan Sahara gives you an insight into this vast and diverse landscape as well as the Berber way of life. You will spend two full days and two half days trekking across ancient dried up river beds, sand dunes and vast sun-baked plains. Camping each night gives you a chance to experience the stunning stars in the night sky (weather permitting) and the traditional Berber cuisine cooked by the team is second to none.
Dates: 23rd March - 28th March 2023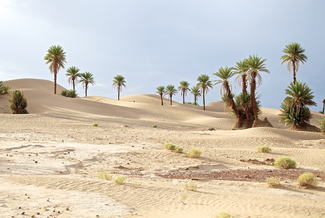 There is also the option to extend your stay after the trek to explore more of Morocco for an additional cost.
This trip is a moderately challenging trip. The terrain is generally flat with sand dunes representing the biggest variation in gradient; however the temperatures pose a specific challenge with temperatures historically reaching 40°C. You are advised to be of a good fitness level before departure to ensure fast recovery from each day's exertions.
Payment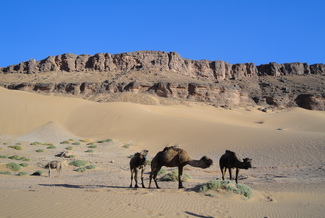 Registration fee: £295
and then either:
Self-funded: £750 (we ask you to raise a minimum of £750 sponsorship)
or
Sponsorship: £1500 (£750 will go towards the cost of your trip and £750 will come to Age UK Plymouth)
For all costs, how to pay and terms and conditions please click here: https://www.different-travel.com/trip/morocco-sahara-trek-2/
To book your place click here!
Fundraising
You can download our sponsorship form here to start using now and don't forget to log in/register with 'Local Giving' to raise funds online. https://localgiving.org/
Please give us a follow on Facebook and Instagram to share your story!
For any tips on fundraising please refer to our Sponsorship Hints & Tips!
For any questions please contact us at fundraising@ageukplymouth.org.uk
Who accompanies us?
You will be accompanied by professional English-speaking Berber guides who have an excellent knowledge of culture and hiking in the region. The guides are first aid trained and will support you throughout your journey. You will also be accompanied by a team of support staff including cooks and camel handlers and a Different Travel Company UK tour manager.
What is the terrain like?
It's not just sand! The terrain is a mixture of hard, flat sun-dried plains, dried up ancient river beds, wide sandy dune fields and hard rocky outcrops.
What is the climate like?
Temperatures tend to range from 25°C to 35°C during the day, and drop to around 0°C at night however you must be prepared for climate variations, which are out of our control. The climate will be dry and there may be some strong winds. Rain,although very rare, is not impossible.Please note: the temperatures and conditions above are historically accurate for this time of year but climate change can impact the seasons so you may experience uncharacteristic conditions during the trip which are out of our control. Should this happen the guide will assess the situation and make decisions to ensure the best enjoyment and ultimately safety of the group as a whole.
What is the food like?
Meals are cooked by your trek chef who will prepare hearty, delicious Moroccan meals that will keep your energy levels high for each day's trek. Breakfast and lunch will be taken alfresco, and evening meals will be taken in a mess tent at camp. Plates, mugs, cutlery and other equipment are provided for you.
Where will we stay?
During the trek you will sleep in tents (two to a tent), or if the weather is good you can sleep outside under the stars (recommended!). You need to bring a sleeping bag but sleeping mats and tents are provided. While in Marrakech (and Ouarzazate, if applicable) you will stay in hotels with en-suite facilities.
What are the bathroom facilities like?
During the trek the toilet facillities consist of a small toilet 'tent' covering a hold in the ground. There are no showers or bathing facillities so you must ensure you rbing a pack of baby wipes (ideally biodegradable).
Who can take part?
You must be 18+ participate on this trek unaccompanied. it may be possible to participate if you are 16 or 17 years old but you must be accompanied by a parent or guardian. There is no upper age limit. The ideal candidate would be fit, healthy and determined, open to adventure and adaptable to unexpected changes.
How tough is it?
The trek is rated moderatley challending for someone of a good fitness level. The teerain is generally flat with sane dunes representing the biggest variation in gradient; however the temperatures pose a specific challenge with temperatures historically reaching 40 degrees. You are advised to be of a good fitness level before departure to ensure fast recovery from each day's exertions.
Health Declaration
We require a medical form to be completed by everyone upon registering, and any pre-existing conditions, medications used and other medical issues must be specified. All your medical details are treated in the strictest confidence.
The information will be securely screened by a qualified medical professional, and details provided to your tour manager and local guides so our staff are adequately informed and prepared to support you during the trip. By completing this booking form you are giving consent for us to contact you confidentially with any follow up questions regarding your health.
If you declare any medical conditions you may be asked to provide more information, or we may request to contact your GP.
In the event that your medical issues at the time of booking represent a concern for your safety and wellbeing, or the safety and wellbeing of others in the group, you may be recommended not to take part. If this happens your booking will not be confirmed and the deposit will be refunded.
We must be informed if any conditions or medication change, or if new conditions develop. If necessary confirmation of fitness to travel from your GP or specialist may be required.
Please note that we will never unreasonably deny participation on a trip nor contravene the Equality Act 2010.
Suggested Kit List
Essentials

E-tickets & pre-departure info
Passport & copy
Travel Insurance documents
Pen for immigration forms
Cash (£ Sterling)
ATM + credit card(s)
LED head torch + spare batteries
Adaptor 2 round pins (Euro)
Sunglasses (preferably polarized)
Camera + spare batteries
Mobile phone + charger

Clothing & Footware

Hiking boots*
Trainers/flip flops for evenings
Casual shoes for Marrakech
Trek socks & underwear
Non-cotton long sleeved top\shirt
Non-cotton t-shirts
Fleece, sweater or warm jacket
Sun hat with wide brim
Lightweight trek trousers
Warm hat for night
Neck cooling 'Cobber'
Gaiters (for the sand)
Casual clothes for Marrakech
Swimwear for hotel

Hygiene

Shampoo + conditioner
Toothbrush + toothpaste
Antiperspirant deodorant
Shower gel/ shave kit loofah*
Wet wipes*
Toilet paper (1-2 rolls)
Sun cream (high SPF)
Hand sanitizer
Hairbrush/comb
Feminine hygiene products
Nappy sacks (for used toilet paper)

First Aid Kit

Prescription medicine
50% DEET insect repellent
Ibuprofen and Paracetamol
Plasters
Blister plasters (e.g. Compeed)
Imodium (Loperamide)
Rehydration salts (e.g. Dioralyte)
Muscle rub (tiger balm/Deep Heat)
Anti-histamine tablets/cream
Antiseptic wipes
Indigestion remedy (e.g. Gaviscon)
Lip balm with SPF protection
Scissors/tweezers
Zinc oxide tape
Spare glasses/contact lenses

Optional

Video Camera + charger
iPod/MP3 player
Umbrella (for the sun)
Hiking pole(s)
Portable power bank/power pack
Notebook/diary
Books/playing cards
Nail brush

Luggage

Suitcase/rucksack for luggage
Trek kit bag/holdall (carried by camels)
Daypack (25-30 litres)
Combination Padlocks

Eating and Drinking

Energy snacks
2-3 litre water bottle (e.g. CamelBak)
1-litre standard water bottle
Electrolyte tablets (e.g. NUUN)

Sleeping

Ear plugs (essential)
Sleeping bag (comfort -0°C)
Sleeping bag liner (cotton/silk)
Pyjamas (use thermals on trek)
Eye mask (optional)
Please note: This list is just a guideline and is not exhaustive. The items on this list do not take into account your personal preferences based on your previous trekking experience, or individual requirements. For information about items on this list please refer to the trip dossier or contact The Different Travel Company on info@different-travel.com
*Please ensure you pack your hiking boots into your hand baggage in the unlikely event your checked luggage goes missing or is delayed.
Please consider eco-friendly or biodegradable options when selecting travel essentials.