Help at Home, Community Support Service
COVID 19
Age UK Plymouth's Help at Home service is now open to new clients and is fully compliant with the latest Government COVID 19 guidance. Age UK Plymouth has put a number of additional processes in place some of which are:
All staff will wear appropriate PPE
Additional hand washing / hand sanitising
Maintaining social distance within a client's home
Full details of our COVID precautions will be discussed at the point of assessment and copies of our full risk assessment are available upon request.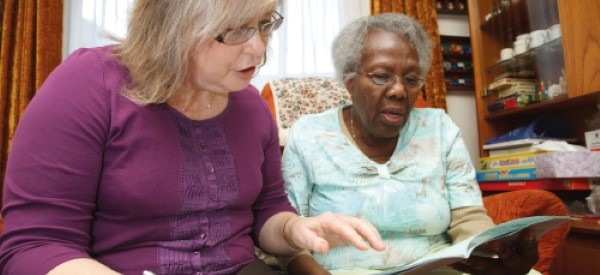 Help at Home, Community Support Service has been operating for 78 years and offers a high quality, flexible service to older people living in and around the City of Plymouth.
Age UK Plymouth's Active Living Service can help to enhance and enrich the lives of older people. It does this by offering a high quality and flexible service that is tailored to suit a person's individual needs and aspirations. Our service includes help at home with domestic tasks, shopping, gardening, social activities, companionship and help with paperwork. We pride ourselves in supporting older people and their families to alleviate stress, anxiety and loneliness. By using a wealth of knowledge and a comprehensive training programme, our staff can deliver a safe and caring service with an emphasis on promoting independence, social engagement, good health and wellbeing. We are here to listen to your needs, provide solutions and work together with you to support your future. Not sure if you can afford it? Why not let our Information and Advice team undertake a financial review to make sure you are getting everything you are entitled to.
Our trained and experienced staff can help with things like
Domestic tasks such as polishing, dusting, vacuuming, washing floors, washing dishes, cleaning work surfaces
Changing bed linen and laundry
Local shopping
Reading and helping with correspondence
Basic meal preparation
Why not ask us about our Community Support Services?
Support in attending appointments
Assistance with shopping trips
Sitting Service
If you are interested in our Help at Home or Community Support Service, a member of the team will make an appointment to visit you at home and discuss your individual requirements.
Gardening and Odd Jobs
If you require assistance with basic gardening such cutting the lawn, weeding, planting flowers, path clearance etc. then our Special Request Service can help. You can book a one off visit or regular garden maintenance visits to suit your needs.
We can also help with odd jobs such as changing light bulbs, hanging curtains and minor household maintenance.
Related Links
Support for carers
Lunches in our centres