Chair's Bulletin – November 2018 (Issue 3)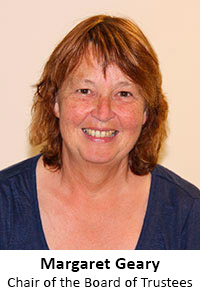 2018 has been an eventful year to date.
Demand for all our charitable services continues to grow, in particular for the "Help Around The Home" Service. People needing support are ready to pay for this service which offers valued help to individuals who would otherwise struggle to maintain their homes. The Gardening Service is also popular and helps people continue to take pride in ensuring their gardens are kept well. The Information & Advice team has always delivered important support to individuals who are struggling to cope and need help ranging from advice about entitlements to information about many other services. Years of austerity has meant that maintaining this work is even more of a priority.
Inevitably austerity has meant that there is less funding available through the public sector, but at the same time the public sector looks to the voluntary sector to deliver more for less. In recognition that we need to respond to the changing times the Trustees have agreed that the Bradbury Centre needed to modernise and re-shape its services. Thanks to a generous local Legacy and architectural construction support from our Brand Partner, the national organisation Age UK, the Centre has recently undergone a face-lift. The Cafe Social Area has been expanded into a new open plan facility which allows more public participation and more flexible use of space. Our new entrance on Kingston Road is now fully accessible.
Facing up to the impact of losing the funding for the charity's social prescribing Living Well project and the prospect of having very little or no funding from the Local Authority or the Clinical Commissioning Group (public sector funders) in 2019-2020 has increased the importance of trying to generate income in order to maintain services.
Charitable income is generated in various ways:
Through bidding for funds (including submissions to our public sector partners)
Through charging for and developing services to meet public demand
Through ensuring that AUKP maintains productive contribution to the Age UK Brand
Maintaining local Age UK Charity partnership working whilst jointly developing improved back office resources across the County
By continuing to ensure best use of monies Willed to Age UK Portsmouth through Legacies
Maintaining and developing our services is dependent on our staff being willing to take on more workload as well as being able to adapt to constantly changing circumstances. The Board are really appreciative of this staff commitment and their dedication to ensuring people who use our services get the best support we can offer. Our hard working volunteers also provide vital support to our staff and services. Many THANKS are owed to both staff and volunteers.
In common with many other voluntary and community organisations, Age UK Portsmouth faces difficult times in which we need to constantly adapt. We do however remain optimistic at Age UK Portsmouth that we can continue to offer important services, develop new ones and promote the interests of those adults who need support to maintain a level of independence, dignity and quality of life.
Margaret Geary - Chair