Shropshire Older Peoples Assembly
Shropshire Older Peoples Assembly (SOPA) was formed to confront and change the perception by older people in Shropshire that their interests are being marginalised.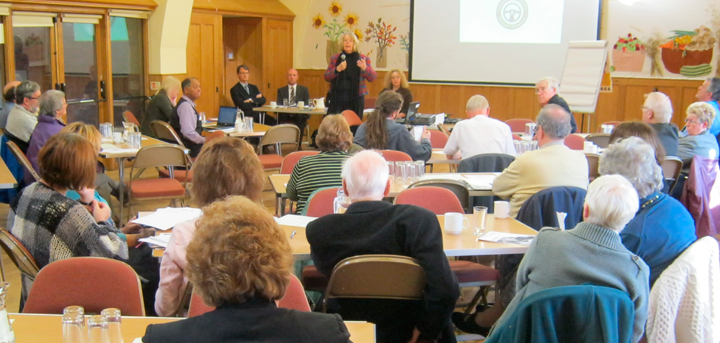 Through the joining together of likeminded organisations and individuals Shropshire Older Peoples Assembly provides a forum of interest for older people to play a key role in the Voluntary & Community Sector Assembly (VCSA) and provide representation on bodies both within and outside Shropshire Council. Social and Health Care, Supporting People, Preventative Care programmes and Rural Transport are among the key issues identified.
How we work
SOPA holds public meetings with a 'Question Time' format. There is a standing invitation for senior representatives from Shropshire Council to attend and other guest speakers are invited. Subjects for public meetings have included Budget and Adult Social Care, Housing, Health and Transport. We have a steering group committee and the Chair, Vice Chair and designated members identify key issues and are charged with keeping them at the forefront of attention by Shropshire Council, VCSA and other relevant organisations.
What we have achieved
SOPA has highlighted key issues concerning the welfare of older people and brought them to the attention of those responsible for planning and delivering services, whether Shropshire Council or other bodies. With increasing awareness of SOPA and membership increase we will continue to tackle the marginalisation of older people and vigorously campaign on their behalf.
Our members
Members include: Age UK Shropshire Telford & Wrekin, Shropshire Seniors, Shropshire Rural Community Council, Severnside Housing, Consortium of Shropshire Tenants, Through the Doorway Healthy Living, Mayfair Community Centre, Shropshire LINk.
How to join
We welcome new members to the Assembly and anyone who has an interest in the welfare of older people or whose work involves the concerns of older people is eligible. Organisations or individuals are invited to send a representative to our public meetings.
Simply join our mailing list to receive information about consultations, meetings and events held by SOPA and other organisations which may be of interest.
To join the mailing list or for more information, call 01743 891 833 or email shropshireseniors2015@talktalk.net