Friends reunited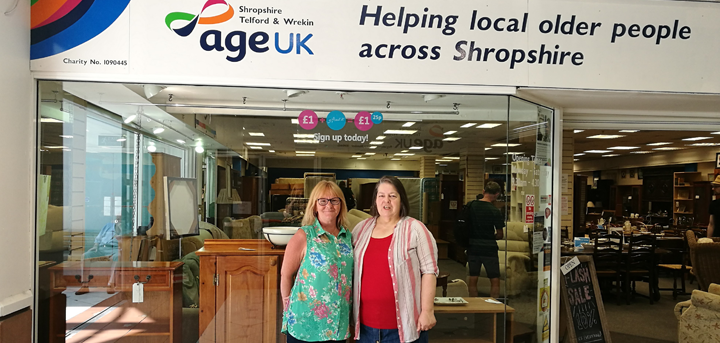 Published on 30 July 2018 03:33 PM
Two volunteers at Age UK Shropshire Telford & Wrekin have rekindled their friendship after 42 years.
Janet Taylor and Julie Armstrong were close school mates growing up in Shrewsbury but lost contact over the years. It wasn't until our charity furniture shop opened up in Shrewsbury that their friendship rekindled.
The pair are volunteer retail assistants at the Age UK Shropshire Telford & Wrekin charity furniture shop in Riverside Shopping Centre, Shrewsbury. The role involves helping customers and dressing the window displays that frequently change with the different items of furniture going in and out of the shop.
Janet said: 'It was so nice to meet up with Julie again after all these years. We both enjoy volunteering because we feel we are doing something useful and helping older people. We're part of a great team, we may only help out in the shop a few hours a week but it's really enjoyable and rewarding.'
Heather Osborne, Chief Executive of Age UK Shropshire Telford & Wrekin, said: 'We run three charity furniture shops in Shropshire: Wellington, Shrewsbury and Oswestry. They generate much needed funds for our organisation, enabling us to deliver services to local older people and without volunteers we simply wouldn't be able to operate the shops so successfully. Our volunteers, just like Janet and Julie play a valuable role in helping us to support local older people.'
If you'd like to donate a couple of hours of your time once a week in our charity furniture shops please get in touch with our volunteer recruitment team on 01743 588 570.