Supporters' show is the greatest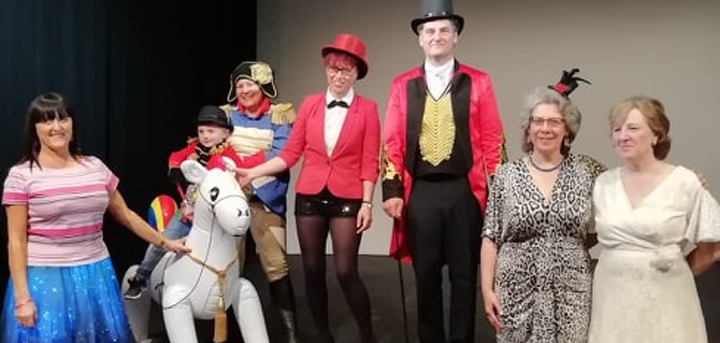 Published on 10 June 2019 02:35 PM
Last month Age UK North Shropshire Supporters Group organised a night of singing and dancing to hits from the movie 'The Greatest Showman' to raise funds to support local older people.
The evening also included a two-course supper, a costume competition and the chance to win prizes. During the half time break, Anne Wignall, Chair of the supporters group and Mark Spurdens, their Treasurer, presented Heather Osborne, Chief Executive of Age UK Shropshire Telford & Wrekin, with a cheque for £4,000 that the group raised through various events in 2018.
The supporters group also said a big thank you to Ellesmere College who played host to the sing-a-long and the generous support given by local businesses The Black Lion and Lily the Pink. The evening raised £1,100 and was just one of many fundraising events that the group have lined up for this year.
Anne Wignall said: 'The event was a huge success and we thank everyone for coming and supporting us. It's really rewarding for the group to organise these events and know the money raised goes back into our local community.'
We currently have two supporters groups, North Shropshire and Shrewsbury. If you are sociable, like organising events, would like the opportunity to make new friends and support Age UK Shropshire Telford & Wrekin, either by joining or setting up a supporters group, please call our fundraising team on 01743 233 123 or email enquiries@ageukstw.org.uk for more details.
Further information
Related pages on our website